LAS VEGAS — Alaska's remote lodges saw an uptick in demand, communities got creative to support local businesses, and independent travelers filled some gaps left by a shortened cruise season.
Those are a few themes that emerged during the 18th Alaska Media Road Show late last month, an event that brought media professionals, tour companies, cruise lines and Alaska destinations together at the Cosmopolitan here.
The pandemic halted last year's Road Show events, and this year's gathering — complete with vaccination and masking requirements — highlighted how Alaska operators are navigating a landscape reshaped by Covid-19.
"We are grateful that independent travel rebounded, and this was a better summer season than expected. As we move toward next season with events like Alaska Media Road Show, we're seeing a return to normalcy, and we're optimistic about continued recovery," said Jillian Simpson, vice president of the Alaska Travel Industry Association (ATIA).
Cruise updates
If large cruise ships operate at full capacity in 2022, the ATIA said the state could expect 1.6 million passengers. 
Despite a shortened 2021 season, several major cruise lines returned to Alaska with ventilation upgrades, vaccination and testing requirements, and enhanced safety measures. Karen Gee-McAuley, a Celebrity Cruises spokeswoman who sailed with the brand in late July, said fellow passengers were "giddy to be onboard."
Smaller, U.S.-flagged ships reported steady interest, too.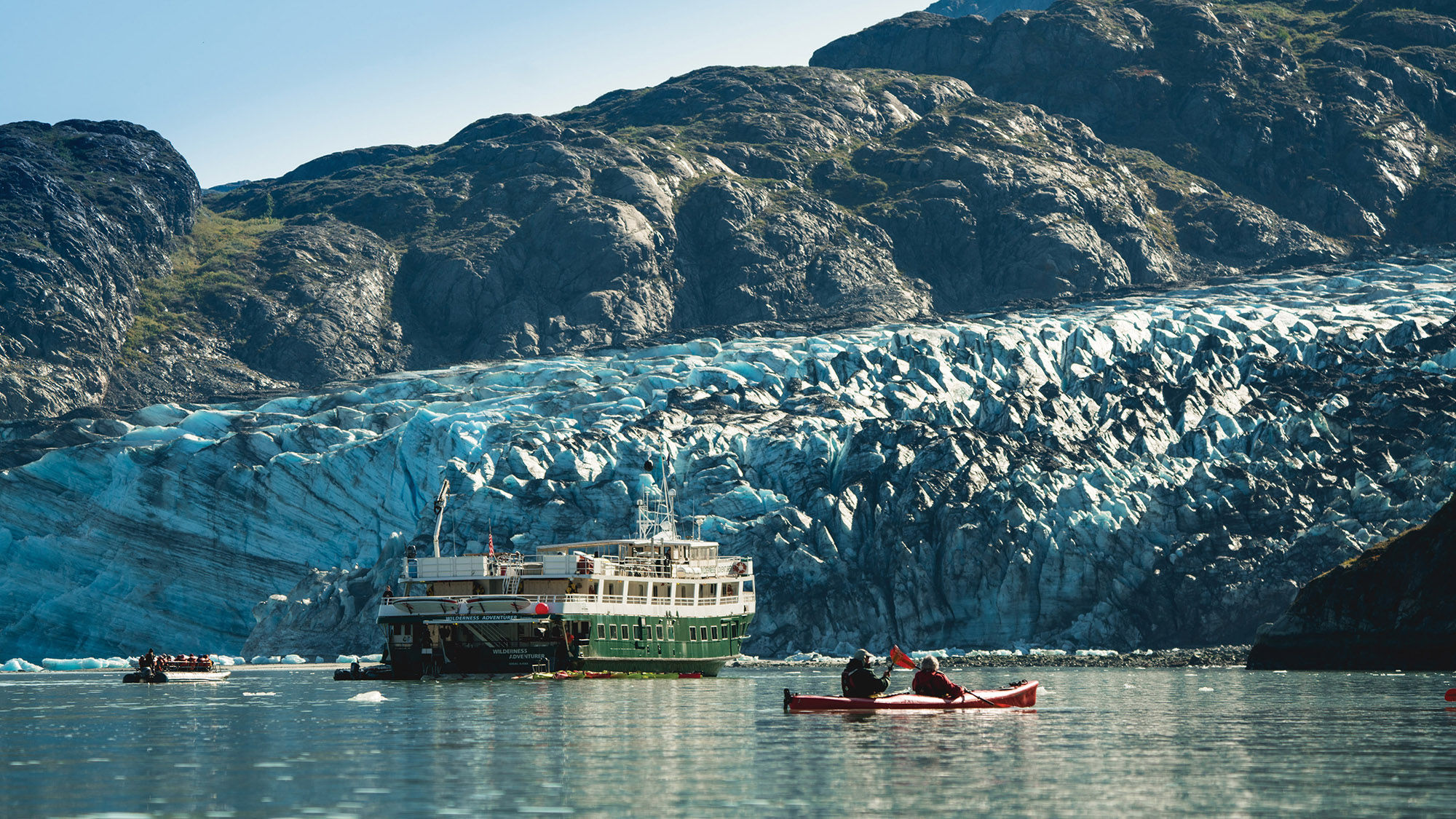 Eric Morrow, ship captain for Alaskan Dream Cruises, told Road Show attendees that care, respect and empathy guided his team's approach to 2021. That applied both to cruise passengers and the communities they visited, where businesses balanced economic interests with the health and safety of residents.
"This was unknown territory for all of us," Morrow said. 
Community campaigns
Visit Sitka director Laurie Booyse said 2020 and 2021 slowdowns reminded residents of tourism's economic importance. The same was true in Skagway, where locals organized a "Save Our Skagway" (SOS) program designed to replace lost tourism traffic by drawing friends and family to town. 
"We weren't sure what to expect this year, but the SOS program helped some businesses get through until the ships came back," said Wendy Anderson of the Skagway Visitor Department. "Success depends on people's comfort levels and how well everything continues to go, but I think we're seeing light at the end of the tunnel."
In neighboring Juneau, Juneau Food Tours founder Midgi Moore started partnering with travel advisors to create private dinners for clients celebrating special occasions in Alaska. She also opened the Taste Alaska! storefront, where visitors can sample local food and ship their purchases home.
Independent travel leads the way
Patti Mackey, head of the Ketchikan Visitors Bureau, called 2021 "a mixed bag." 
"It's been tough going for Ketchikan, last year in particular," said Mackey, who mentioned that some small, cruise-focused businesses offloaded equipment or shut down completely.
Still, fishing lodges and remote properties drew independent travelers from the Lower 48. Tourism expanded as Delta and Alaska brought back summer flights. The community welcomed about 100,000 cruise travelers in August and September, and Norwegian ships continued visiting Ketchikan through October.
Staffing shortages meant that some company owners personally welcomed visitors. That also happened in the Mat-Su Valley, where shorter-than-usual booking windows presented additional challenges.
Like Ketchikan, the Mat-Su region saw more independent travelers this year. They helped offset revenues lost as the lack of cruise traffic kept large properties closed.
"2021 was definitely the summer of the independent traveler. Without cruise visitors, independent travelers helped kick-start the recovery. It was encouraging to see visitors enjoying Alaska's beauty again, and we're highly optimistic for 2022, when our cruise visitors return," said Casey Ressler of the Mat-Su Convention & Visitors Bureau.
Looking ahead
The Mat-Su CVB saw a 300% increase in web traffic this year, signaling increased interest in the destination. 
Holland America Line reported strong demand for its land and sea tours in the year ahead, too. The company will sail six ships in Alaska during the 2022 season.
Company spokesman Erik Elvejord said customers appreciate that Alaska is an easy-to-reach American destination, yet it promises scenery and activities that are distinct from other places in the Lower 48.
Hurtigruten Expeditions will sail its first full Alaska season in 2022 after postponing for two years due to the pandemic. Most customers on canceled 2020 excursions rebooked for next year, said Hurtigruten's Anders Lindstrom.
"People are reevaluating their bucket list destinations. Those trips used to be something they planned in the next 10 years, but now they're looking at the next two," he said.
Operators are revisiting their offerings, as well. The Alaska Railroad is on track to return at full capacity in 2022, while John Hall's Alaska will travel with slightly smaller groups than in past years. The company restarted its tours in June 2021 at 50% capacity and eventually worked back up to 24 guests on some tours. Next year, most trips will be capped at 24 to 30 travelers.
Ongoing conversations about social justice also have Alaska destinations reconsidering equity and diversity in the travel industry. ATIA, for example, is shining a brighter spotlight on Alaska's 229 Native tribes and cultural tourism opportunities throughout the state.
And, as the 2021 season winds down, destinations are thinking about the role of tourism in local communities.
"There have been some discussions about regional tourism and what communities want that to look like going forward," said ATIA's Jillian Simpson. "This year also reminded those outside the travel sector how important we are to the economy. People have a new and different appreciation for tourism."
Source: Read Full Article