Mhondoro Safari Lodge & Villa in the Waterberg region of South Africa launched an Overland Safaris product, curated specifically for groups of up to 14 guests. These tailor-made adventures take guests to Botswana, Zambia, Namibia and South Africa. While three itineraries are currently available between May and September, a special Namibian route is planned for 2024.
"Mhondoro has earned a reputation as a luxury safari destination within the Welgevonden Game Reserve and now offers more adventurous guests the opportunity to explore further afield while still enjoying the Mhondoro standard of guiding, cuisine and service — presented as a luxe, glamping wilderness experience," said Mhondoro CEO Fritz Breytenbach.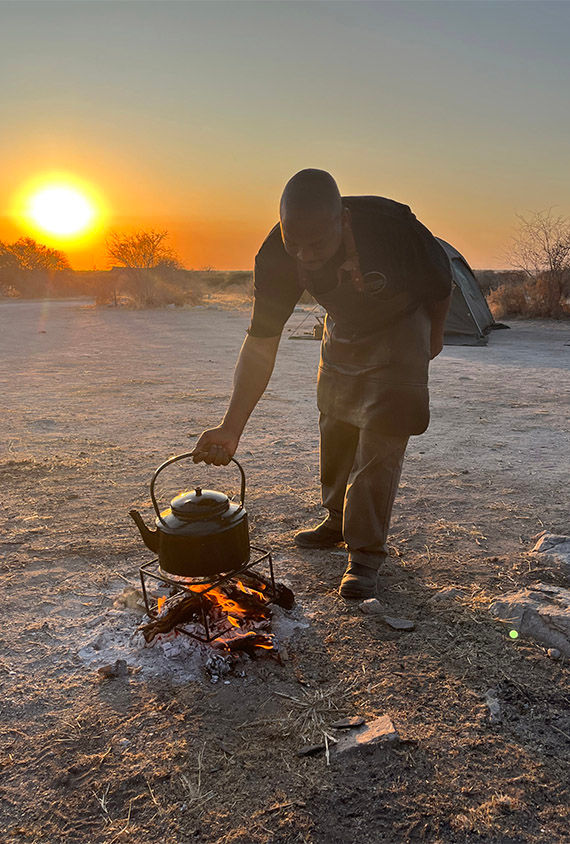 The Overland experiences all include:
• A dedicated safari guide, chef and butler.
• Customized Mhondoro Landcruisers that provide air-conditioned comfort during long distances but can also transform into game-viewing vehicles with elevated platforms.
• A variety of accommodations, from glamping tents set in unfenced camps to renowned wilderness camps and opulent lodges. Tents come equipped with heated showers, toilets and luxury bedding, ensuring a harmonious blend of ruggedness and comfort.
• Gourmet campfire meals, including freshly baked bread, potjiekos and braais. All these can be relished with a selection of top-tier wines.
The Botswana and Zambia overland safari sets off from Maun. Travelers can anticipate a quad-bike excursion on the Ntwetwe salt pan, an intimate meerkat family encounter in the Makgadikgadi region, exploration of Nxai Pan National Park's diverse landscapes in northern Botswana, and wild camping at Khwai Magotho on the fringes of the Okavango Delta. The journey continues through Kasane, a distinctive junction where Botswana, Zambia, Namibia and Zimbabwe converge. There's an option to culminate this adventure at Mukwa River Lodge on the Zambezi River, accentuated by a visit to Victoria Falls.
Departing from the Waterberg, Botswana itineraries can easily be added onto a stay at the Mhondoro Safari Lodge & Villa, covering Mapungupwe National Park, the Tuli Wilderness and the mighty Limpopo River, before returning to Mhondoro.
Those guests who prefer to stay within the borders of South Africa may opt for the Cape Town itinerary that starts in Port Elizabeth, visiting the Mountain Zebra National Park; Camdeboo National Park. with a traditional farm stay; the Swartberg Nature Reserve and Gamkaskloof, which is known as "Die Hel" (The Hell); and on to Oudtshoorn, Montagu and Paternoster, with Cape Town as final destination.
Source: Read Full Article