1. Locronan, Brittany
A historic hemp-weaving village, Locronan is named after Saint Ronan, the Irish hermit who founded it in the middle ages. In the 15th century, the dukes of Brittany poured money into building the striking Gothic church. Visit the Chapelle du Pénity, which houses Saint Ronan's tomb.
During the Renaissance, the village became famous for its weaving industry, providing canvas sails for the East India Company and the French navy (visit the Musée d'Art et d'Histoire). The East India Company's offices still stand on the village square, as well as 17th-century merchants' dwellings. Locronan is often used as a film location: A Very Long Engagement (with Audrey Tautou and Jodie Foster) was shot here, as was Roman Polanski's Tess.
The 16th-century Chapelle Notre-Dame-de-Bonne-Nouvelle has stained-glass windows by 20th-century painter Alfred Manessier. A sacred path on the hillside attracts pilgrims, there are great views from Locronan mountain, and the Nevet woods have lovely walks.
Eat Au Coin du Feu has two courses from €13.50; Breton crêpes are a speciality – try Chez Annie just up the street.
Stay In the countryside a kilometre away, Mme Camus is a five-room B&B with doubles from €60.
2. Rochefort-en-Terre, Brittany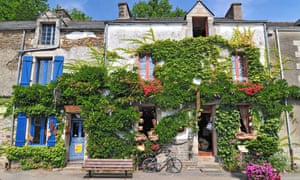 Halfway between the Gulf of Morbihan and Merlin's Forêt de Brocéliande, this medieval village was once a roche fort (stronghold), controlling trade routes thanks to its position on a rocky outcrop above deep valleys. Traces of its prosperous history (also linked to slate mining) can be seen in the upper village, with its covered market, 12th-century church, medieval castle, 19th-century chateau, and 16th- and 17th-century mansions.
The town became a favourite with artists early last century, thanks to US portraitist Alfred Klots, who bought the castle and started a tradition of floral window boxes that continues today. Events include summer concerts and a medieval fair.
Eat Dine on local produce (and buy it) at À l'heure de l'Apéro ( – the seafood platter is a speciality.
Stay Le Pélican, an inn dating from the 16th century, has doubles from €80 B&B and a good restaurant
3. Saint-Céneri-le-Gérei, Normandy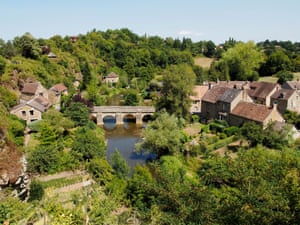 On the Sarthe river in the Mancelles Alps, the village was founded by Saint Céneri, an Italian monk who built a monastery here in the seventh century. It was later burned by the Normans, but the 11th-century church on the site remains, its saddleback roof and tower emerging from the trees. Inside, 12th-century murals have recently been restored.
Pretty houses around the church and along the river have been preserved, as has a lovely 15th-century chapel. The village has charmed many famous painters, including Camille Corot and Eugène Boudin, and charcoal portraits of artists and villagers, sketched by candlelight, are on display at the Auberge des Soeurs Moisy (now a museum), which they frequented. River canoeing and visits to the gardens at La Mansonière are recommended.
Eat Auberges des Peintres, a pretty restaurant in the centre, serves snails and creme brulee (two-course menu €16).
Stay A riverside cottage with an outdoor pool 3km away, La Cassine sleeps four from €105 a night.
4. Montrésor, Loire Valley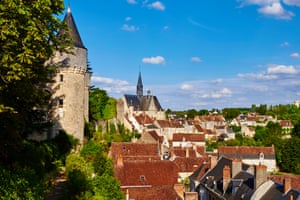 On a riverbank an hour from Tours, Montrésor is a fairytale village with a rich history. The remains of an 11th-century fortress are visible, but it's the impressive Renaissance castle that dominates. The church of Saint-Jean-Baptiste houses an Annunciation by Philippe de Champaigne (1602–1674). In 1849, Xavier Branicki, a Polish count and friend of Napoleon III, restored the castle and filled it with art: sculptures by Pierre Vaneau, plus Italian Renaissance and Dutch paintings.
Branicki gave his name to one of the streets, whose houses are partly cut into the rock behind. The wool market, the Halle de Cardeux, has been restored as a cultural centre and exhibition space. The 16th-century Logis du Chancelier, which has a watchtower, houses the town hall. A riverside walk, Balcons de l'Indrois, provides wonderful views of the village, and its Jardinier Bridge was built by Gustav Eiffel's workshop.
Eat The main place to eat is friendly Café de la Ville, which does staples such as entrecôte-frites (€19.90) and croque-monsieur.
Stay Le Moulin de Montrésor is a converted 19th-century mill with an outdoor pool and antique-filled doubles from €80 B&B.
5. Pesmes, Burgundy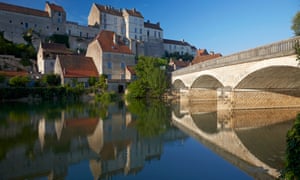 A historic village on the Ognon river, picturesque Pesmes is approached via an avenue of 100-year-old plane trees, its 17th-century castle reflected in the calm waters. Coveted in the middle ages for its strategic position between Gray on the River Saône and regional capital Dole, it was by turns Frankish, Germanic, Burgundian and Spanish, before becoming French in the reign of Louis XIV (1643–1715).
The village bears witness to this rich past: winemakers' houses line the stone streets, and the 13th-century church of Saint-Hilaire has an impressive bell tower with a multicoloured tiled roof. There's also a ruined castle and two medieval gateways. The 17th-century forge, operational until 1993, is now a museum.
Eat Les Jardins Gourmands has a riverside terrace, and a €25 four-course menu.
Stay Family-owned Hôtel de France in the village centre has a decent restaurant and doubles for €50 (breakfast €6).
6. Château-Chalon, Jura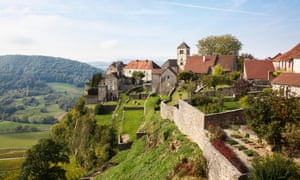 Overlooking vineyards in the Seille valley, Château-Chalon grew up around a Benedictine abbey. The Romanesque church of Saint-Pierre and the ruined keep of a castle are highlights. The streets are lined with winemakers' houses, where the Savagnin grape is used to make vin jaune and the Maison de la Haute-Seille houses an interactive museum on wine. The old cheese factory has tours explaining how unpasteurised cow's milk cheese comté is made. The former school can be visited too.
Beyond the village are walking and biking trails through vineyards and pretty countryside. There are also gourmet walks and several festivals in the summer, with a sound and light show in July.
Eat Auberge du Roc is the only restaurant in the village, but the food is good. Trout and chicken (around €16) are staples, and the views are amazing.
Stay La Tour Charlemagne has a pool and four rooms in a 17th-century tower from €100 B&B.
7. Riquewihr, Alsace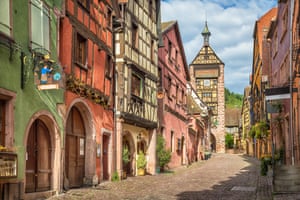 Known for its aromatic wines and distinctive Alsatian architecture, Riquewihr is a striking village 65km from Strasbourg. Its narrow streets are lined with 16th-century half-timbered houses with carved window-frames and flower-decked balconies . Some of the shop signs are the work of Jean-Jacques "Hansi" Waltz (1873–1951), an Alsatian illustrator and caricaturist, and there's a museum of his art. For local history, check out the Musée du Dolder in its 13th-century tower (great views). Nearby are the Thieves Tower museum, with dungeons and torture chamber, and the Maison de Vigneron, with old winemaking equipment. From the village, follow the Grands Crus wine trail on foot or by bike.
Eat The Saint Nicolas hotel's restaurant Manala serves local fare such as pork on choucroute (€17).
Stay The 16th-century Hotel de la Couronne has beamed doubles from €67.50 (breakfast from €6).
8. Domme, Dordogne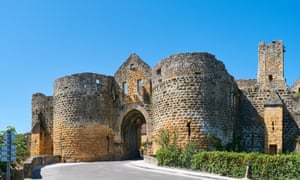 On a cliff high above the Dordogne, Domme has exceptional views over the surrounding countryside. One of the most beautiful bastides (fortified villages) in south-west France, it has a turbulent history. Ramparts, fortified gates and towers – which served as prisons, first for the Templars in the early 14th century, then for French and English soldiers during the hundred years war – still stand.
An entrance to caves used for shelter during times of trouble lies under the main square, Place de la Halle – the 450-metre network of tunnels can be explored, and a glass-fronted lift takes you up the cliff face to street level afterwards. Fine houses line the streets, like the 13th-century Maison du Batteur de Monnaie and the former courthouse. The Belvedere de la Barre is a great viewpoint, and Château de Monfort, La Roque-Gageac village and the Jardins de Marqueyssac are among attractions nearby.
Eat Le Restaurant Cabanoix & Chataîgnes offers seasonal specialities using local produce from duck breast to homemade paté (three-course market menu €17).
Stay L'Esplanade (, a family-run hotel and restaurant, has a terrace with beautiful views of the valley and doubles from €80.
9. Estaing, Languedoc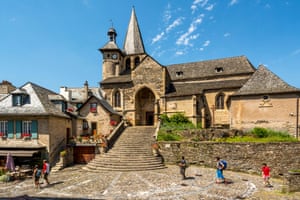 On the banks of the River Lot, Estaing is dominated by its 11th-century castle. Built by the illustrious Estaing family (former president Valéry Giscard d'Estaing acquired it in 2005), it mixes Romanesque, gothic and renaissance styles and is open to the public in summer. The village is on the Camino de Santiago, and its 16th-century bridge is Unesco-listed. Its narrow streets have hardly changed over the centuries.
In summer, there's a son et lumière show on Wednesdays; a Nuit Lumière festival on 15 August sees the village lit by candles; and there's a medieval weekend in September. With mountains, rivers and gorges nearby, Estaing is a good base, and there are hiking trails from the village.
Eat Brasserie du Château overlooks the river and serves good local fare (trout or steak, say), with three courses from €30.
Stay Auberge Saint-Fleuret has a restaurant, pool, garden and 14 doubles from €112 (breakfast €9).
10. Saint-Antoine-l'Abbaye, Rhone Valley
In rolling countryside close to the Vercors massif, the abbey of Saint-Antoine watches over the village that bears its name. The abbey was founded in the 13th century to house the relics of Saint Anthony of Egypt, and pilgrims flocked here seeking a cure for Saint Anthony's fire, a symptom of fungal poisoning. It's an impressive building, with remarkably preserved murals, Aubusson tapestries, wood panelling and a 17th-century organ.
The medieval garden is another highlight, and a museum displays liturgical clothes and surgical instruments. At the foot of the abbey is a maze of alleys with medieval and Renaissance buildings, leading to old shops with half-timbered facades and a covered market. The village hosts a summer sacred music festival and a medieval festival in August, among others.
Eat Sophisticated Auberge de l'Abbaye has set lunches from €26; and hotel Chez Camille has an informal restaurant with menus from €15.
Stay L'Antonin is a friendly guesthouse in a 16th-century building with garden, sauna and doubles from €67 B&B.
11. Saint-Jean-Pied-de-Port, Pyrenees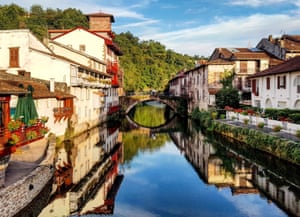 In the foothills of the Pyrenees, 30 minutes from Biarritz, Saint-Jean-Pied-de-Port is a popular stop on the Camino de Santiago. The king of Navarre built a fortress on a hill above the Nive river in the 12th century, and the village grew around it. Saint-Jean became a thriving commercial centre, a military stronghold and religious site. Its history can be seen in its architecture: the 17th-century citadel; the 13th-century ramparts; rue d'Espagne, lined with artisans' and traders' houses; and the gothic Nôtre-Dame du Bout du Pont. The 14th-century prison is a museum.
Eat Café Ttipia is in a lovely riverside spot, with seasonal specialities (from €12) and classics like steak-frites.
Stay A pretty hotel and restaurant near the river, Hôtel des Remparts has doubles from €70 (breakfast €8).
12. La Romieu, Gers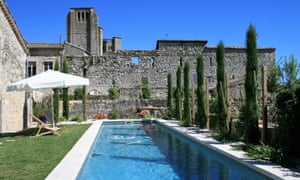 Taking its name from the Gascon word roumiou, or pilgrimage, the village was founded at the end of the 11th century by Albert, a monk returning from a pilgrimage to Rome. It gained greater importance in the 15th century when the church of Saint Pierre was established. This building, Unesco-listed since 1998, has an octagonal bell tower and restored frescoes. The village is pretty with its arcaded square and Les Jardins de Coursiana, a botanical garden open from April to October. The countryside lends itself to hiking, mountain biking and caving.
Eat L'Étape d'Angéline serves regional cuisine with a menu du terroir including snails, duck and veal for €21. It also has five guest rooms from €64 B&B.
Stay La Maison D'Aux has just two guest rooms (from €95 B&B) in an 18th-century house with a pool.
13. Auvillar, Tarn-et-Garonne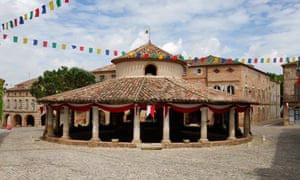 Another stop on the Camino de Santiago, Auvillar, on the banks of the Garonne, bears traces of its religious and trading history. The circular covered market, built in 1824, is the only one of its kind in south-west France (there's a great Sunday farmers' market). It's on a triangular main square flanked by half-timbered and red-brick mansions, and the village walls include a distinctive clock tower above the main gateway into the village in the fortified walls (inside is a small museum).
A former Benedictine priory, the church of Saint-Pierre has a baroque altar. Auvillar was once an inland port, and the chapel dedicated to Saint Catherine, the patron saint of mariners, can be visited further up the riverbank (check out the frescoes). There are great views across the Garonne from a grassy plateau where a castle once stood. Auvillar is also known for pottery, and a collection of earthenware can be seen at the Musée de la Faïence off the square.
Eat Cosy Le Petit Palais has outdoor tables and home-cooked food. The two-course lunch is good value at €13.
Stay Hotel L'Horloge next to the bell tower, is a restaurant that holds a weekly organic market and a hotel with 10 comfortable rooms from €62 room-only.
14. Bruniquel, Tarn-et-Garonne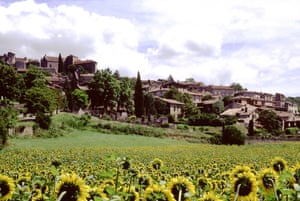 High on a rocky outcrop above the Aveyron and Vère rivers sits Bruniquel and its two medieval castles, surrounded by wooded countryside. It was a stronghold of the counts of Toulouse, and you enter via gateways in the defensive walls. The flower-filled village has old stone buildings and steep cobbled paths leading to the central Place de L'Horloge. The sound of bells from the belfry adds to the sense that little has changed over the centuries. Besides the castles, highlights include wooden Maison Belaygue and Maison Payrol, built in the 13th century by monks and later home to the village governors.
Eat Taverne du Temps is a wine bar and restaurant with a cosy beamed interior and spacious terrace.
Stay In the centre of the village, five-bed L'Etape du Château has homecooked food and a small sauna and spa, with doubles from €80.
15. Lautrec, Tarn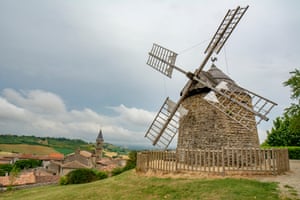 Painter Toulouse-Lautrec's family came from this medieval village in Tarn's Pays de Cocagne. A castle once stood at the top of the hill; now marked by a cross. Some ramparts remain, but the historic centre, with its half-timbered houses and covered market hall, is the main attraction, with a traditional market on Fridays.
The 14th-century Eglise Collégiale Saint-Rémy, the Benedictine convent which became the town hall after the French Revolution, and 17th-century La Salette windmill are must-sees, while a botanical trail takes in panoramic views. The clogmaker's workshop is worth a visit too. Lautrec is the centre of pink garlic farming, and there are regular garlic markets.
Eat Book ahead for a table at Auberge Le Garde Pile a traditional restaurant in a beamed, 300-year-old building – try the pink garlic soup.
Stay Just outside the village, Cadalen is a beautiful 14th-century house with four guest rooms (doubles from €115) filled with antique furniture.
16. Saint-Guilhem-le-Désert, Languedoc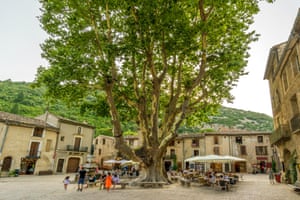 At the bottom of a gorge 20 miles north-west of Montpellier, tiny Saint-Guilhem clusters around its abbey, one of the finest examples of Romanesque architecture in the region. In the middle ages it was a stopping place on the Camino di Santiago, where Crusaders and pilgrims came to venerate a "piece of the True Cross". Little remains of the 9th-century abbey, but the present 11th-century building is a Unesco world heritage site. The main Place de la Liberté, with its 150-year-old plane tree, 18th-century covered market and fountains, is magical for lazy evenings on cafe terraces. Houses have traditional pantiled roofs and Romanesque windows. Summer brings concerts and outdoor theatre. Walks include Les Fenestrettes, a 10km mule trail along the Gellone valley.
Eat Sur le Chemin de Compostelle (+33 4 99 63 93 71) serves traditional fare such as coquilles St-Jacques and duck breast in a vaulted medieval room (three courses €25).
Stay La Taverne de L'Escuelle in the centre has six lovely rooms (doubles from €65 room-only) with stone walls and floors, and a restaurant (its pizzas are good).
17. Gordes, Provence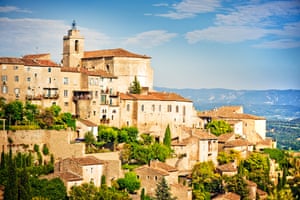 On a hilltop in the Monts de Vaucluse, surrounded by holm oaks, wheat fields and vines, Gordes is a typical Provençal village near the Luberon massif, an hour from Avignon. The narrow streets are lined with stone houses, and the village's charms have appealed to artists including André Lhote and Marc Chagall.
Exhibitions by artists who have lived here are held in the 16th-century castle. Nearby attractions include 12th-century Abbaye de Sénanque (a great example of Cistercian architecture); the Moulin des Bouillons, an ancient olive oil mill; the Musée du Vitrail, which tells the stained glass story; and Bories village, a museum of drystone dwellings. There are summer festivals and concerts, and mountain-biking and trails in Luberon national park.
Eat L'Artégal is a family-run restaurant known for its Landaise salad with duck (set lunch €28).
Stay In gardens two miles from the village, Hôtel Carcarille has a pool and doubles from €74 room-only.
18. Moustiers-Sainte-Marie, Provençal Alps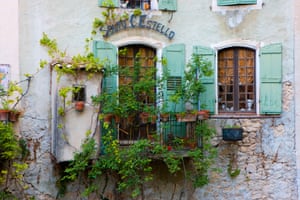 Dramatically located on the Adou river at the entrance to the Verdon gorge, Moustiers is a beautiful village protected by a golden star (the original was said to have been hung by a knight returning from the Crusades) suspended on a chain between two cliffs.
A village of stationers, potters and drapers in the middle ages, it became famous in the 17th century after a monk from Faenza, near Bologna, introduced the secret of enamelling (tin-glazed earthenware). Although the industry disappeared in the 19th century, it has been revitalised, with more than a dozen studios today, and the Musée de la Faïence next to the town hall has more than 400 pieces.
Stone bridges span the river, in a deep gorge below the narrow alleys of the historic centre. Highlights include the church, with its pre-Roman vault, 14th-century nave and square Lombard tower, and the chapel of Notre-Dame-de-Beauvoir, a blend of gothic and Romanesque architecture, reached by 262 steps. Moustiers is a lively place, with regular markets and lots of places to eat. There are walking trails in the gorges and around nearby Lac de Sainte-Croix.
Eat Just outside Moustiers, Ferme Sainte-Cécile offers delicious Provençal dining (five courses €39) and great wine. In the village, Clérissy on Place Chevalier de Blacas does good pizzas, crêpes and salads.
Stay In lush gardens, Hotel le Colombier has a pool, views from its terraces and doubles from €72 (breakfast €12).
19. Seillans, Provence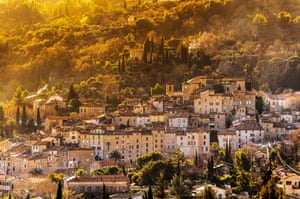 On a hill an hour's drive from Nice, Seillans is a maze of sloping cobbled alleys, vaulted passageways and tiny squares with fountains. Above it stands the medieval castle and 11th-century church of Saint-Léger. On the square at the entrance to the village is Génie de la Bastille, a statue by surrealist artist Max Ernst, who fell in love with Seillans, moved here with his wife, Dorothea Tanning, and played pétanque with locals on this spot. Artworks by the couple, and by Stanislas Appenzeller, are in the 13th-century Maison Waldberg and can be visited by appointment.
In the valley below, pines, olive groves and vineyards surround the chapel of Nôtre Dame de l'Ormeau, with its 16th-century carved altarpiece. Village events include the international Musique-Cordiale festival (9-17 August) and an olive festival at the end of November.
Eat At Chez Hugo, chef Hugo and his brother Stéphane offer a twist on bistro classics, with mains from €15.50.
Stay A guesthouse on a former silkworm farm, La Magnanerie de Seillans has rooms, suites and apartments, all with kitchens, from €140 B&B. There are views of the foothills of the Alps and the Esterel massif.
20. Sainte-Agnès, Côte d'Azur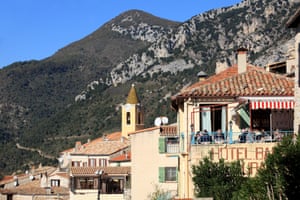 Sitting at 800 metres, half an hour from Nice, Sainte-Agnès has views over the Mediterranean from Cap-Martin to the Italian Riviera, and the peaks of the Mercantour national park. A strategic site fought over for centuries, it was initially a fortified Roman camp; the dukes of Savoie built a castle here in the 12th century (now ruined); and in 1932–38 a fort was dug out of the rock to create the most southerly post on the Maginot Line.
With its alleys and higgledy-piggledy houses, the village has an authentic charm. The 16th-century Nôtre-Dame-des-Neiges church has a striking gilded altar. The heritage museum, Espace Culture et Traditions, is also worth a visit. There is a procession on St Agnes's day, 21 January, a lavender festival in July and an October mushroom festival.
Eat Above the village, Restaurant Le Righi has great views and traditional cuisine, such as homemade vegetable tarts (two courses from €15).
Stay Le Saint-Yves is a popular restaurant with doubles for €53 (breakfast €9), many with great views.
• This is an edited extract from The Most Beautiful Villages of France (Flammarion, £16.95), which is also available at The Guardian Bookshop
Looking for a holiday with a difference? Browse Guardian Holidays to find a range of fantastic trips
Source: Read Full Article