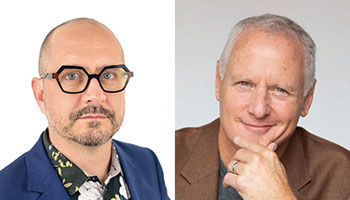 Matthew Landkamer, left, is the founding principal of Whereabout, a destination
futures studio. He helps destinations achieve a healthy balance between
a robust visitor economy, protection of natural resources, and resident
quality of life. He frequently speaks at national and state tourism
conferences on a range of destination strategy topics.
Matt
Stiker is the SVP of strategy at Madden Media. With deep DMO experience
(including the role as the first CMO at San Francisco Travel and
consulting with many other city/state tourism offices), he has a knack
for helping destination brands uncover and unleash their strategic
truth.
Faced with a dramatically different landscape and set of stakeholder and visitor expectations coming out of the pandemic, and staffed to handle the old visitor economy, many destination organizations are doing everything possible to embrace the new world.
Some are changing organization bylaws and local legislation where possible, such as what happened in Estes Park, Colo., forging new partnerships with local government officials or hiring for new roles to accommodate the new skills required.
A developing area of focus for destination organizations is the management of visitor volumes across space and time. Outstripping more traditional efforts like shoulder season campaigns and midweek promotions, destination organizations in many places now face resident resentment of tourism due to the real or perceived overcrowding caused by peak visitation. One recent example is the announcement by the city of Lake Elsinore, Calif., that visitors who access the poppy fields during this spring's anticipated superbloom will face arrest.
Can't even imagine what would happen if they picked flowers!
On its face, spreading out visitors is a no-brainer, and it's common in many microcosms of the greater visitor economy:
• Restaurants spread guests around to ensure all waitstaff get an equitable amount of tables/tips.
• Hotels put guests on different floors so as not to overload housekeeping staff on one floor while another floor is idle.
• Airlines, particularly with smaller planes, distribute passengers for proper balancing.
• And it's pretty obvious what can happen when everyone on a ferry goes to one side of the boat.
So as a principle, it's known and understood, and the benefits are obvious.
It's rarely happening at the destination level, though. In many destinations, certain parts of town are overwhelmed by visitors, while other areas receive none of the people — and none of the benefits. That's not optimal for either locals or visitors.
An overcrowded experience leaves a visitor feeling hassled, pushed and prodded and can lead to negative reviews for businesses. And while an uncrowded shopping experience may give some the feeling of liberation and freedom, most visitors seek at least some level of engagement and interaction with other people when they visit a destination. Otherwise, they'd just stay home! And according to U.S. Travel figures, they're clearly not doing that: Direct spending by domestic and international travelers in 2019 totaled roughly $1.1 trillion.
The response to this from most destination management organizations is usually called "visitor dispersal" or "visitor dispersion." The idea is that you can adjust your messaging to shape the behavior of visitors and therefore balance the load in the destination. And while we agree with the intended outcome — a more evenly spread visitor impact — this approach has its limits, not the least of which is that it frames the problem as the visitor:
• "There are too many visitors in my neighborhood; they overwhelm the restaurants and make everything crowded.
• "Why aren't more visitors coming to my store?"
In that framing, visitor dispersal ends up sounding like pest control. What if, instead of thinking of the visitor as a problem, we think of them as an opportunity, not just to get them here in the first place but to truly optimize the experience for them, the impact to the local industry and even the experience of residents?
What if, instead of aiming to push visitors away from popular attractions (after all, they're popular for a reason), we instead focused our energies on creating a pull from other parts of the destination?
Like anything worth doing, this isn't a quick fix. It takes both destination management and destination marketing skill sets. Picture the assets, attractions and neighborhoods in a destination as a system of gravitational centers, where the destination organization has its fingers on the faders and can dial the "gravity" up or down on these centers over time to do some load balancing.
How would this work? Well, it would start with destination development to create those other centers of gravity, and those could be fine-tuned to the known proclivities of the up-and-coming generations of travelers in a way that's authentic to the destination.
Then it would take active management measures, using real-time data and precision marketing to dial different parts of a destination "up" or "down" on the fly. It also might look like using affinity marketing to steer different psychographic groups to different parts of town. Ultimately, it means utilizing a combination of tech and analog elements to ensure visitors aren't continually fed a steady stream of "the most popular things to do" by the algorithms on their mobile devices. Collaborations with major mapping and review apps could foment a sea change in how travelers experience destinations.
From another standpoint, this is also a huge opportunity for more equitable distribution of the fruits of tourism. Imagine destination organizations working with economic development agencies to foster the creation of these centers of gravity in economic opportunity zones, specifically supporting Bipoc- and women-owned small businesses.
Destination organizations have a lock on pretrip inspiration and planning; the next untapped opportunity for them to truly fulfill their role and optimize the experience for both their visitors and stakeholders is active destination balancing.
Source: Read Full Article