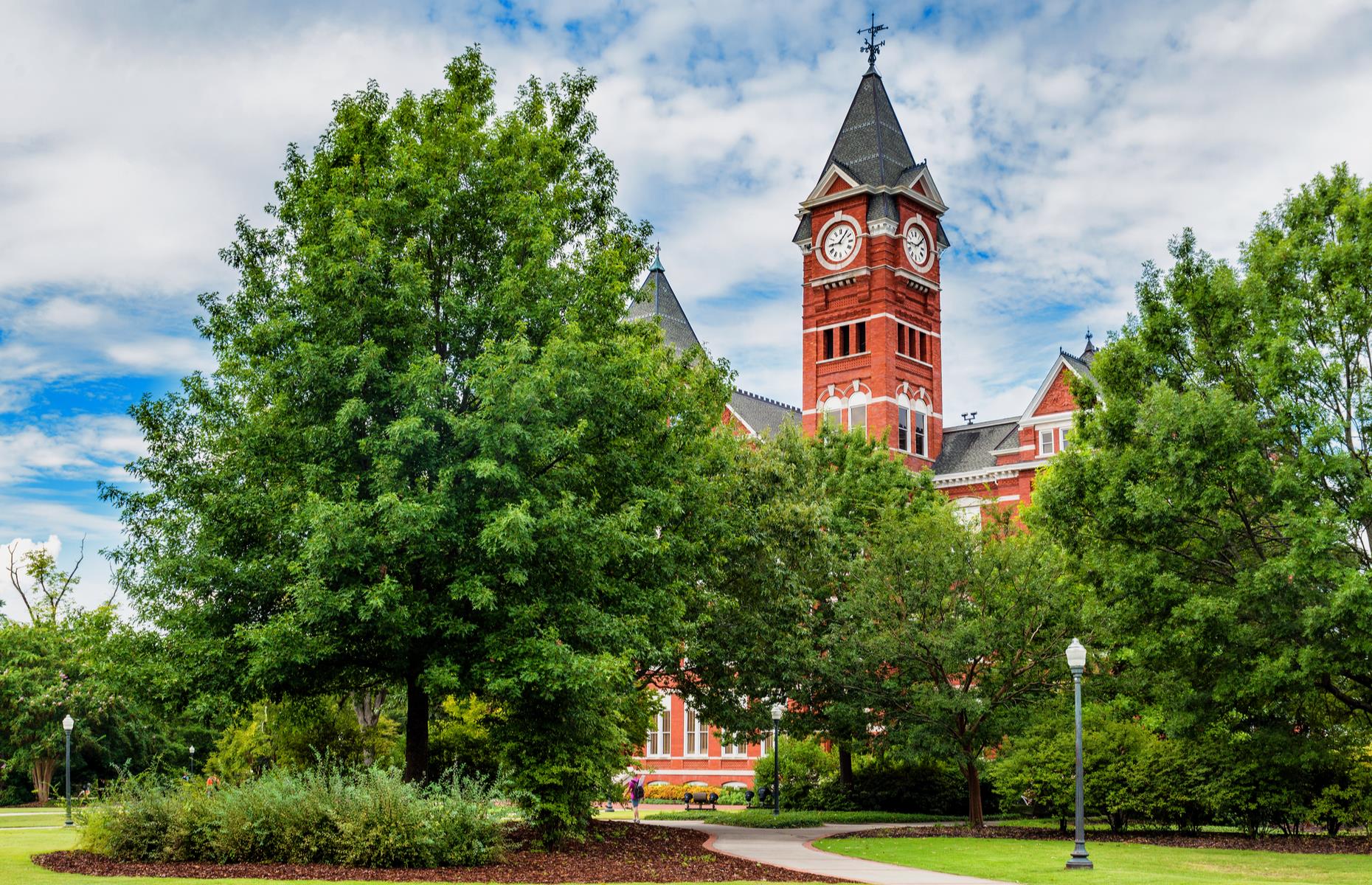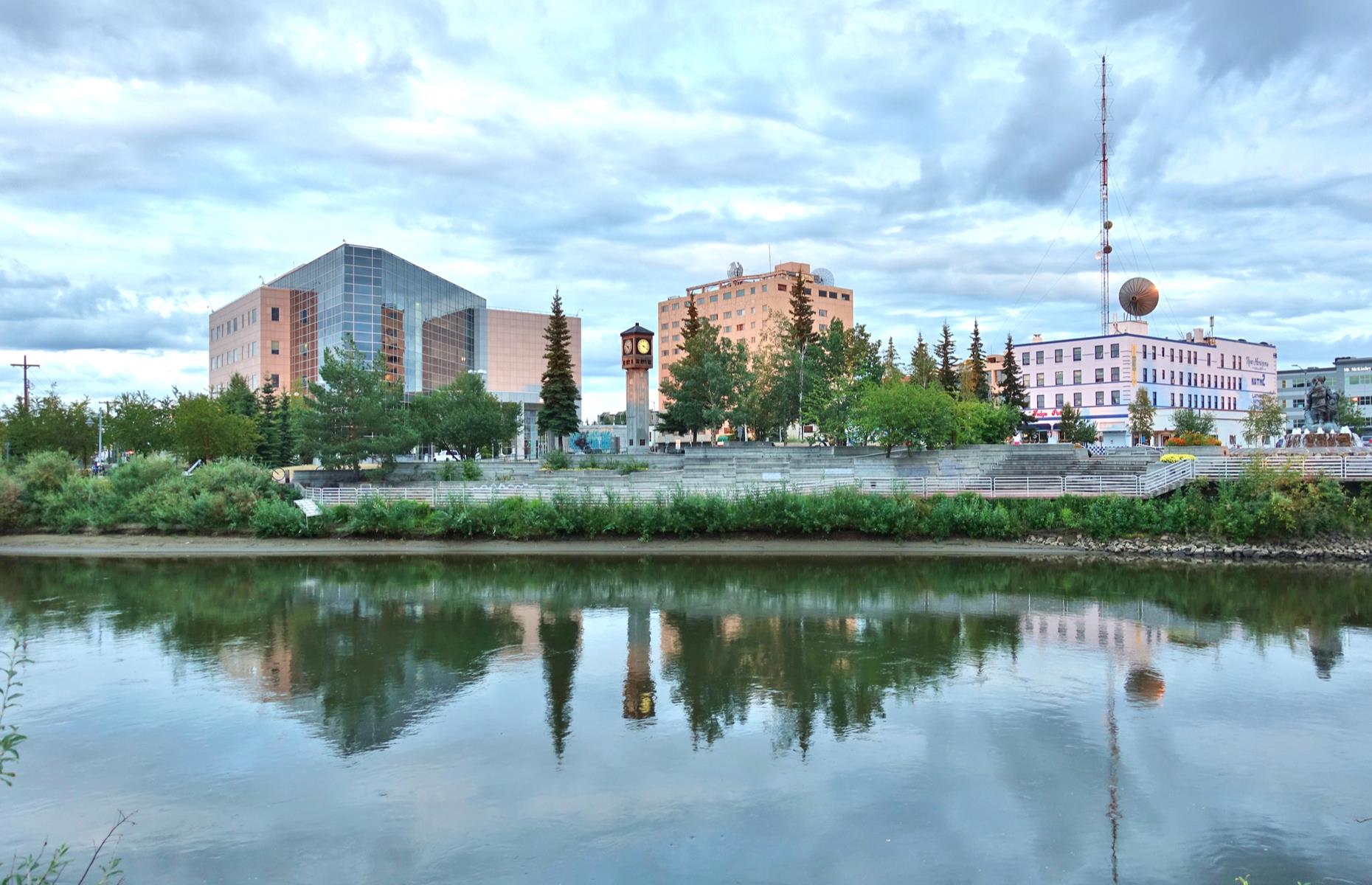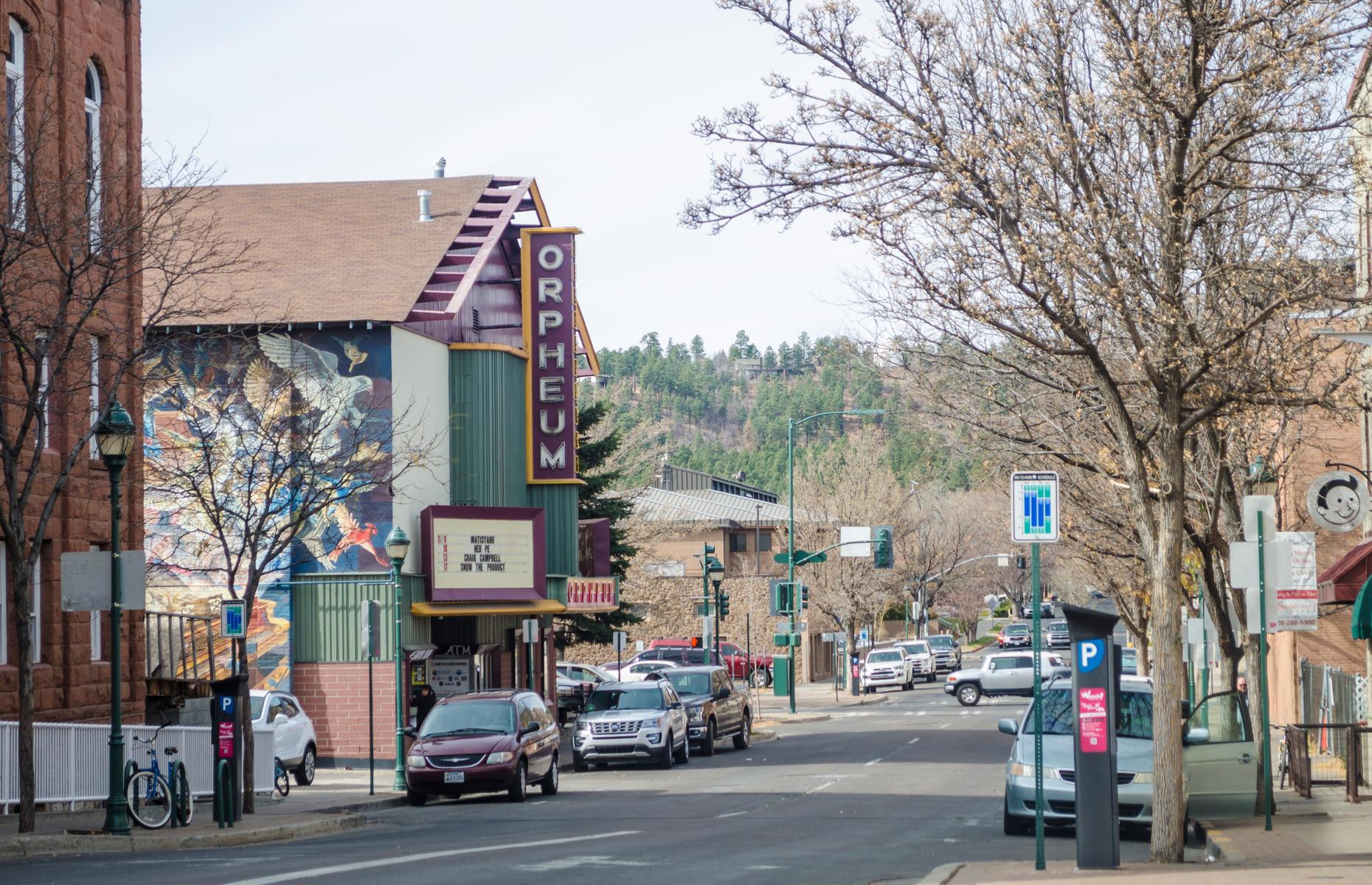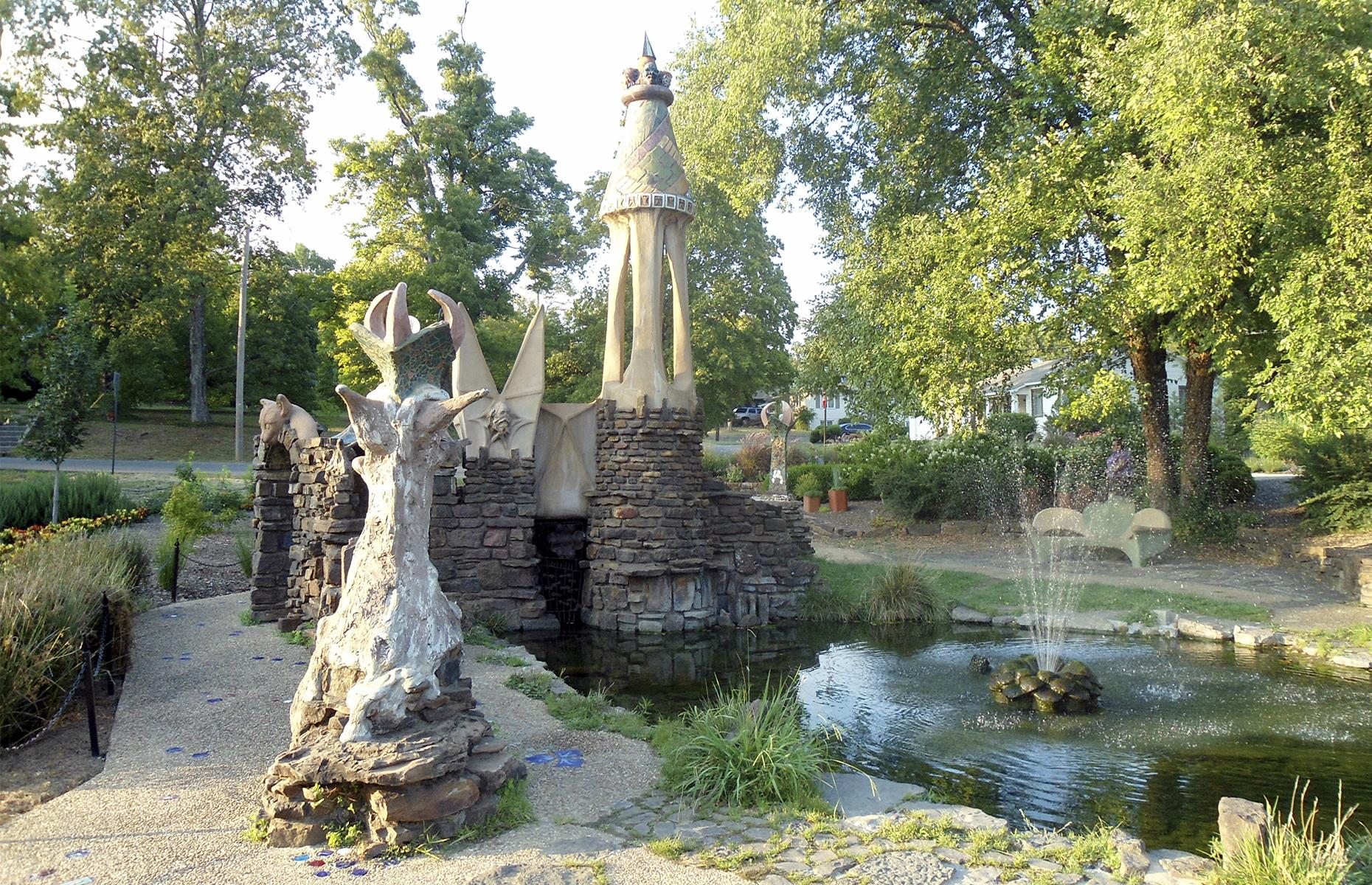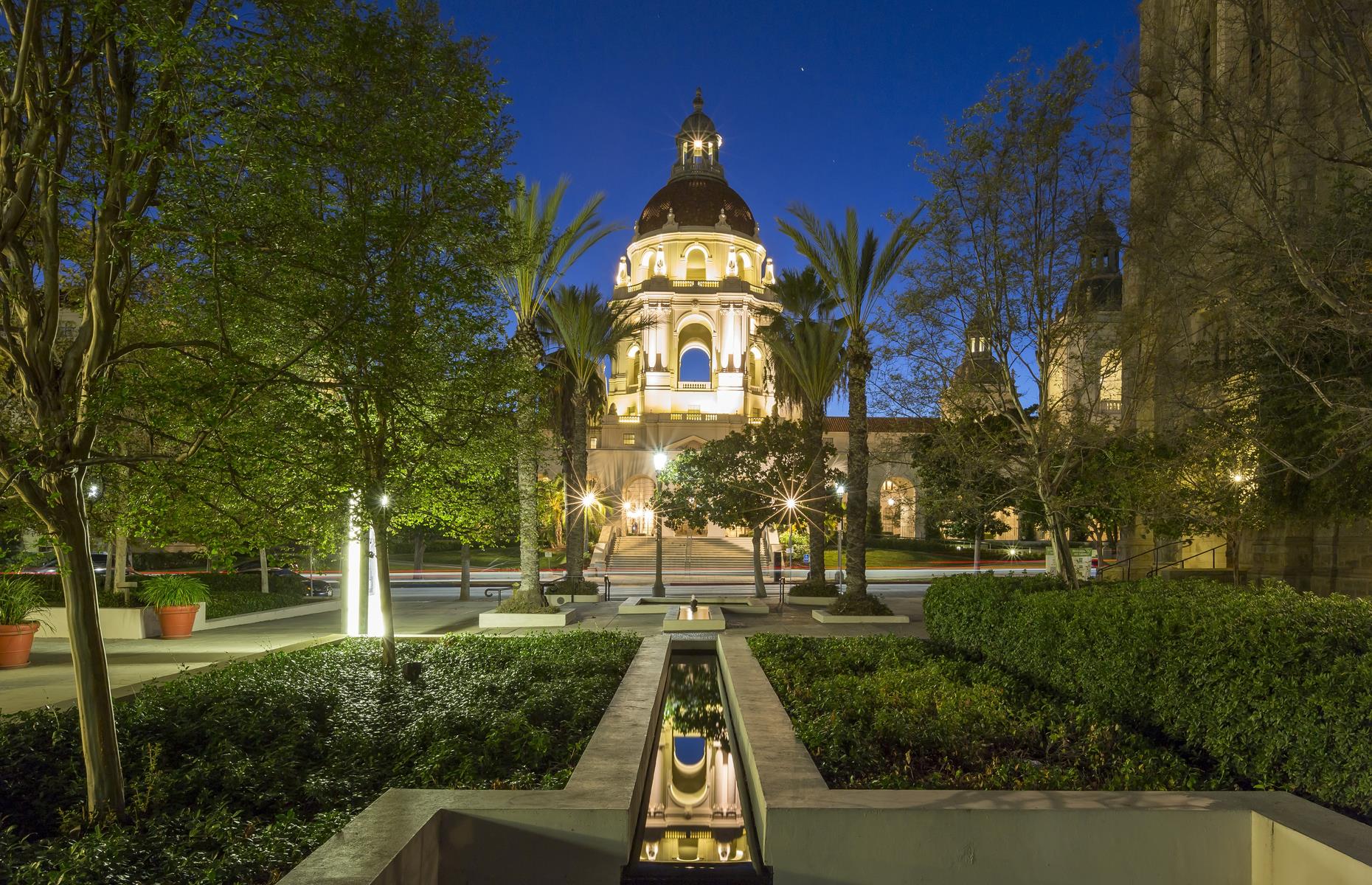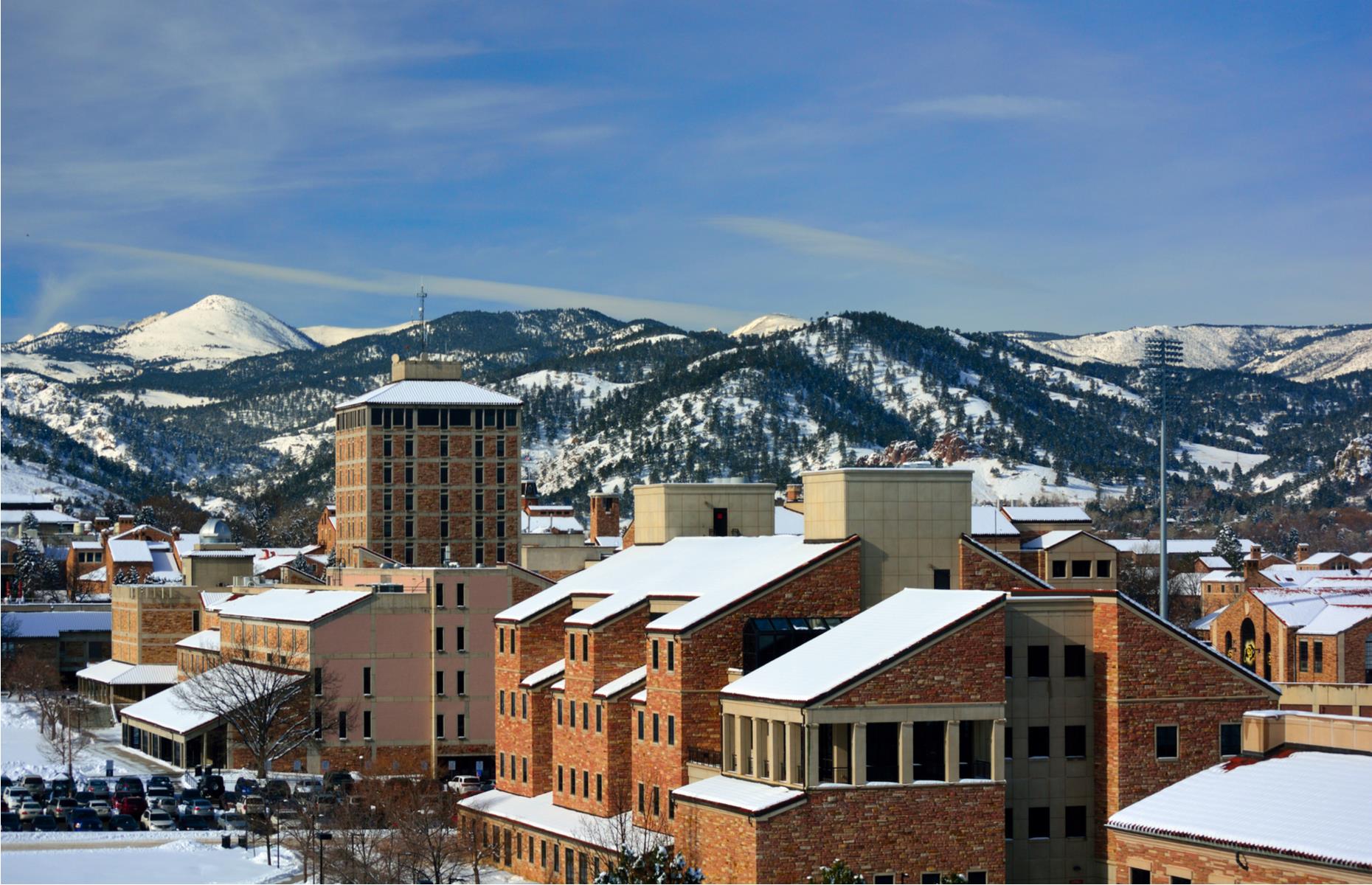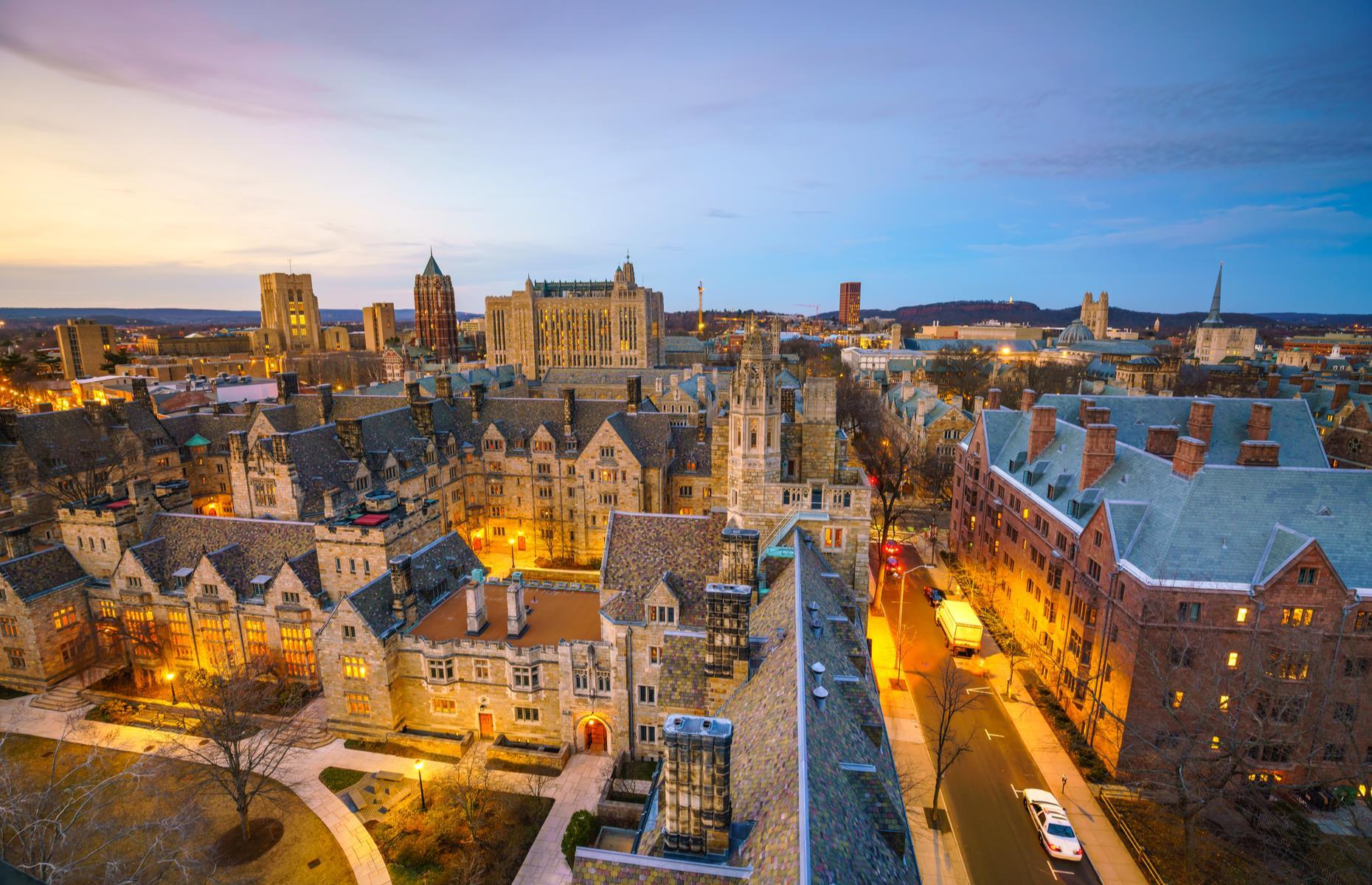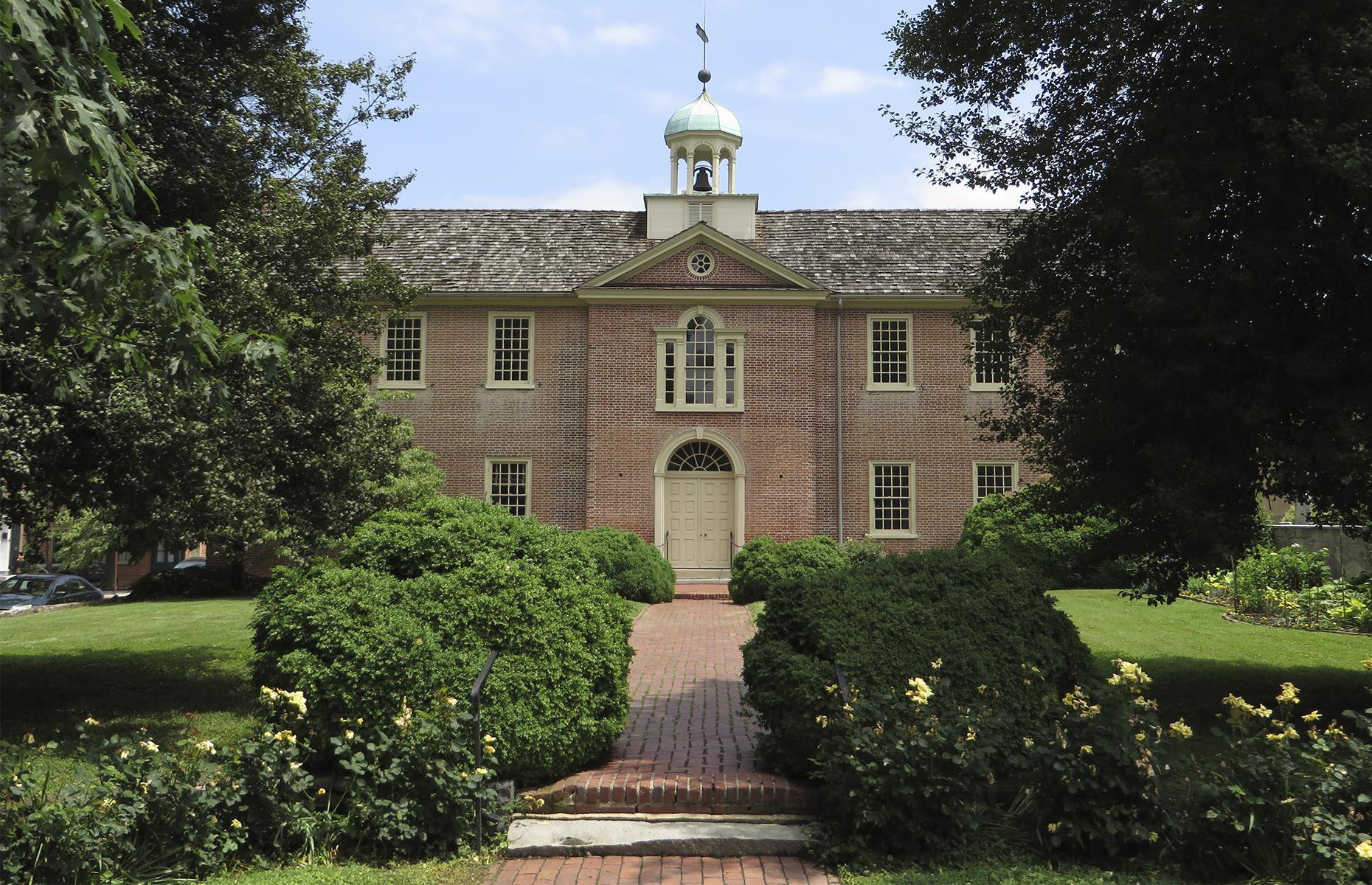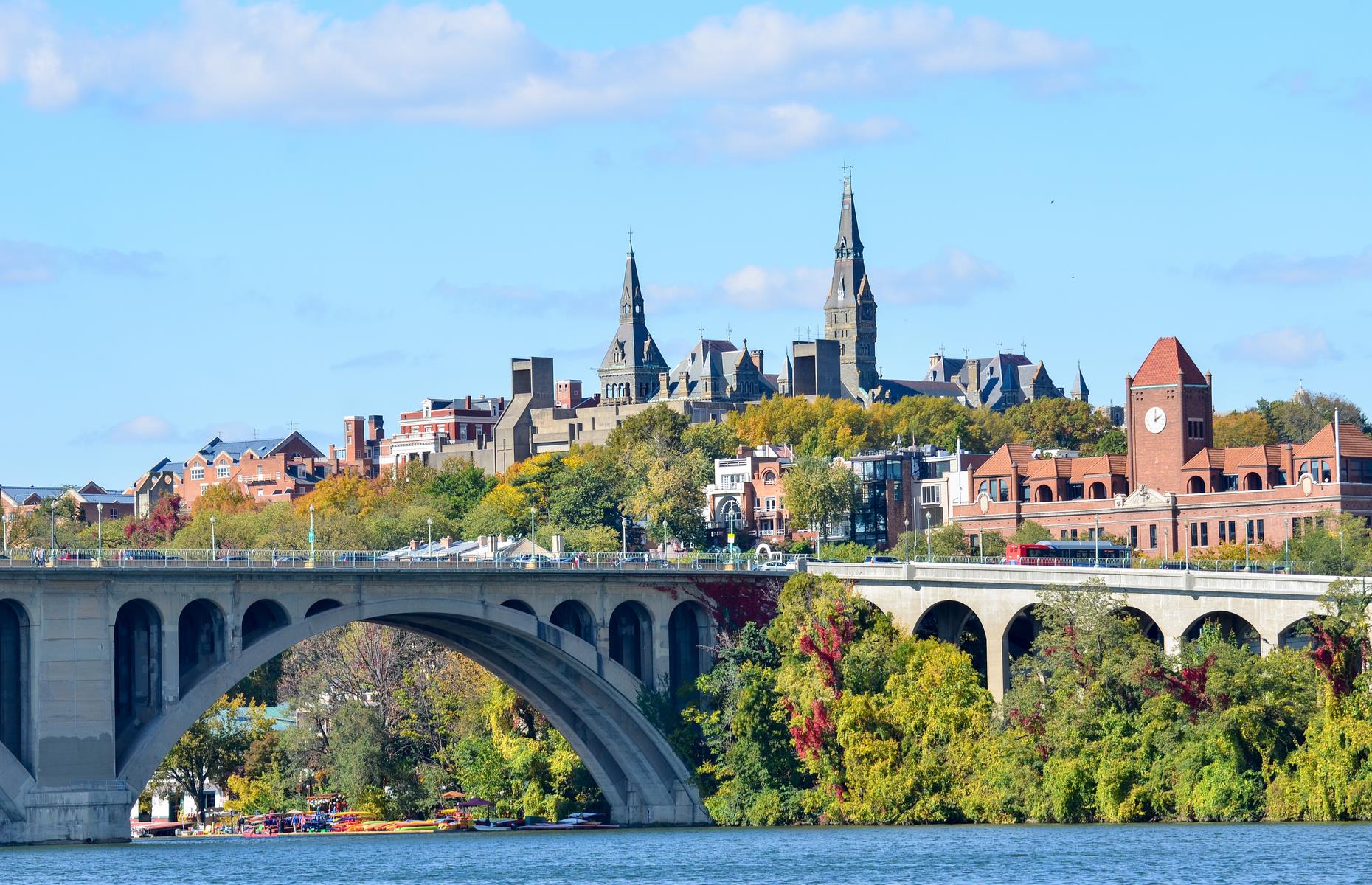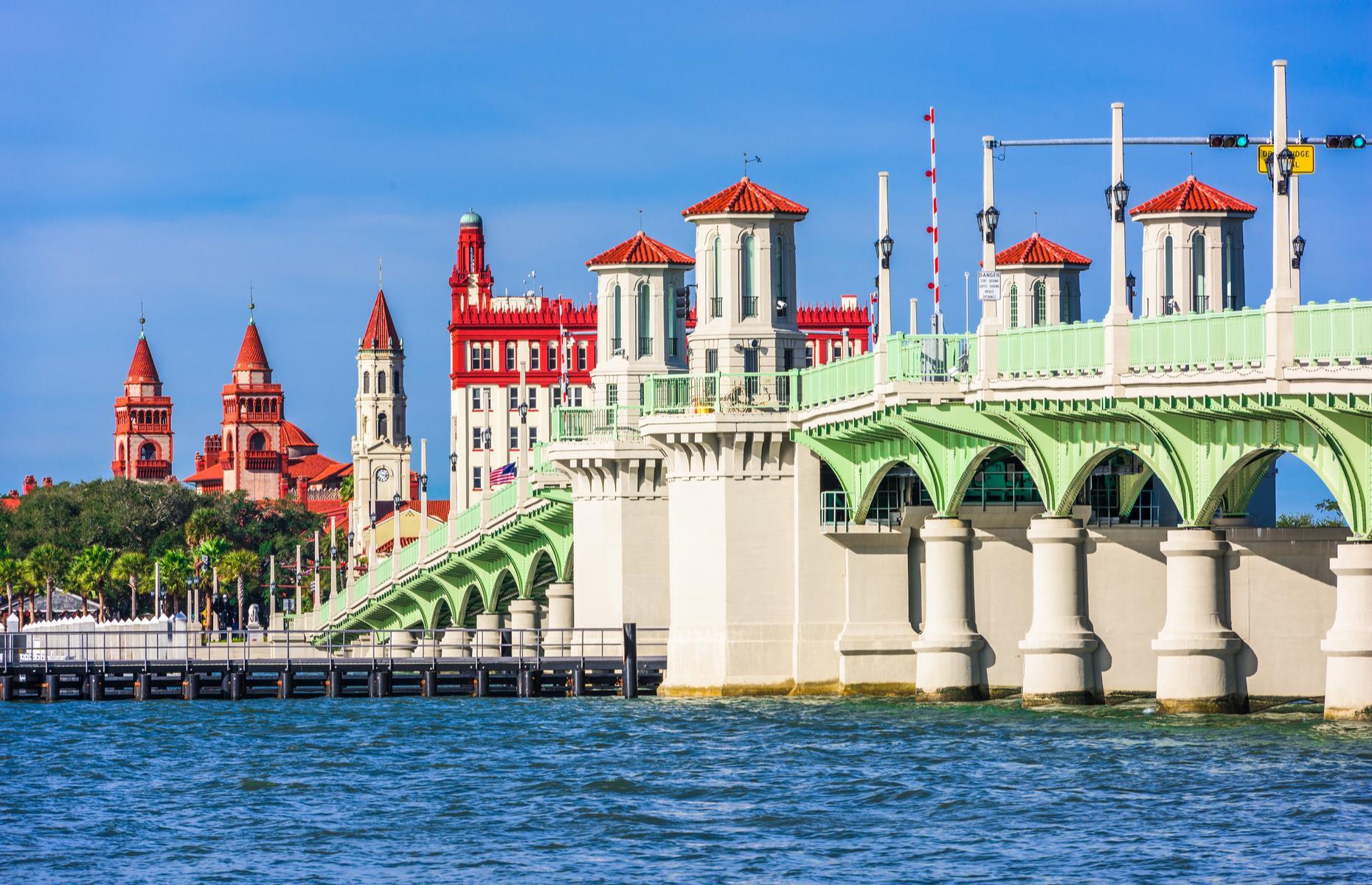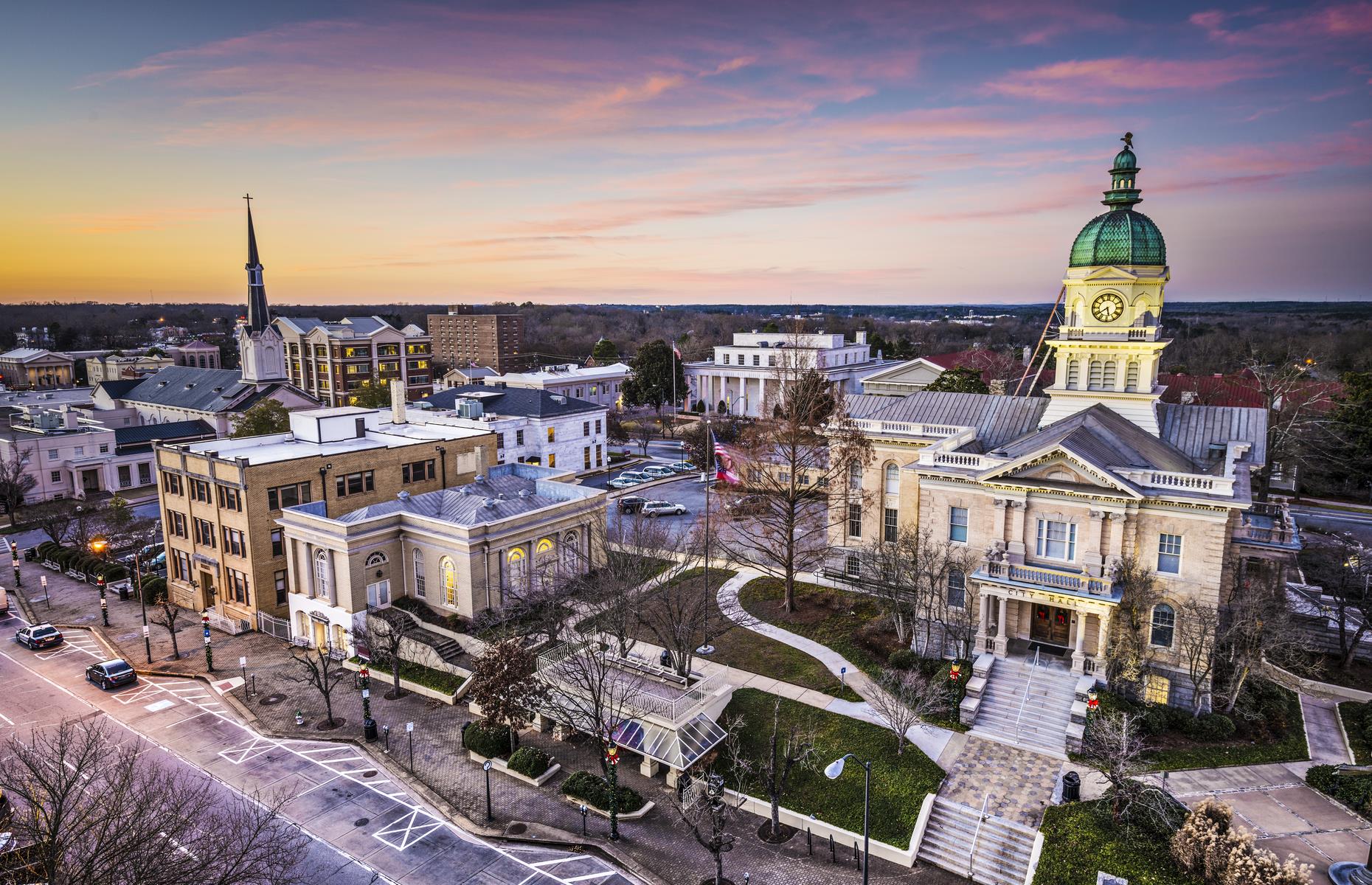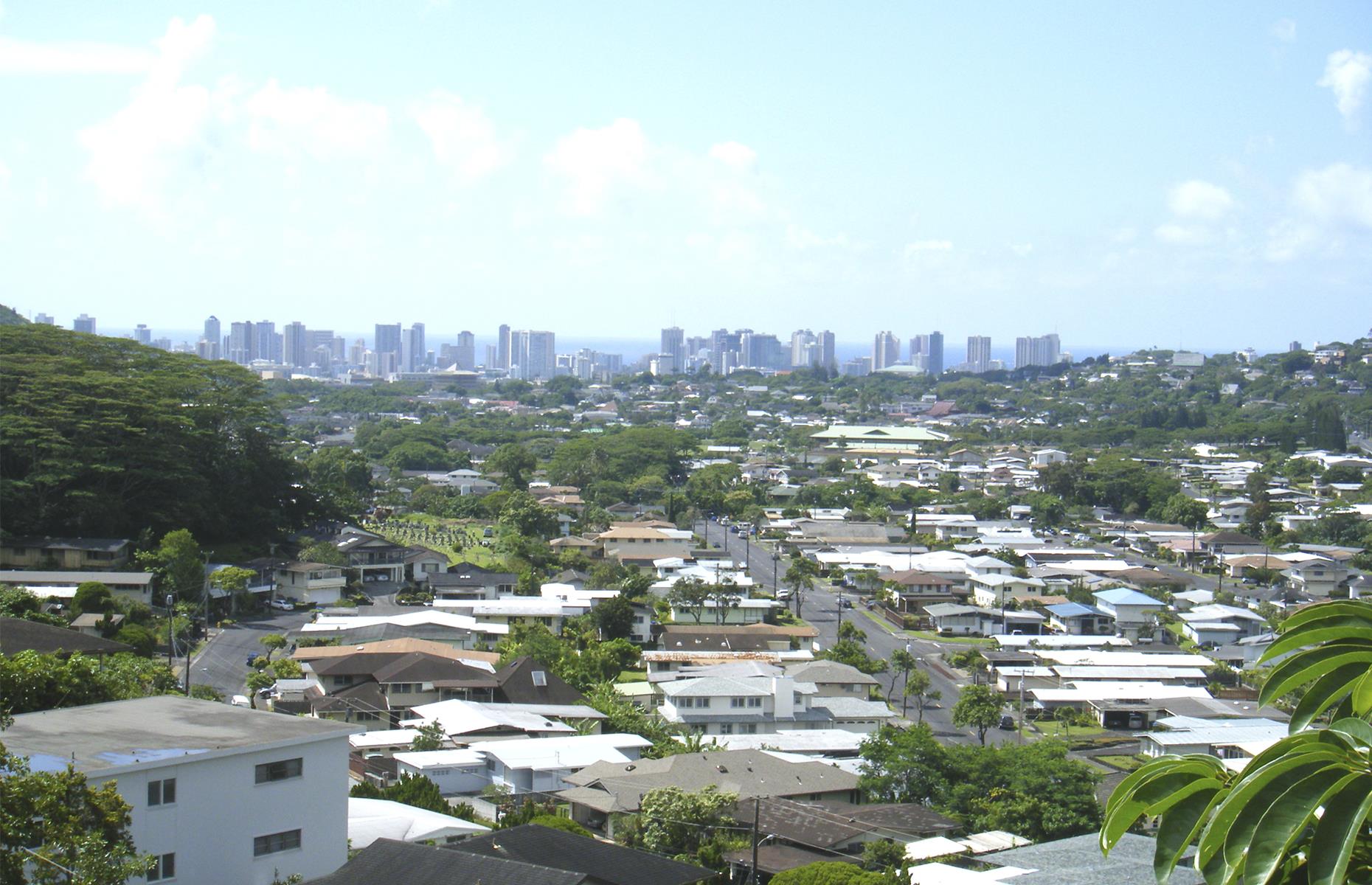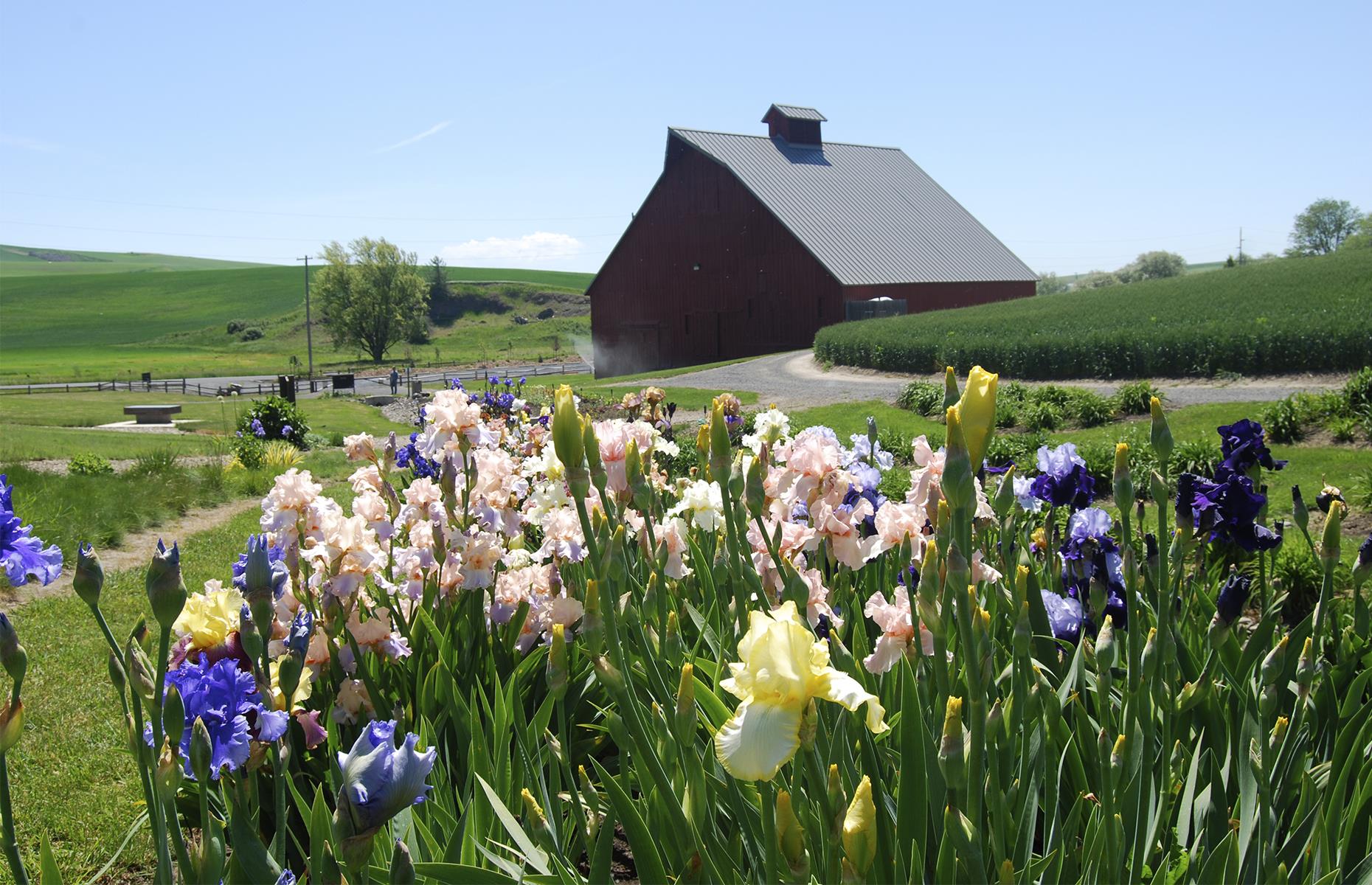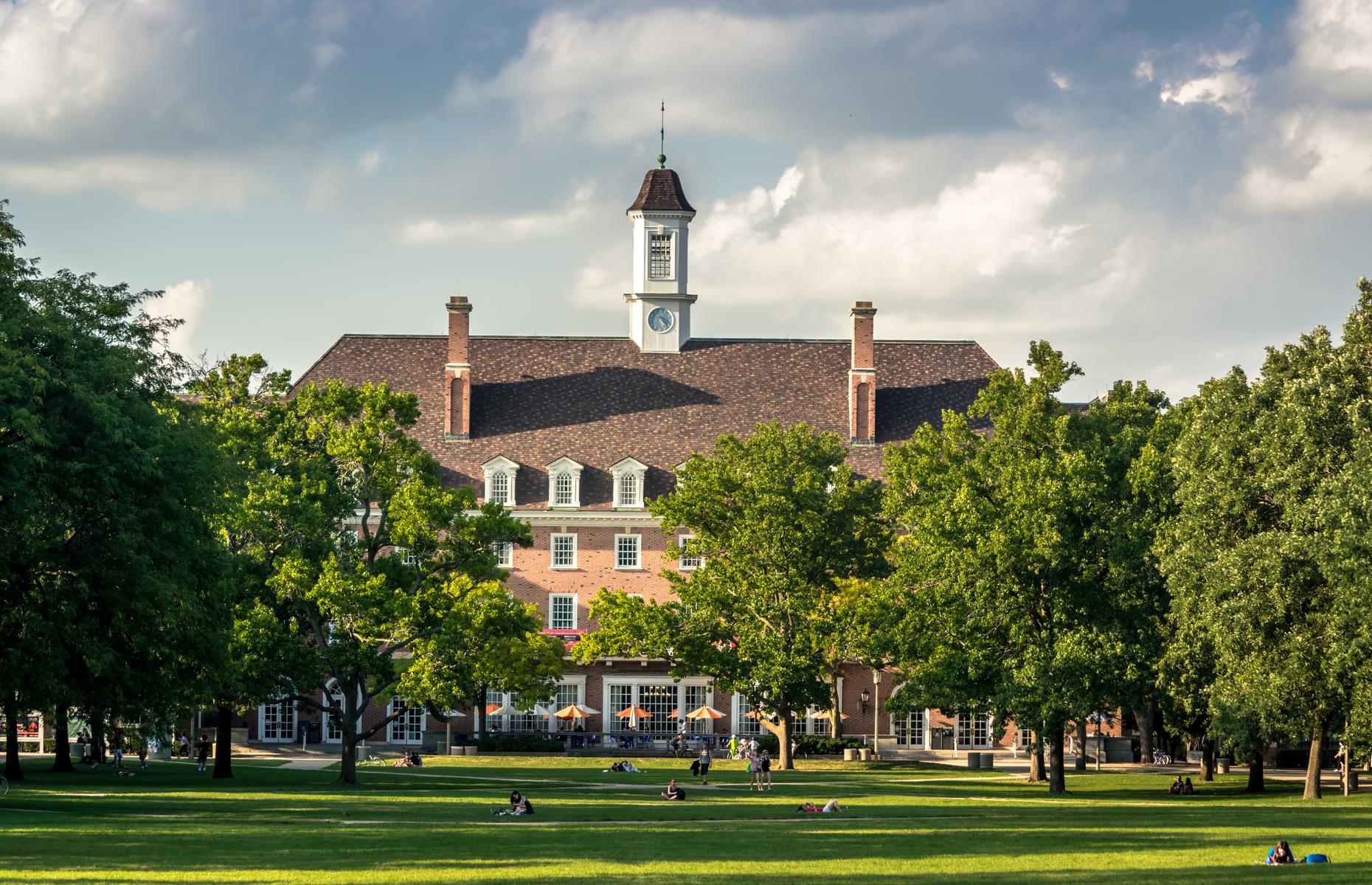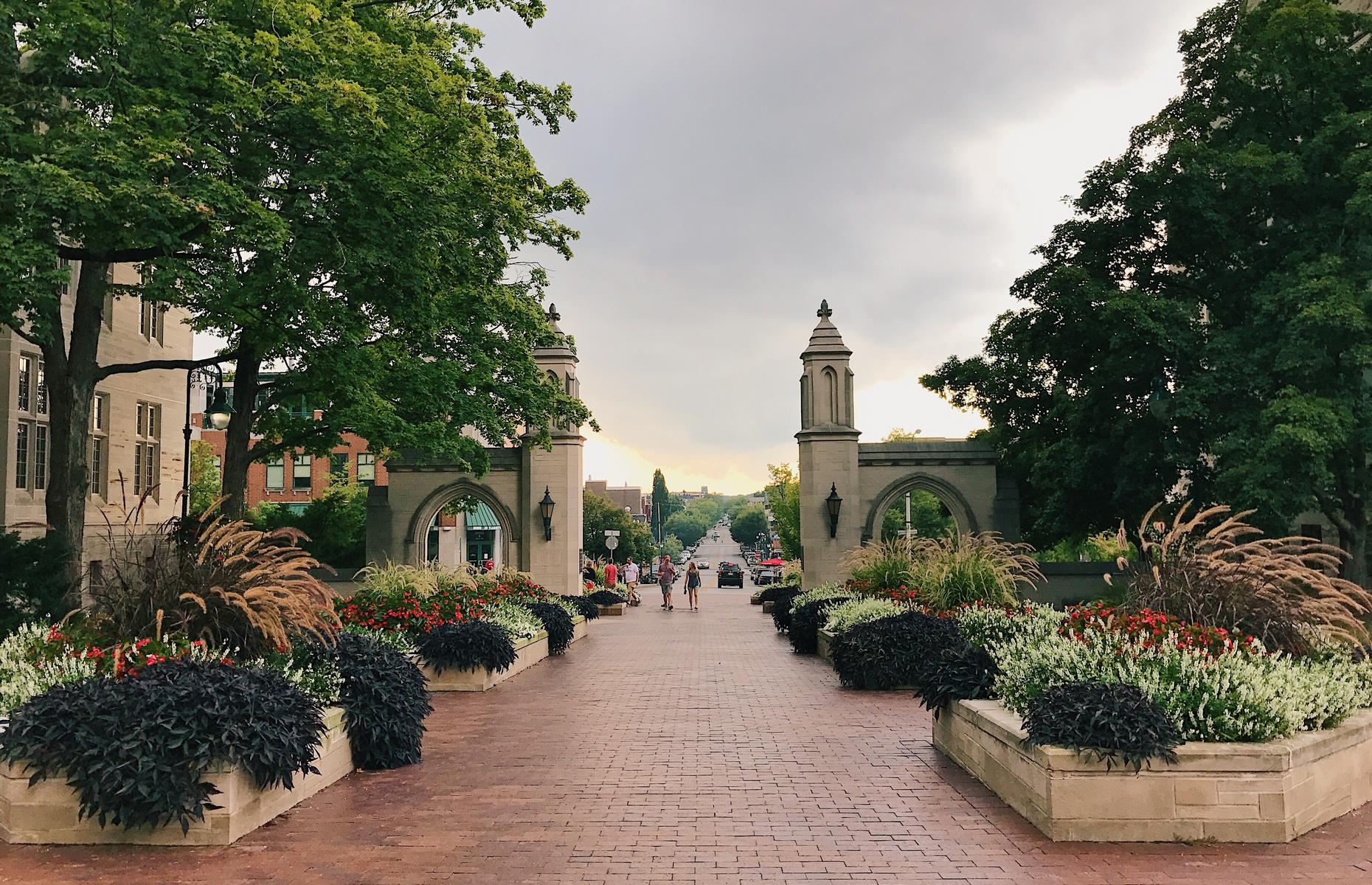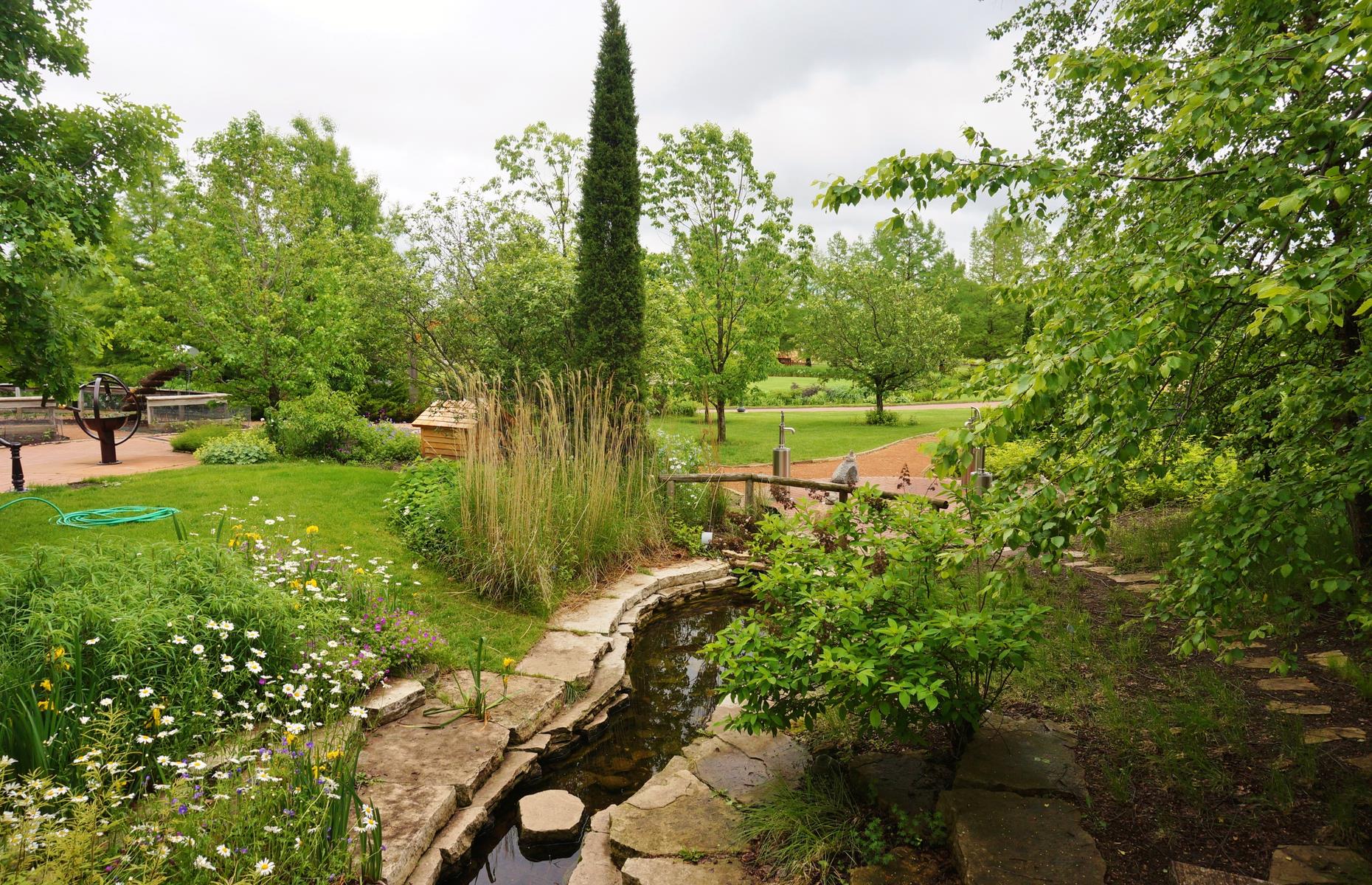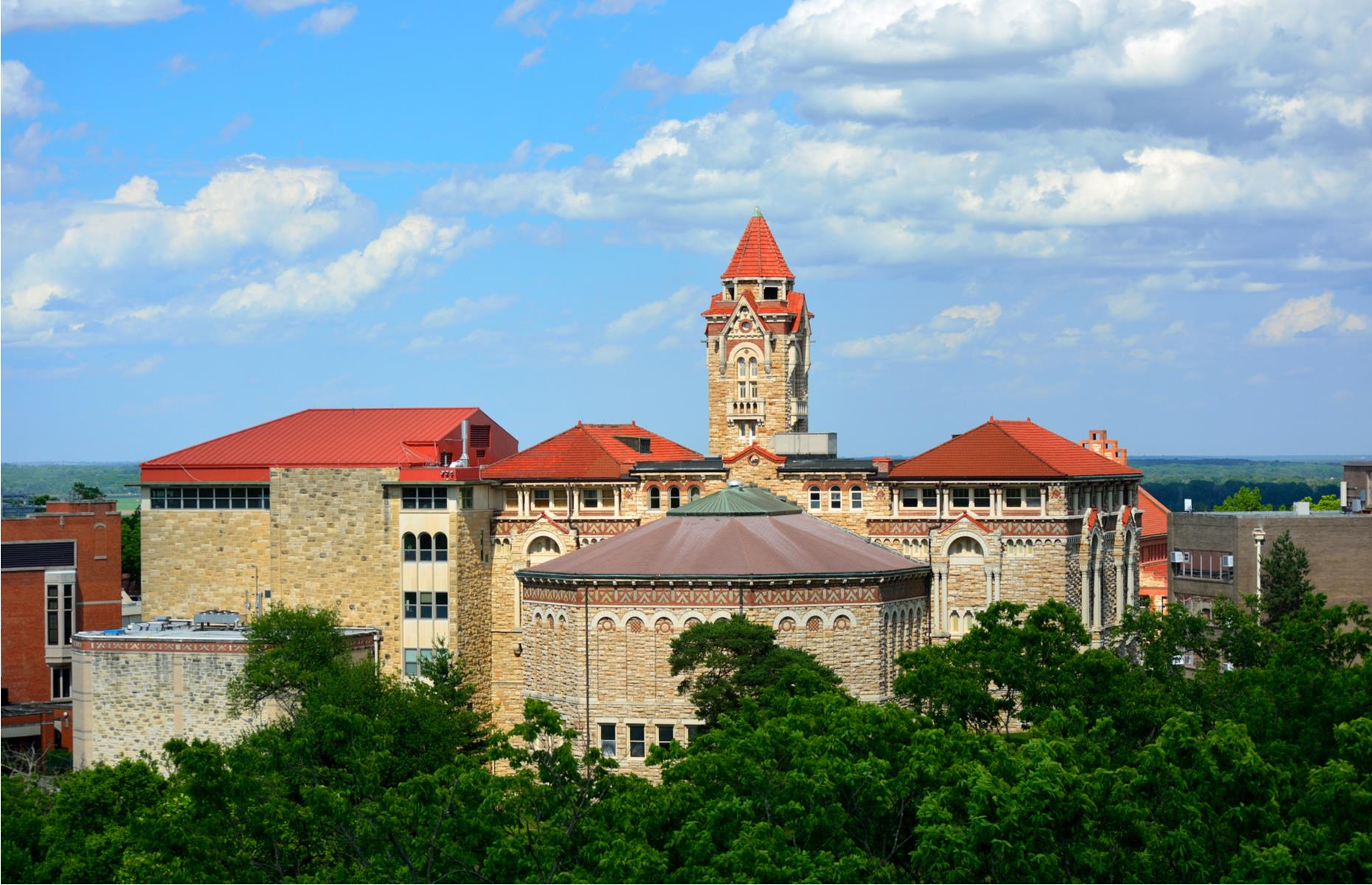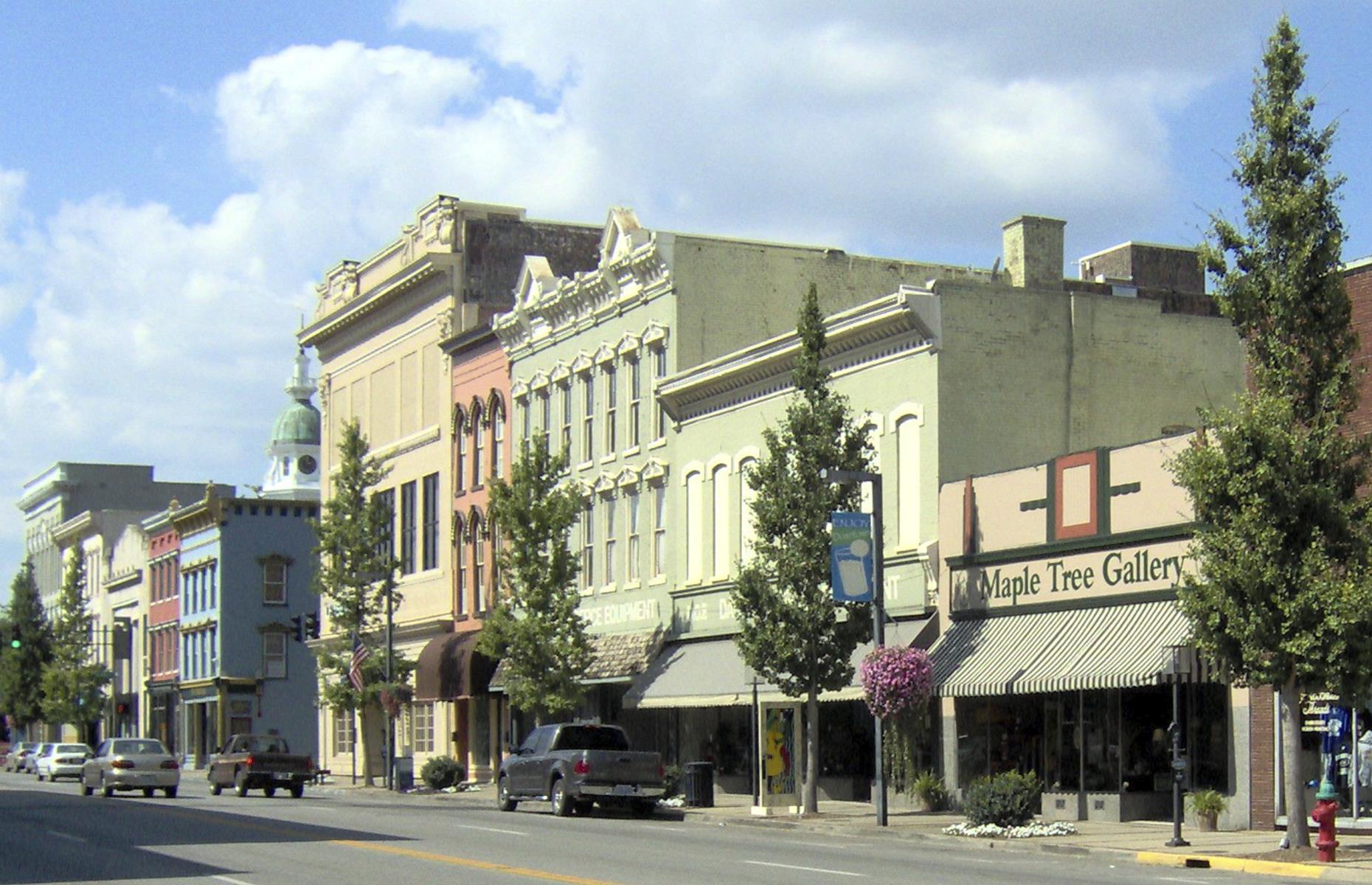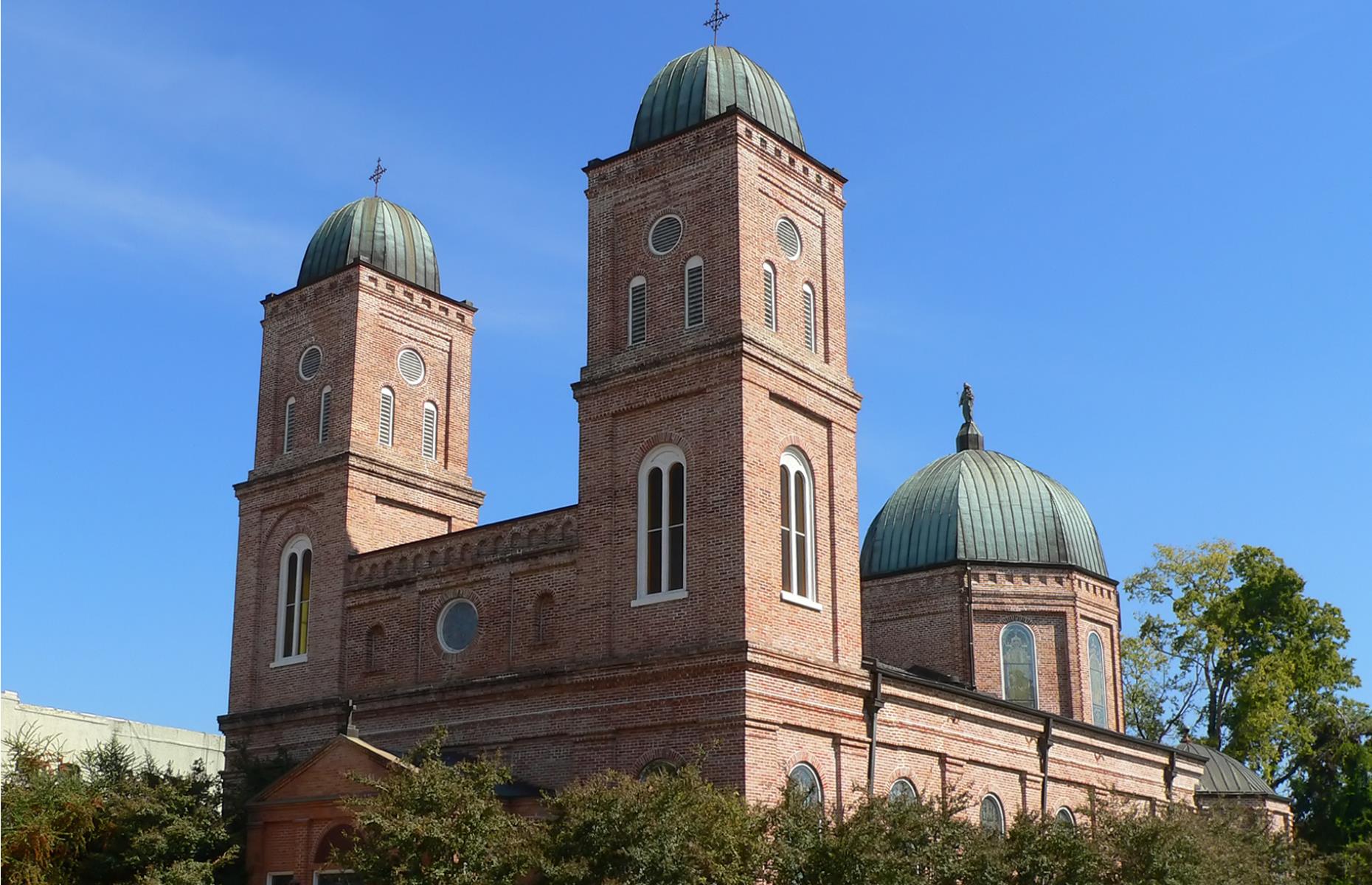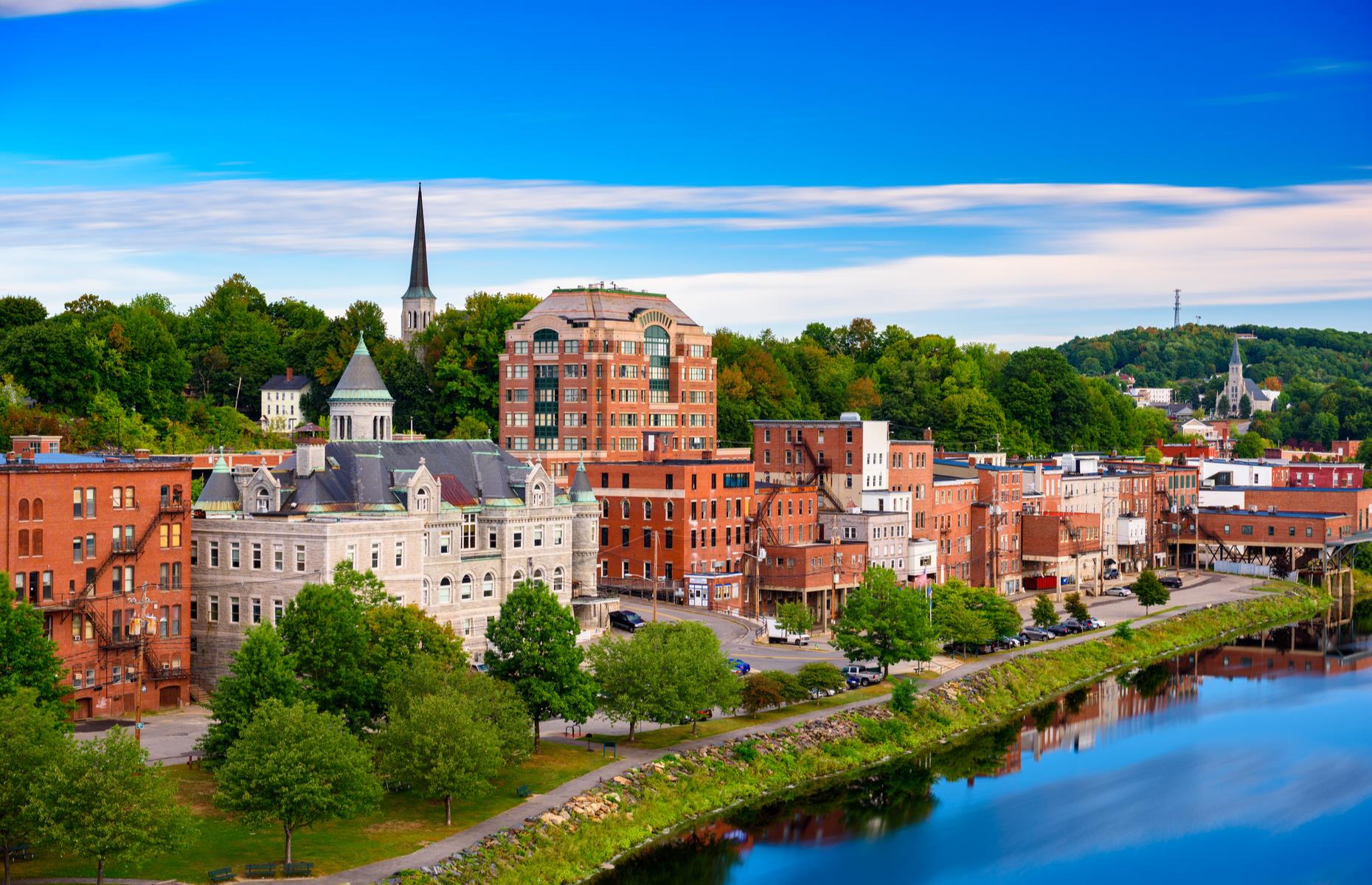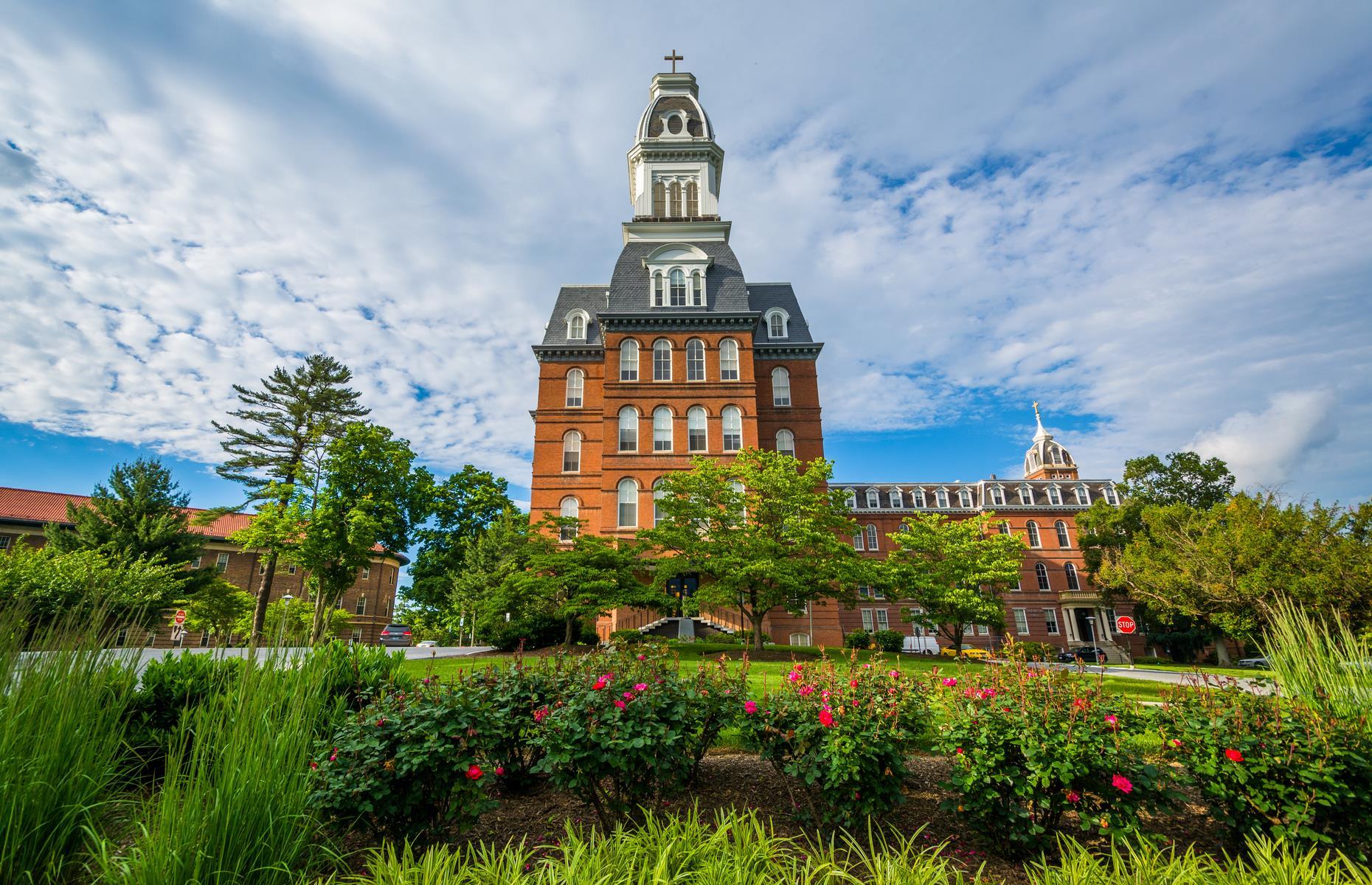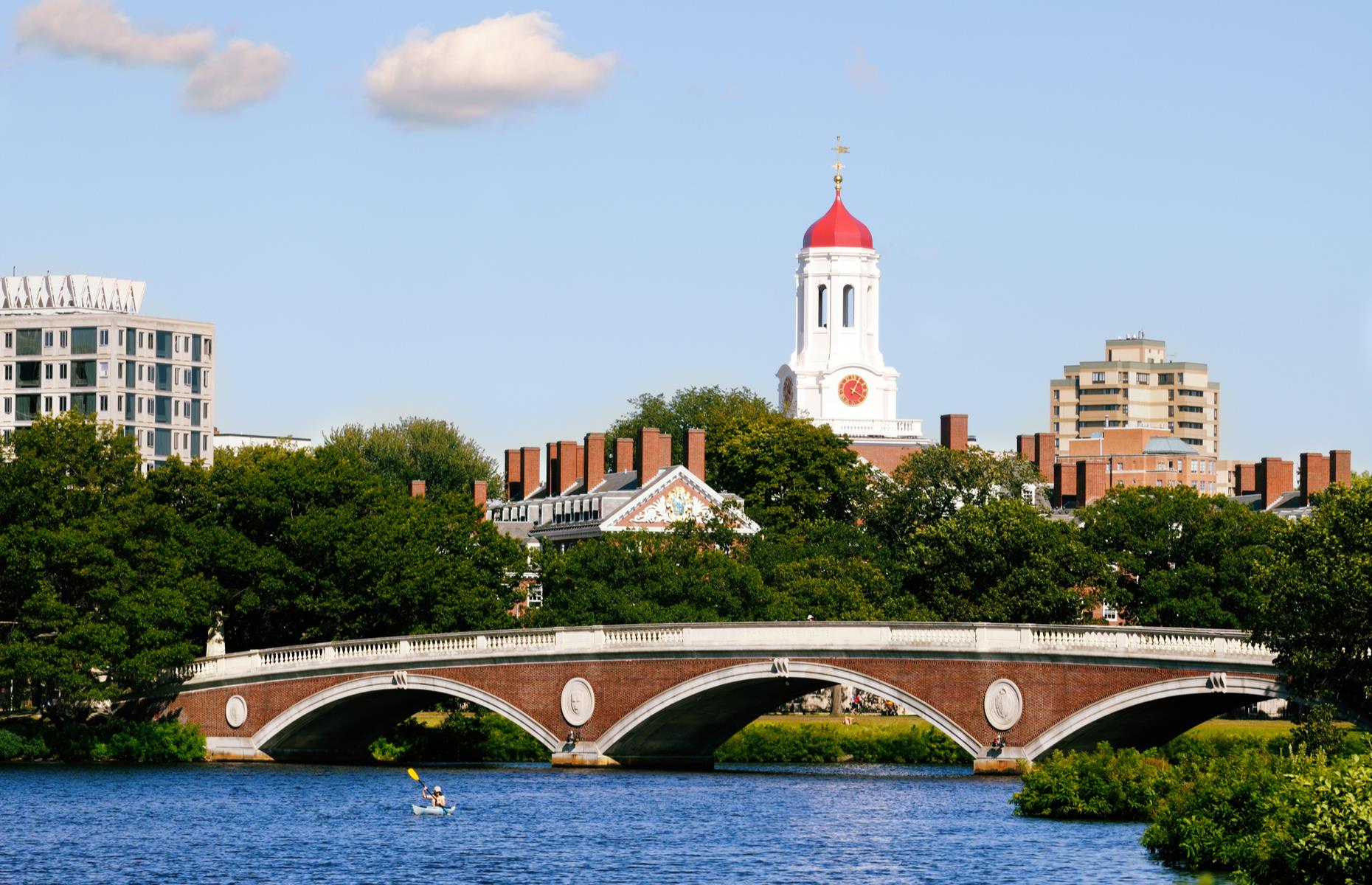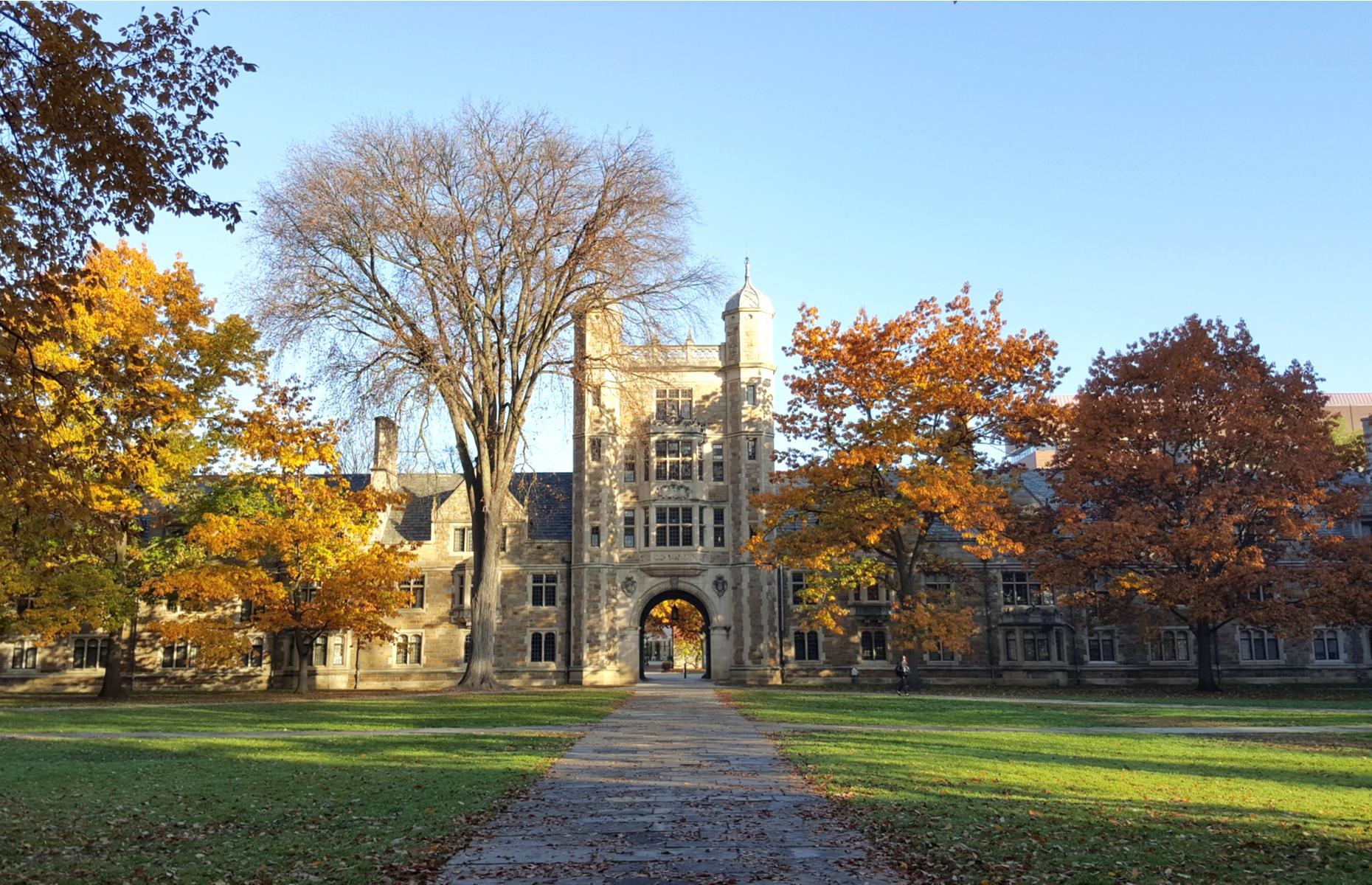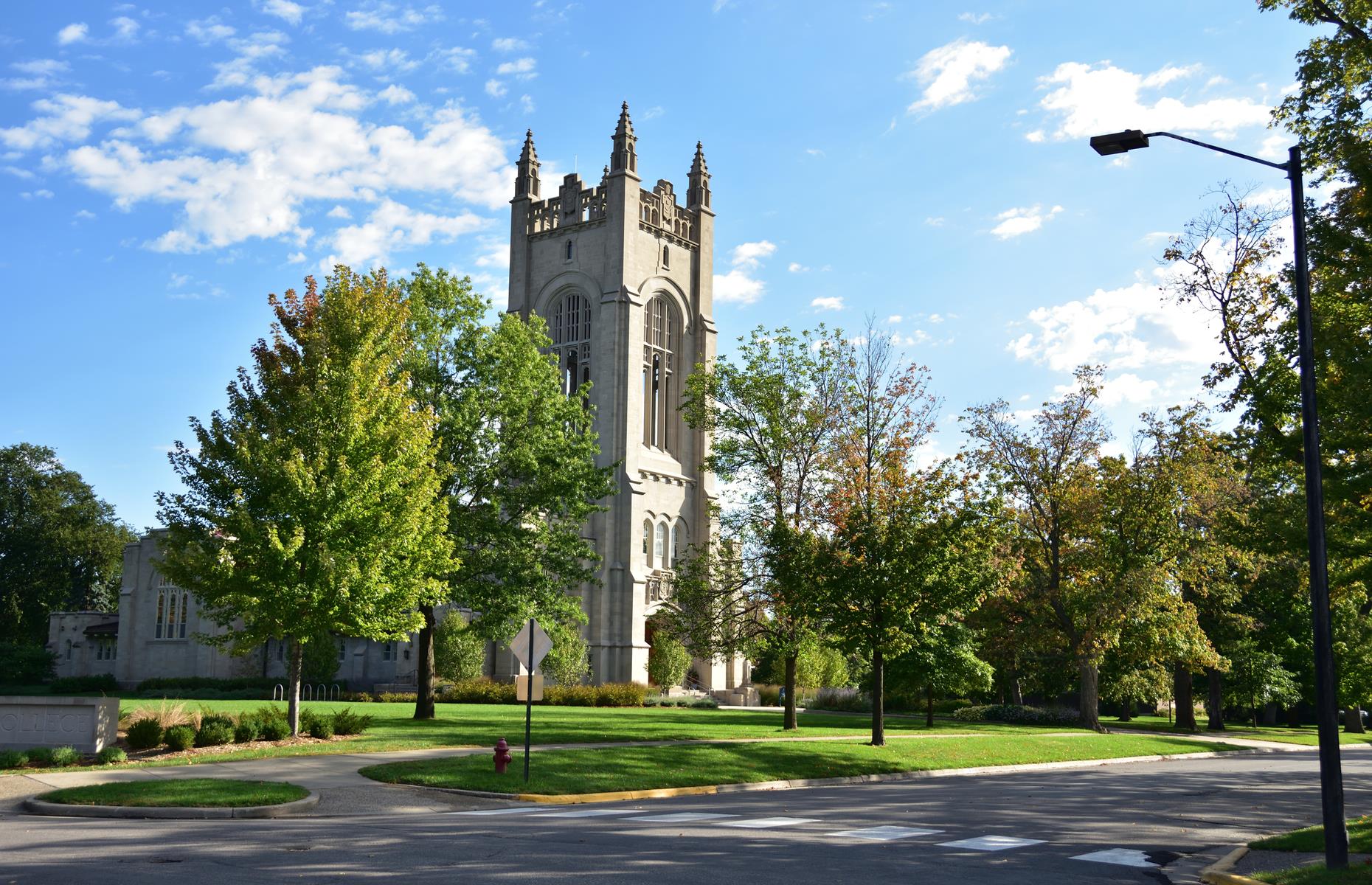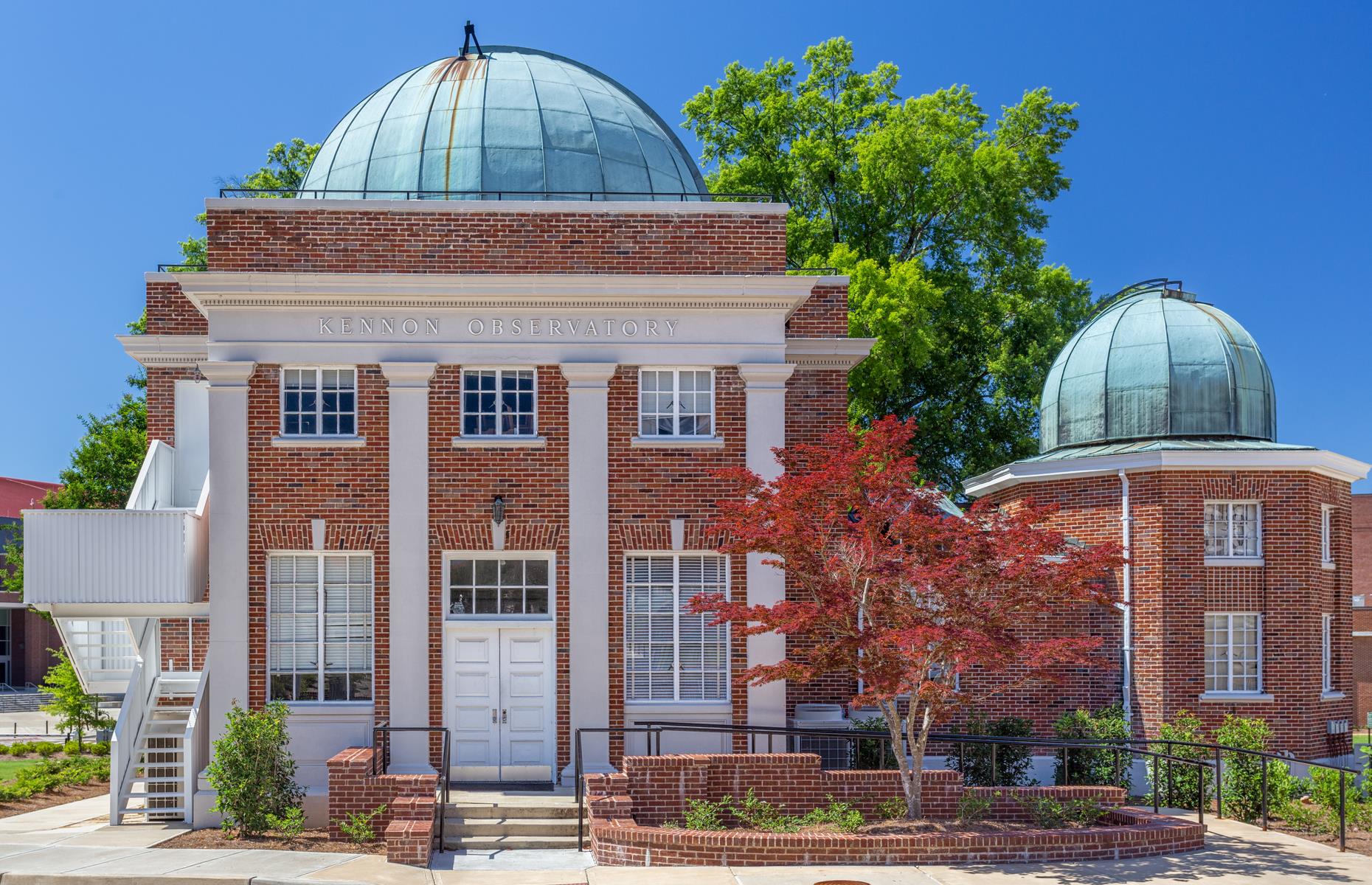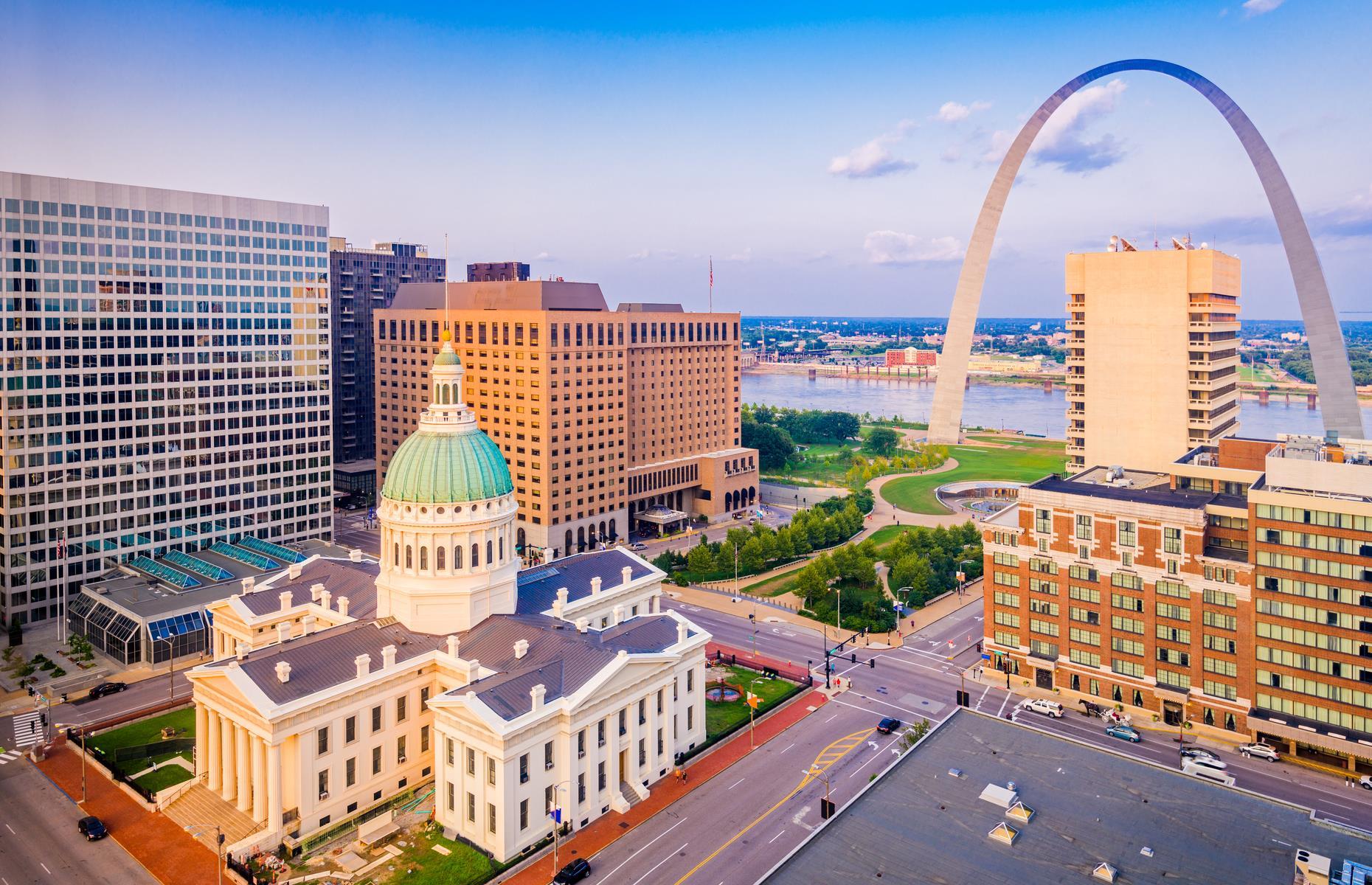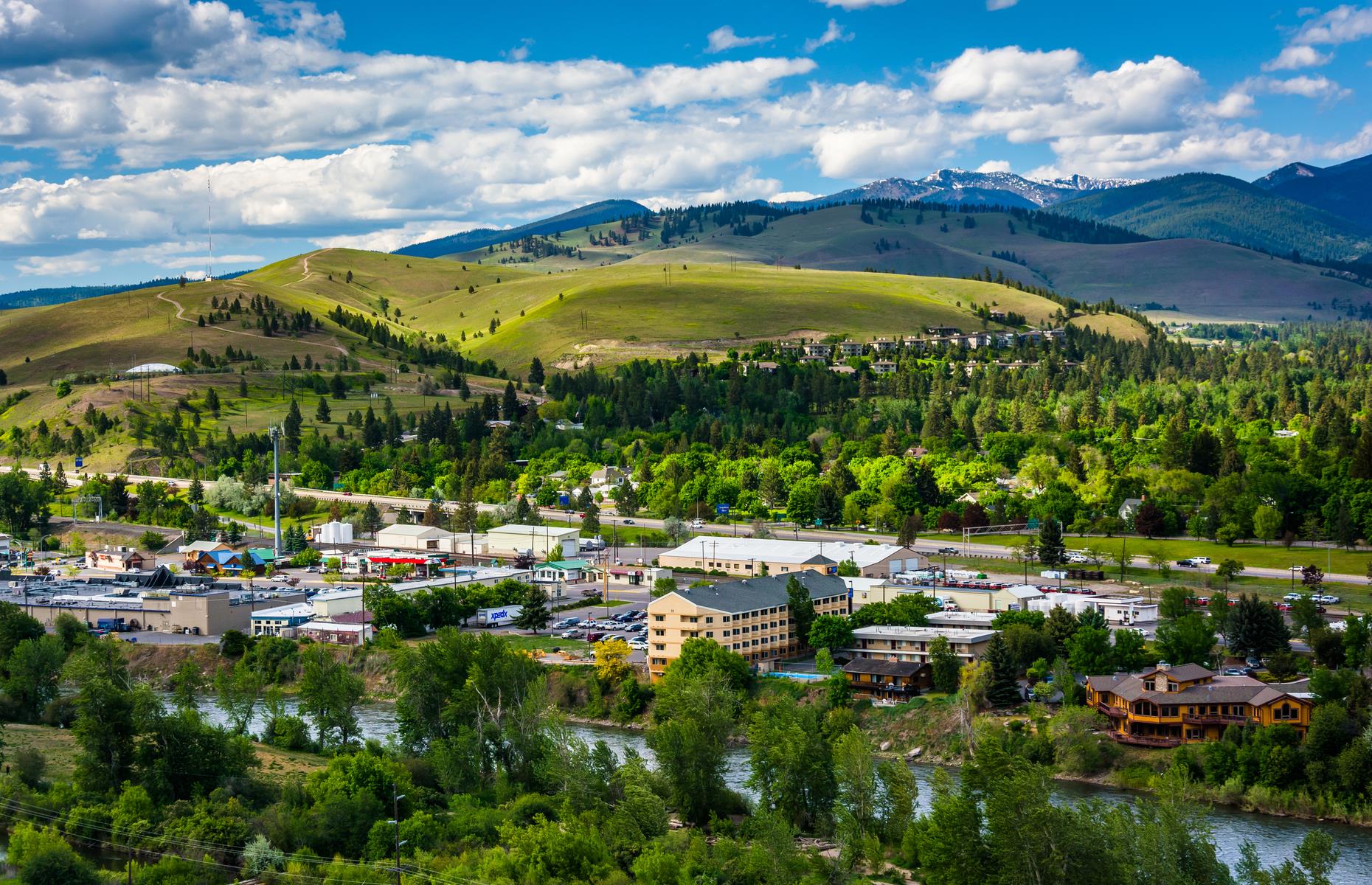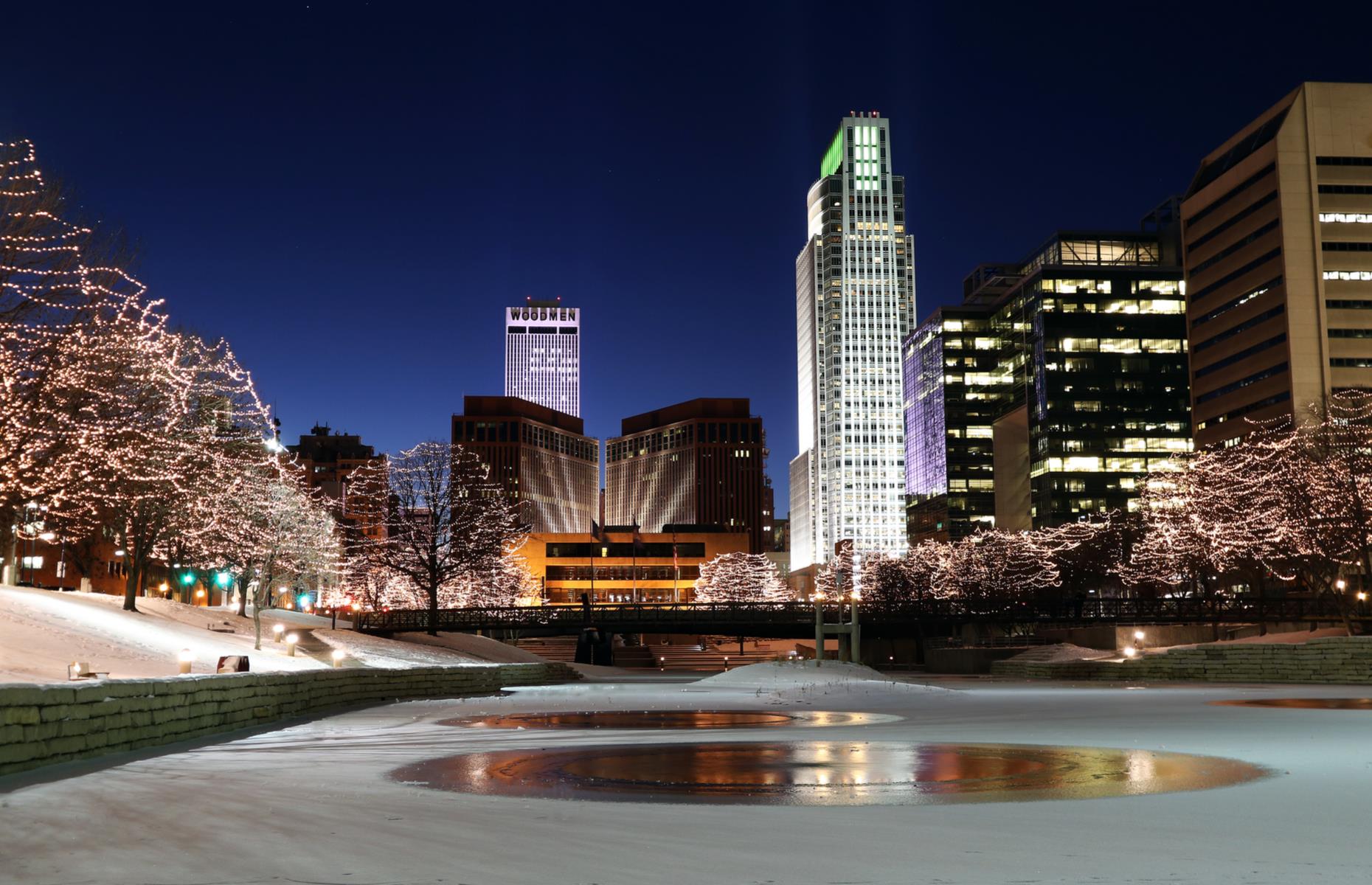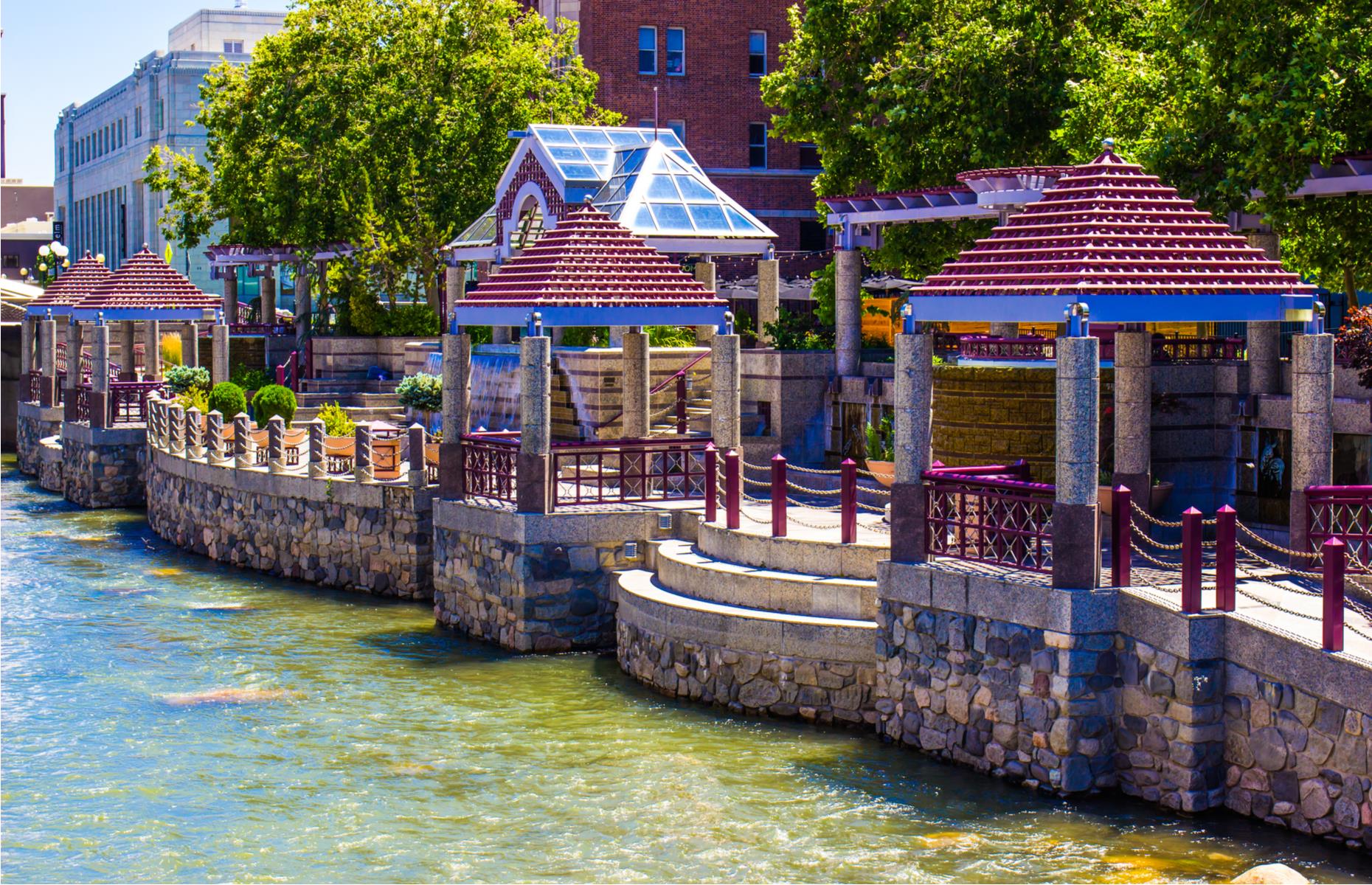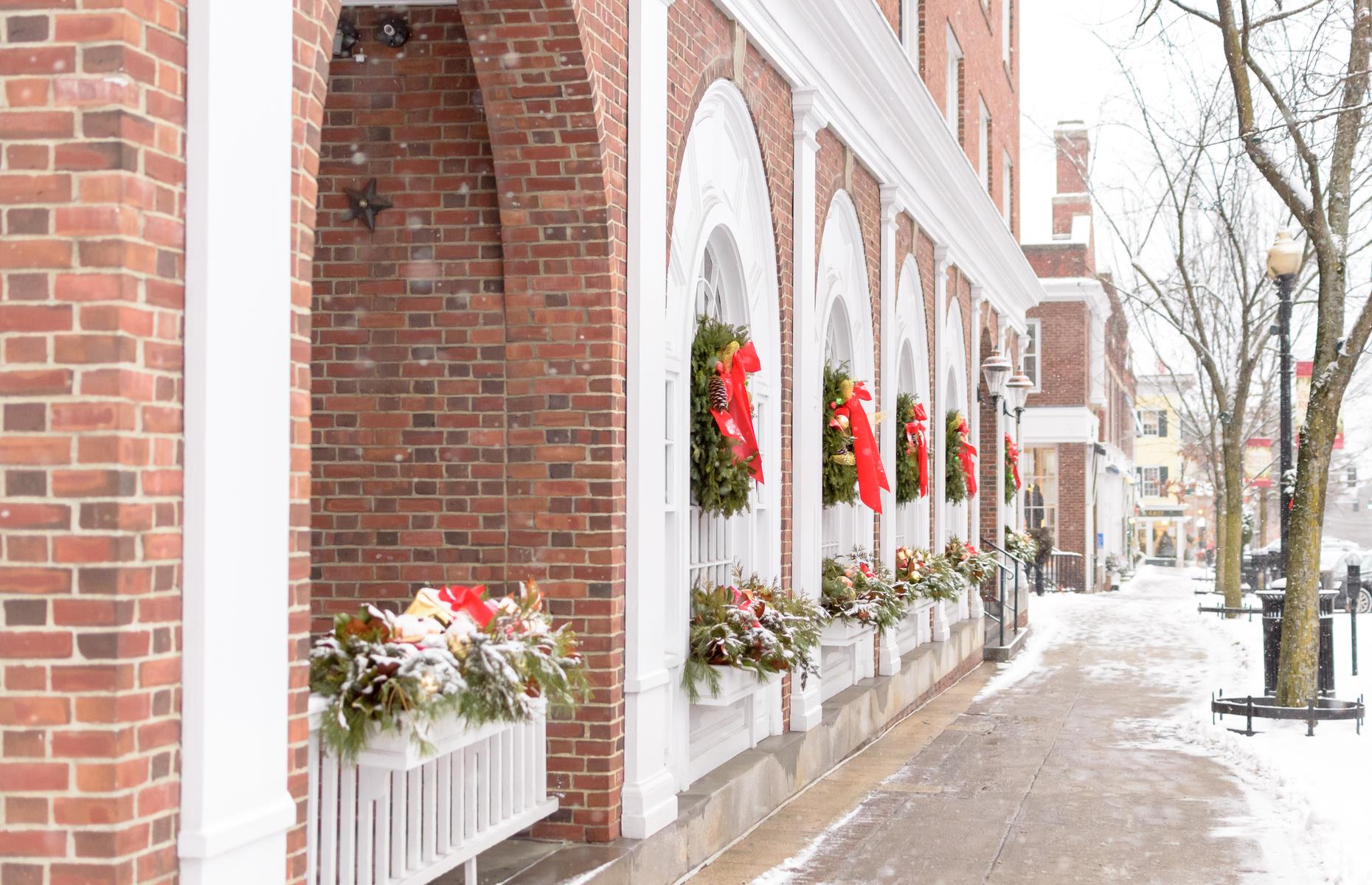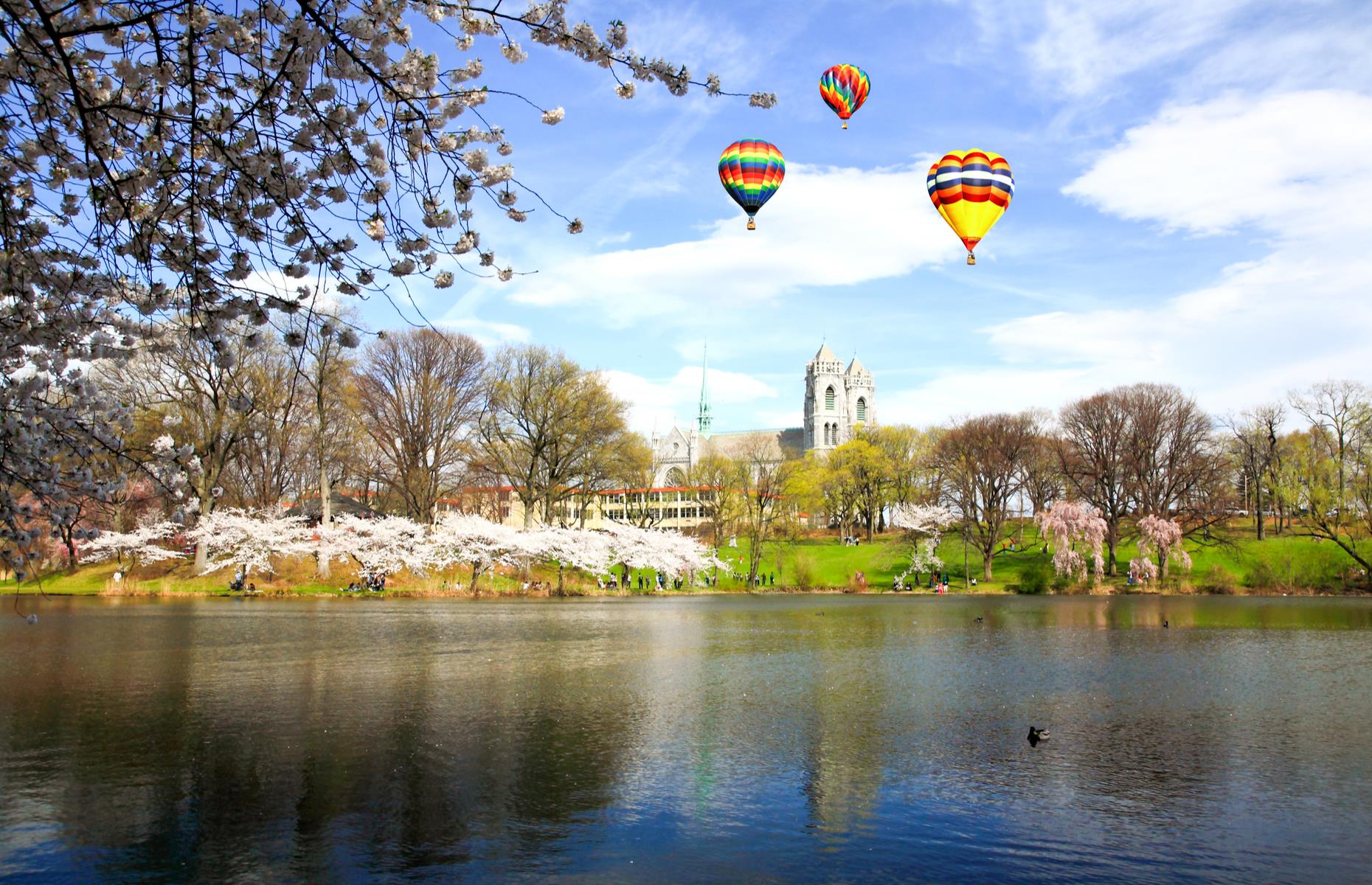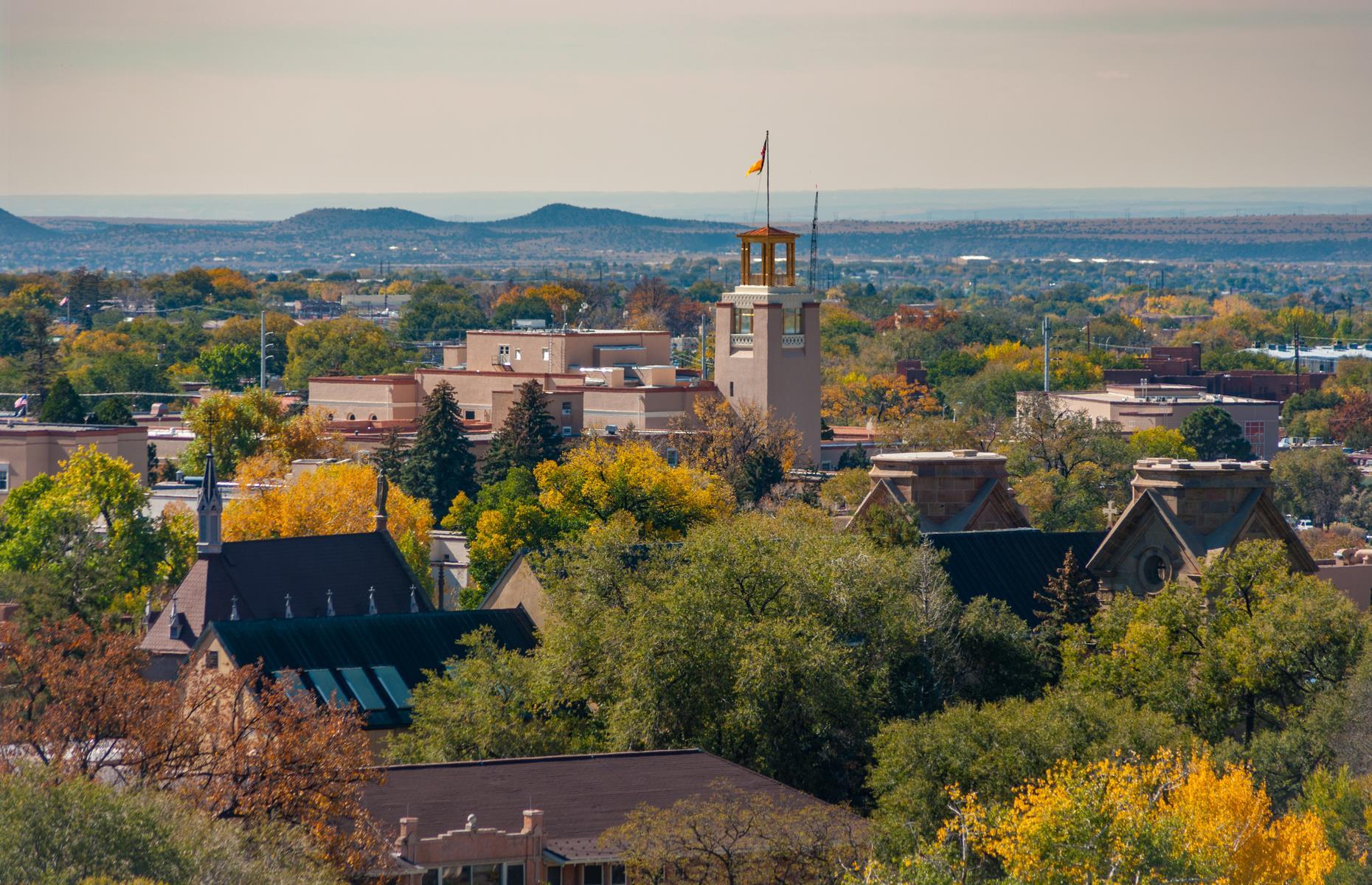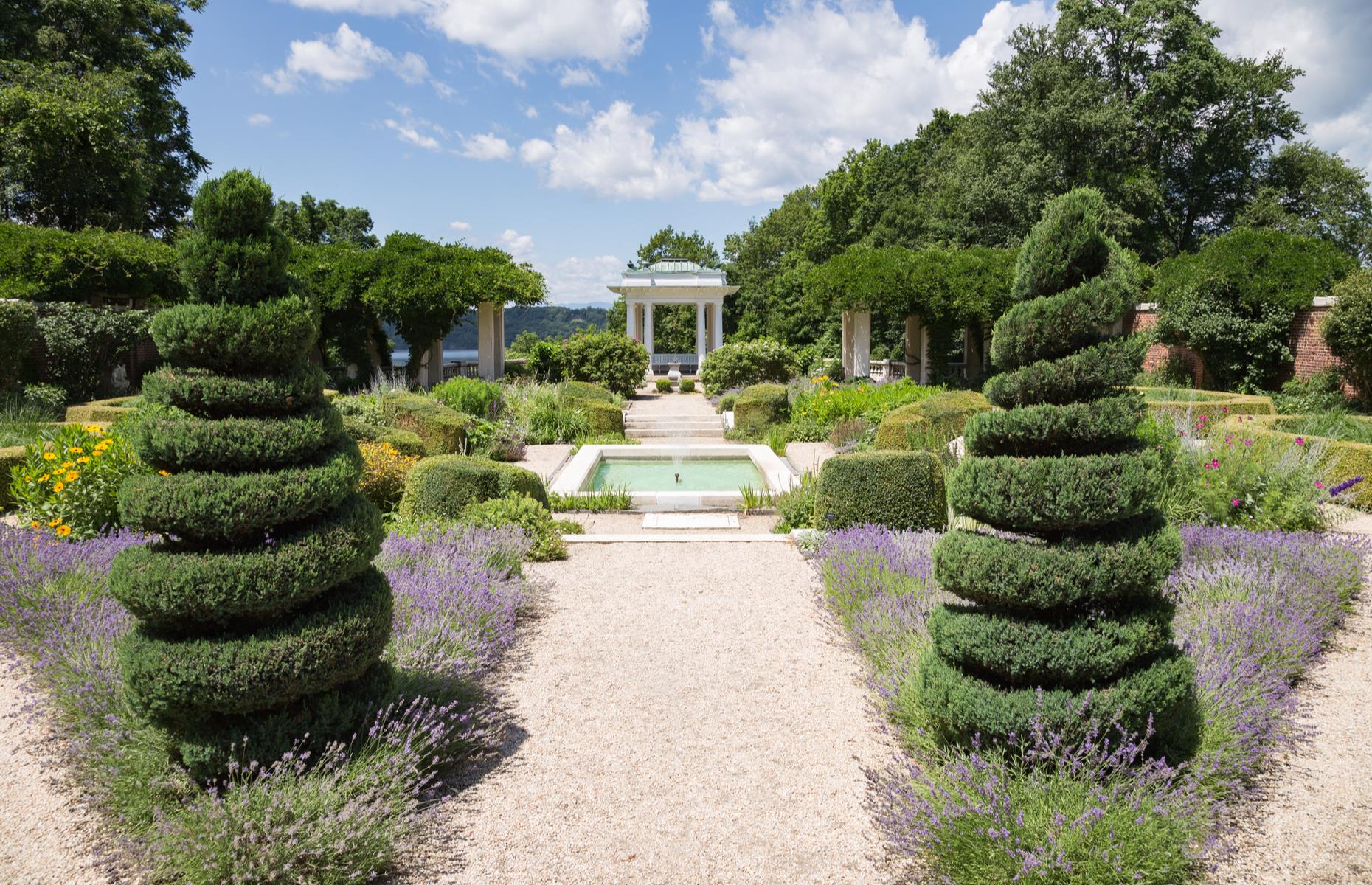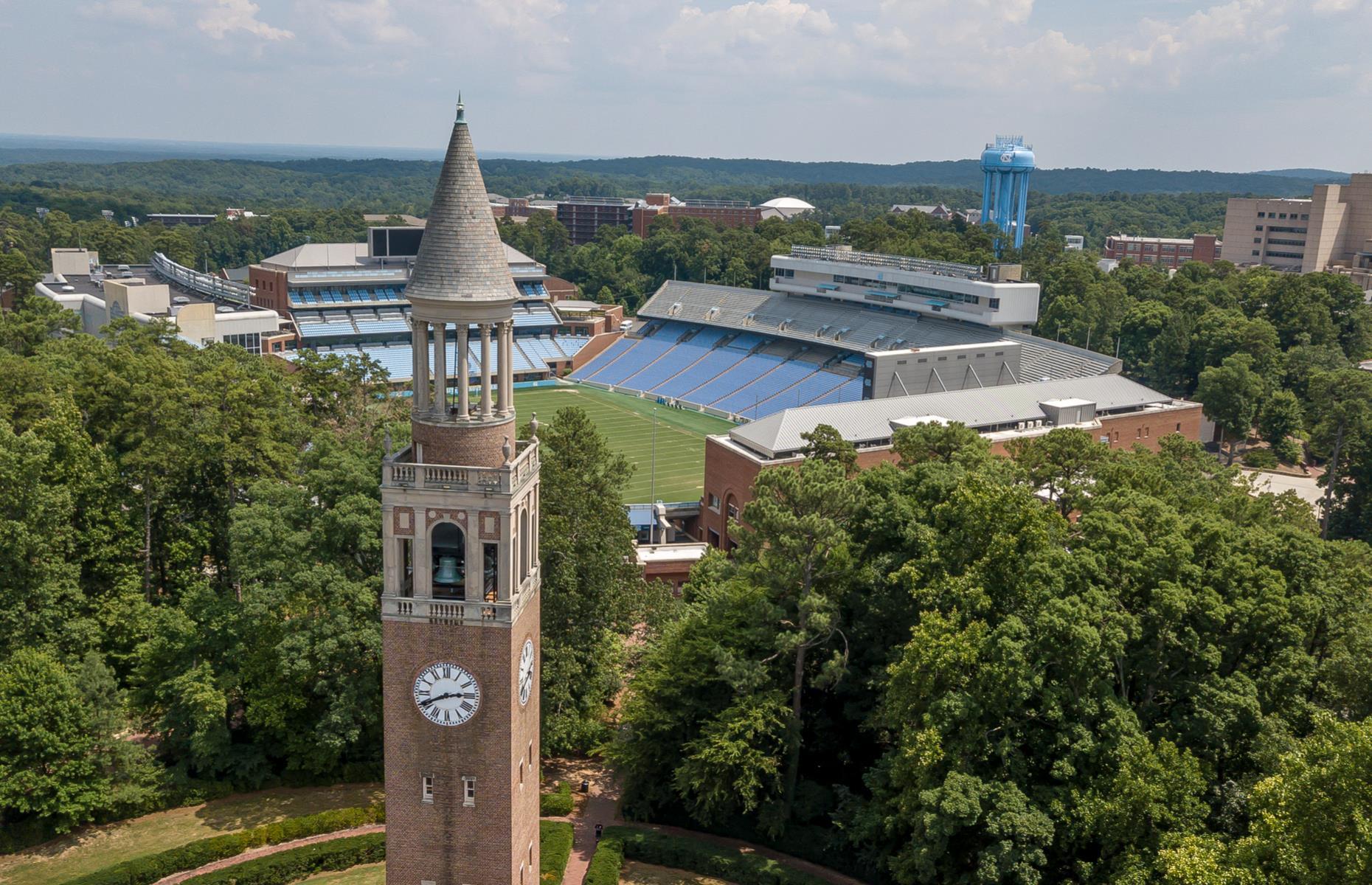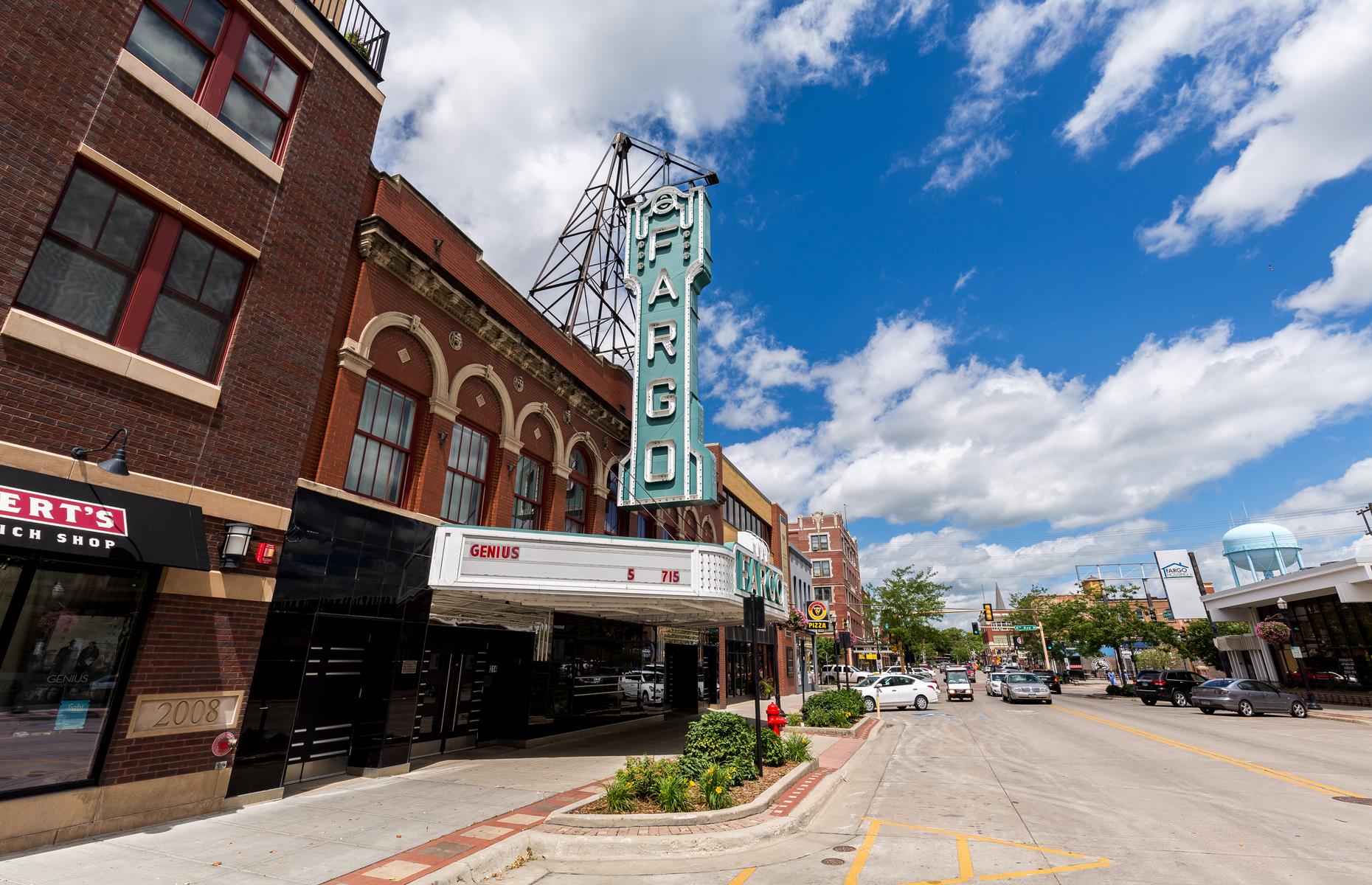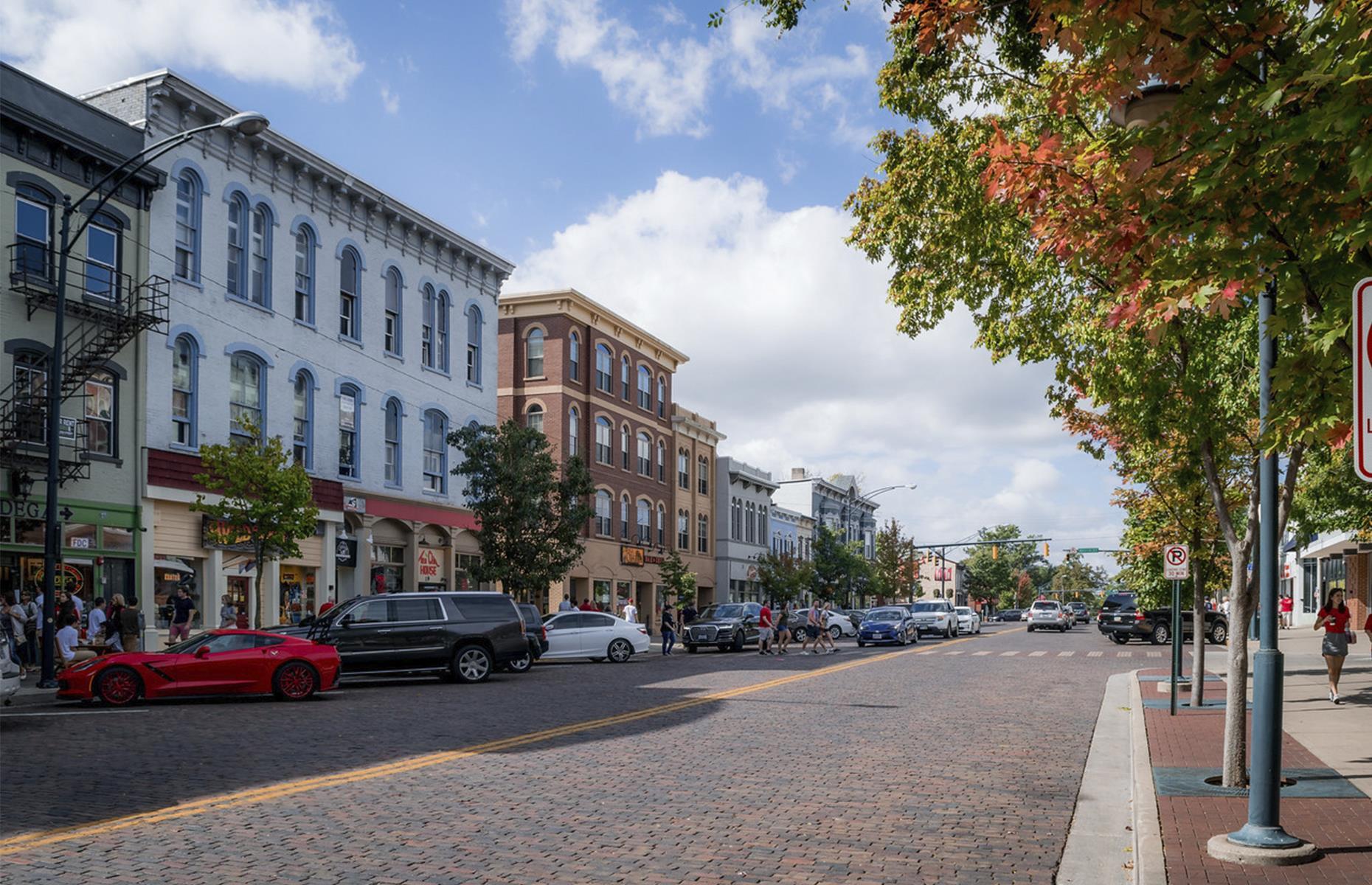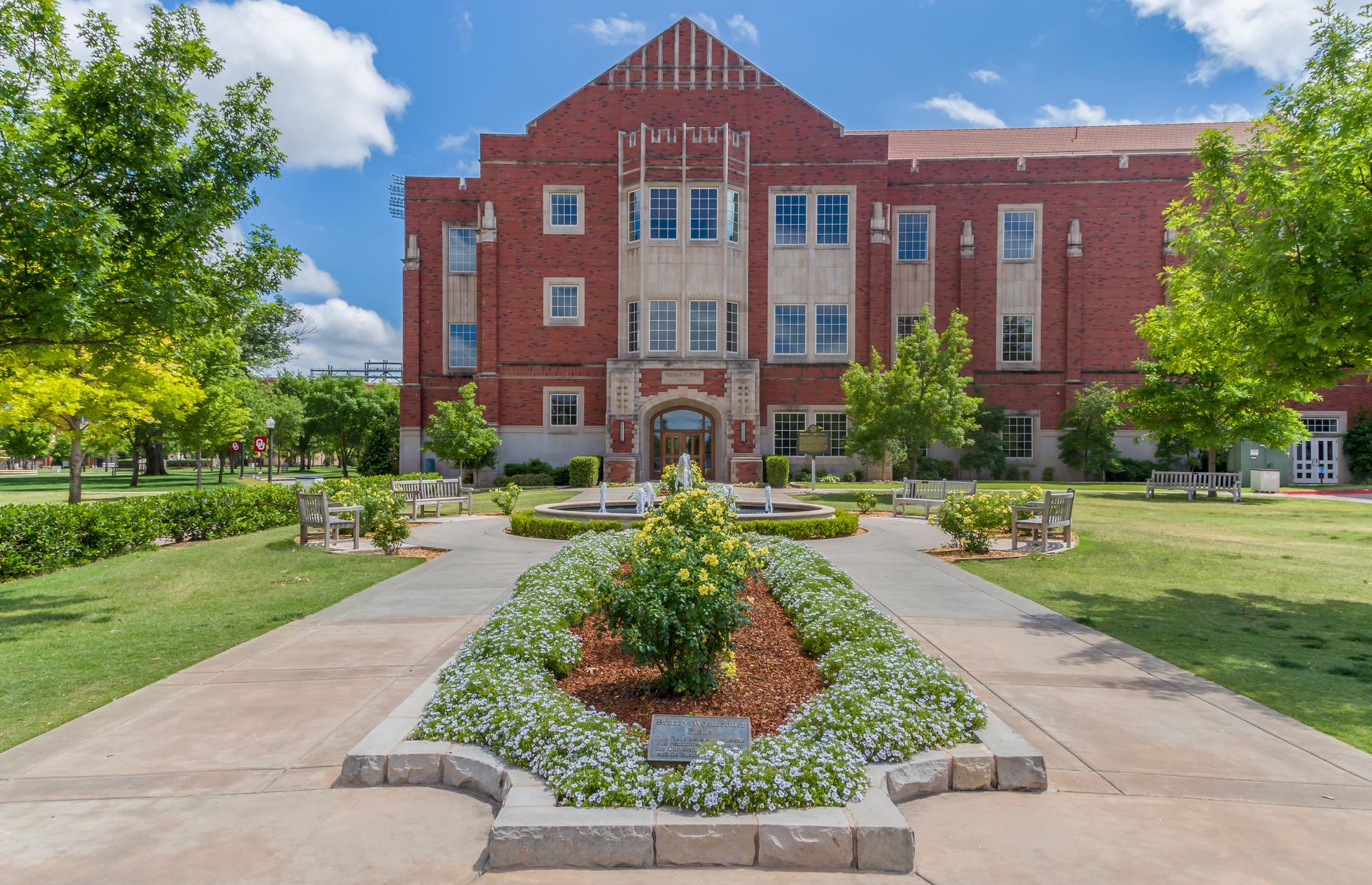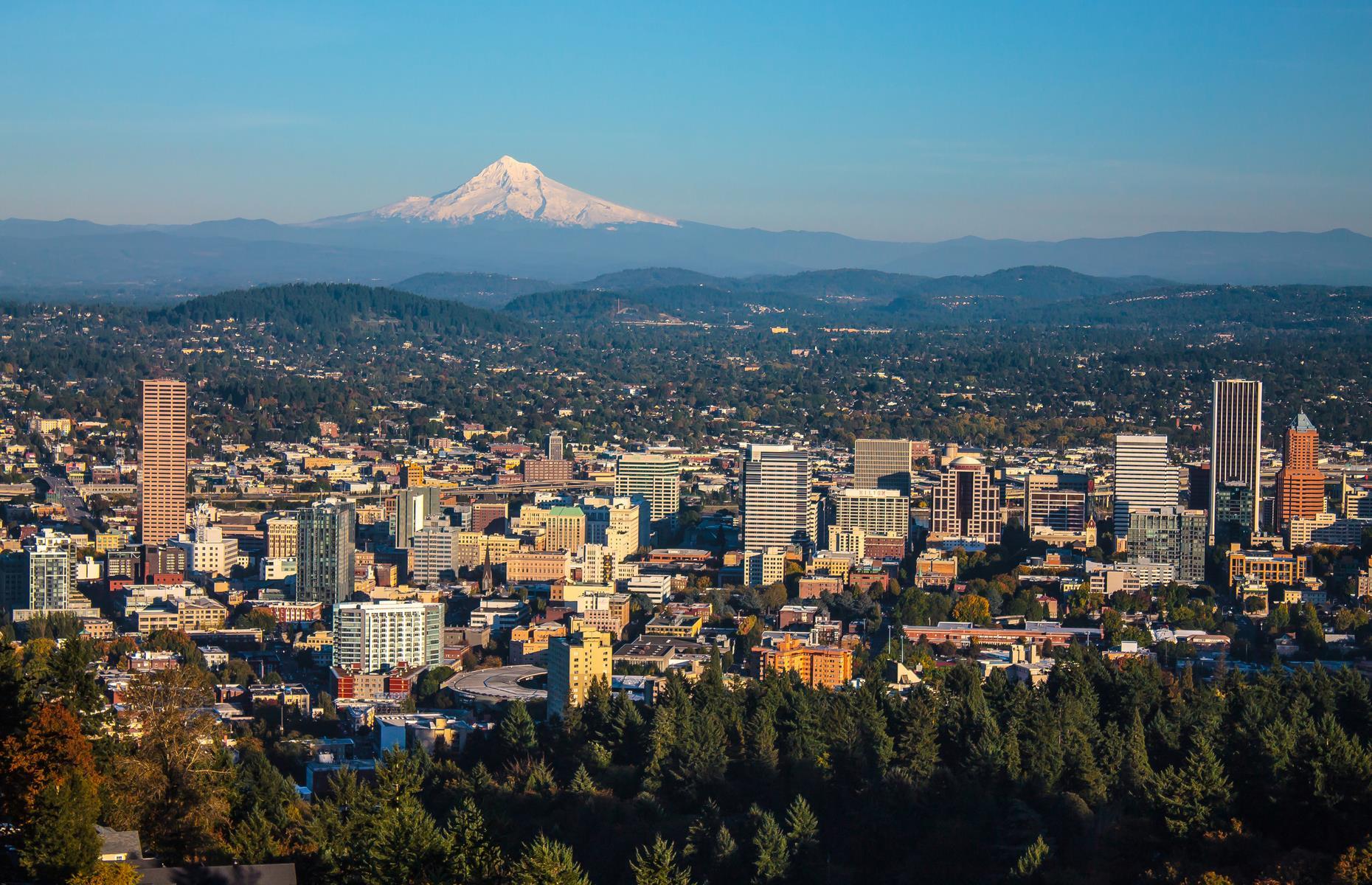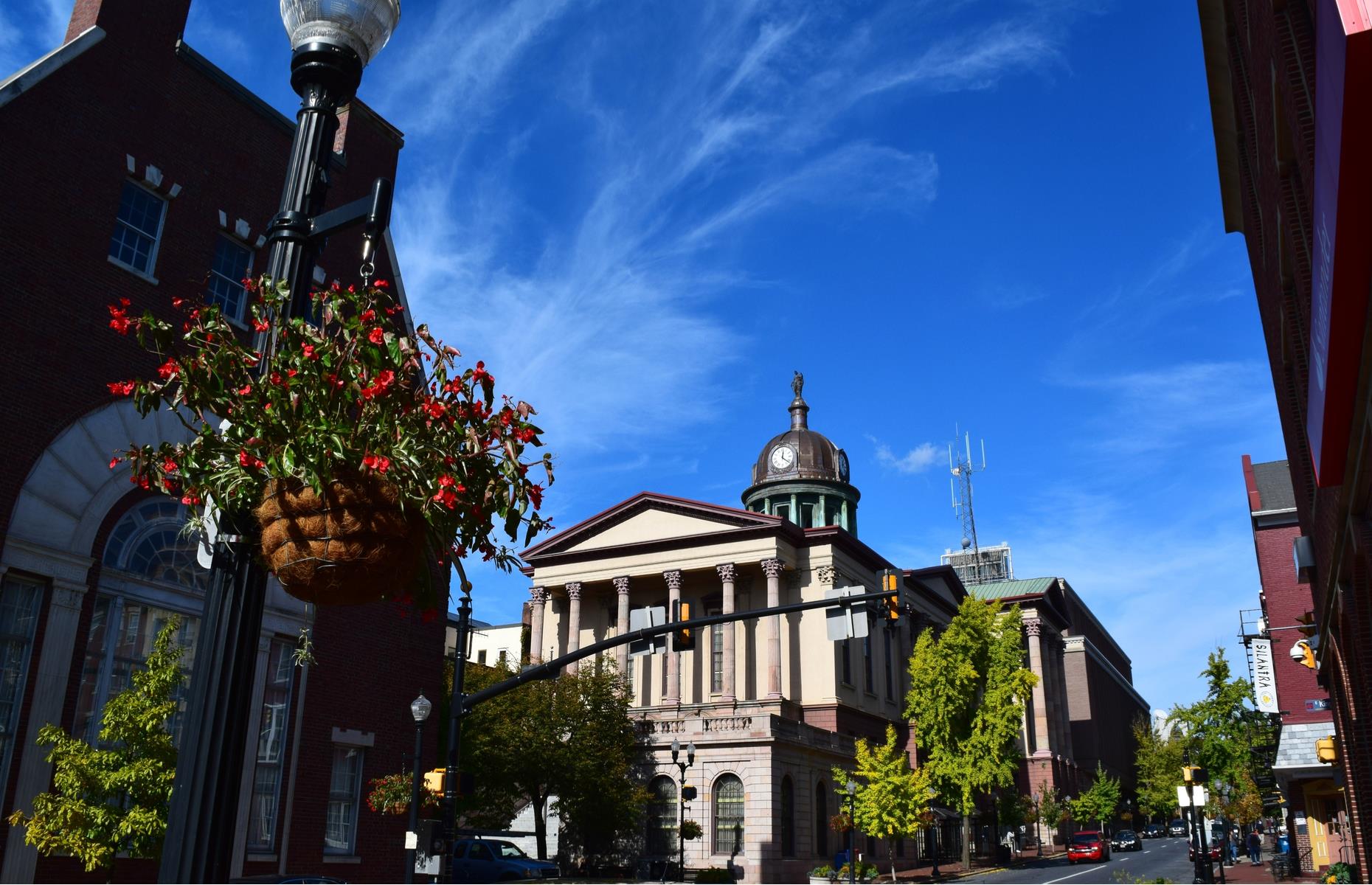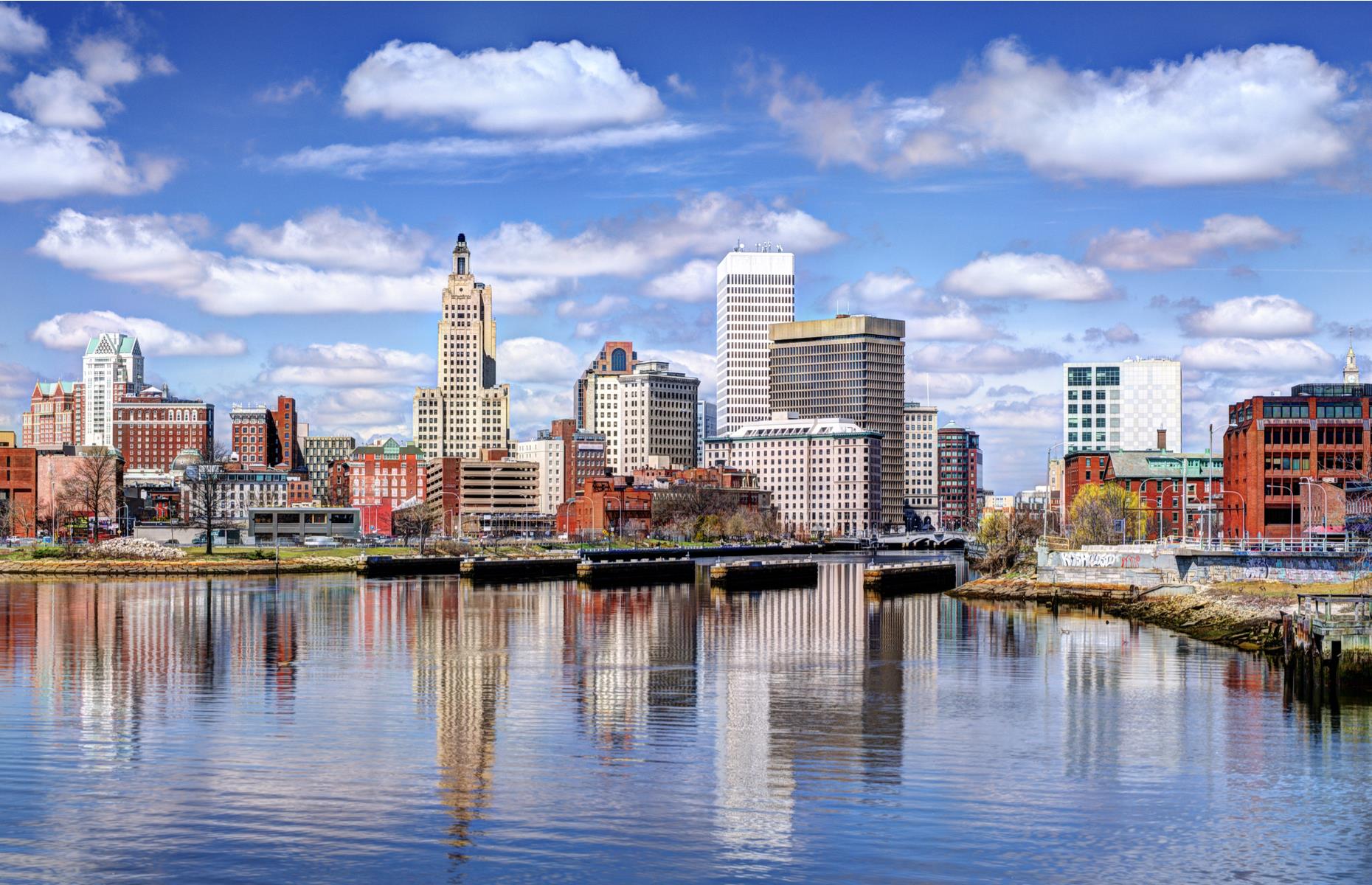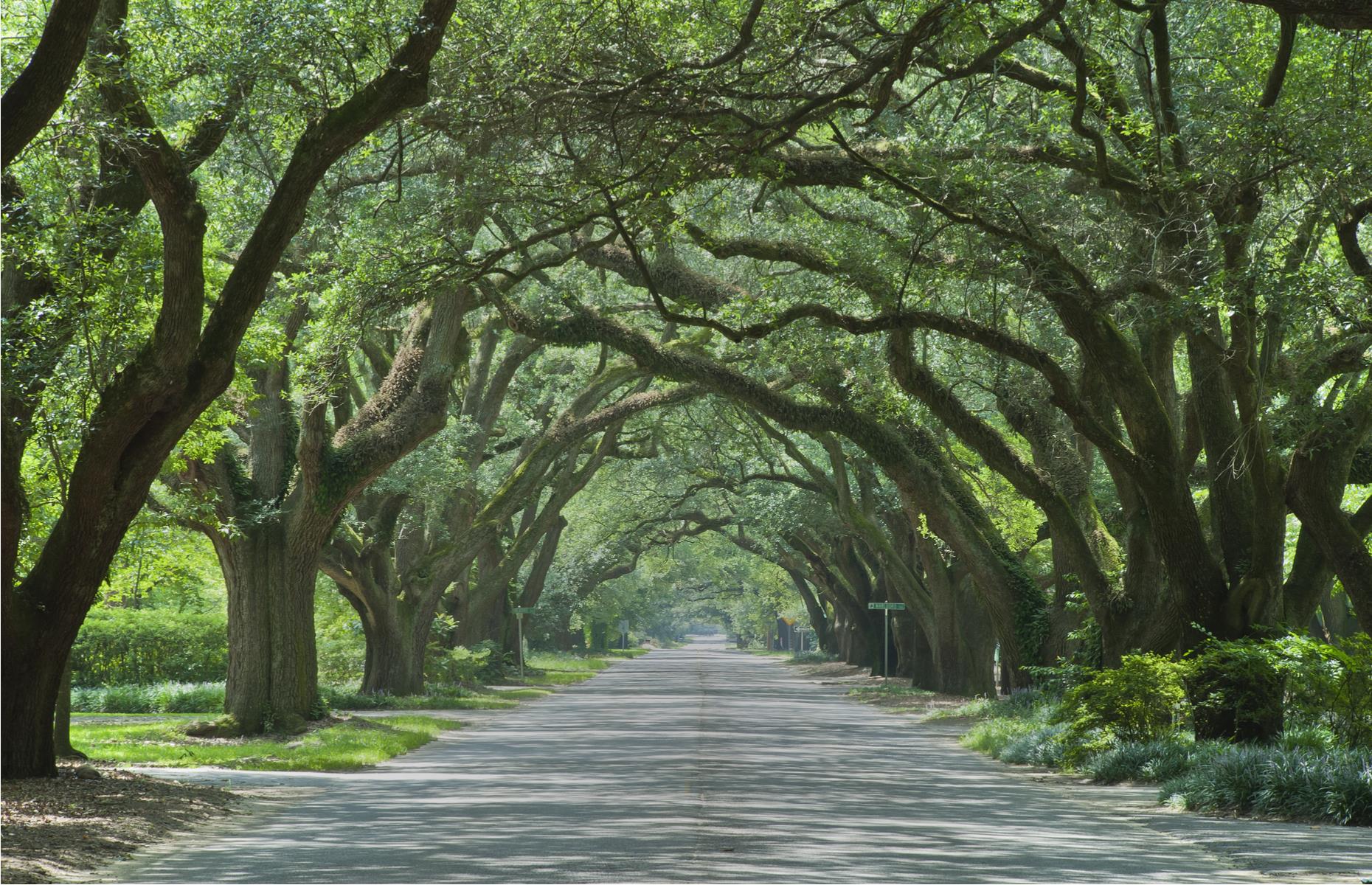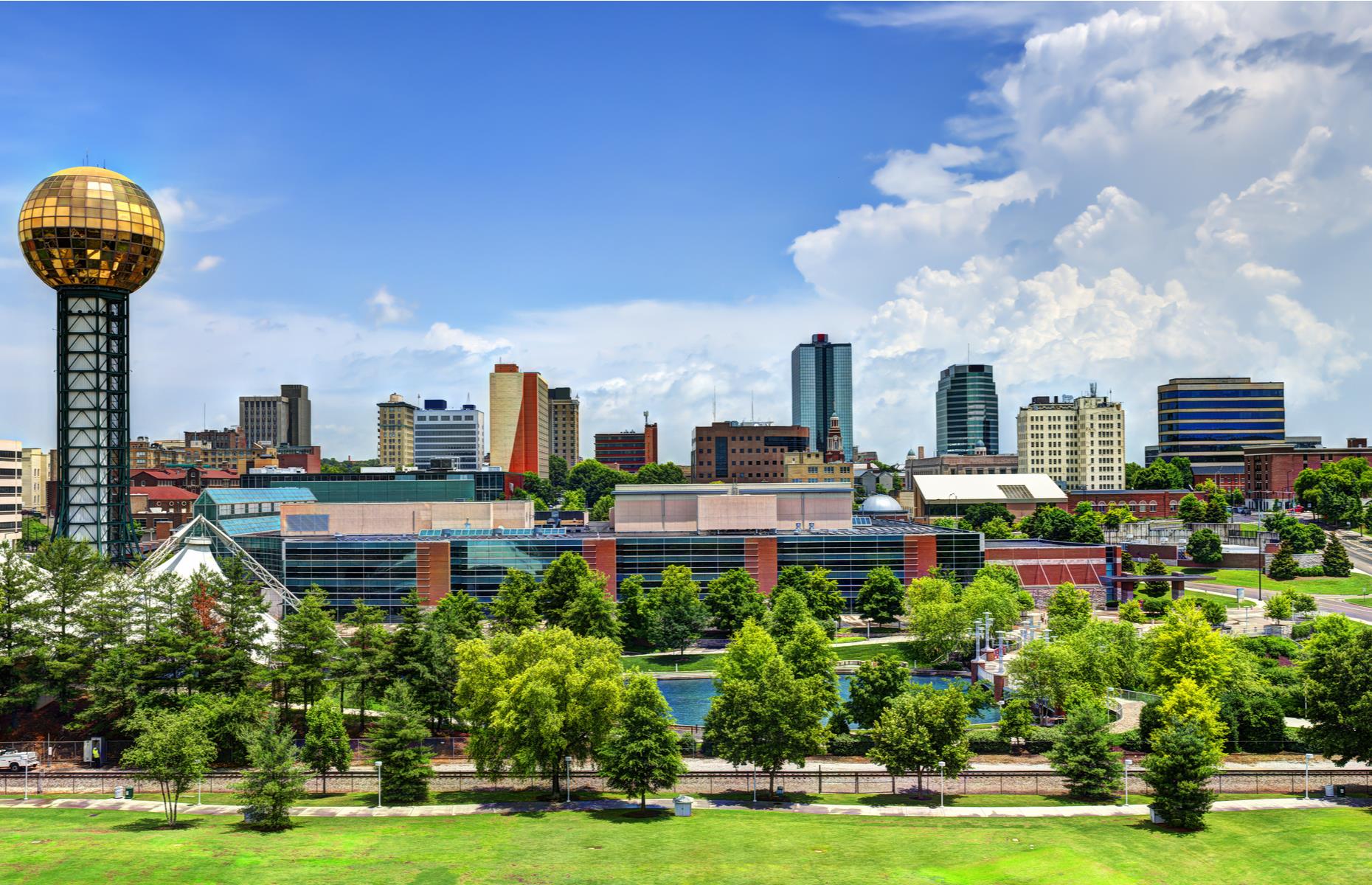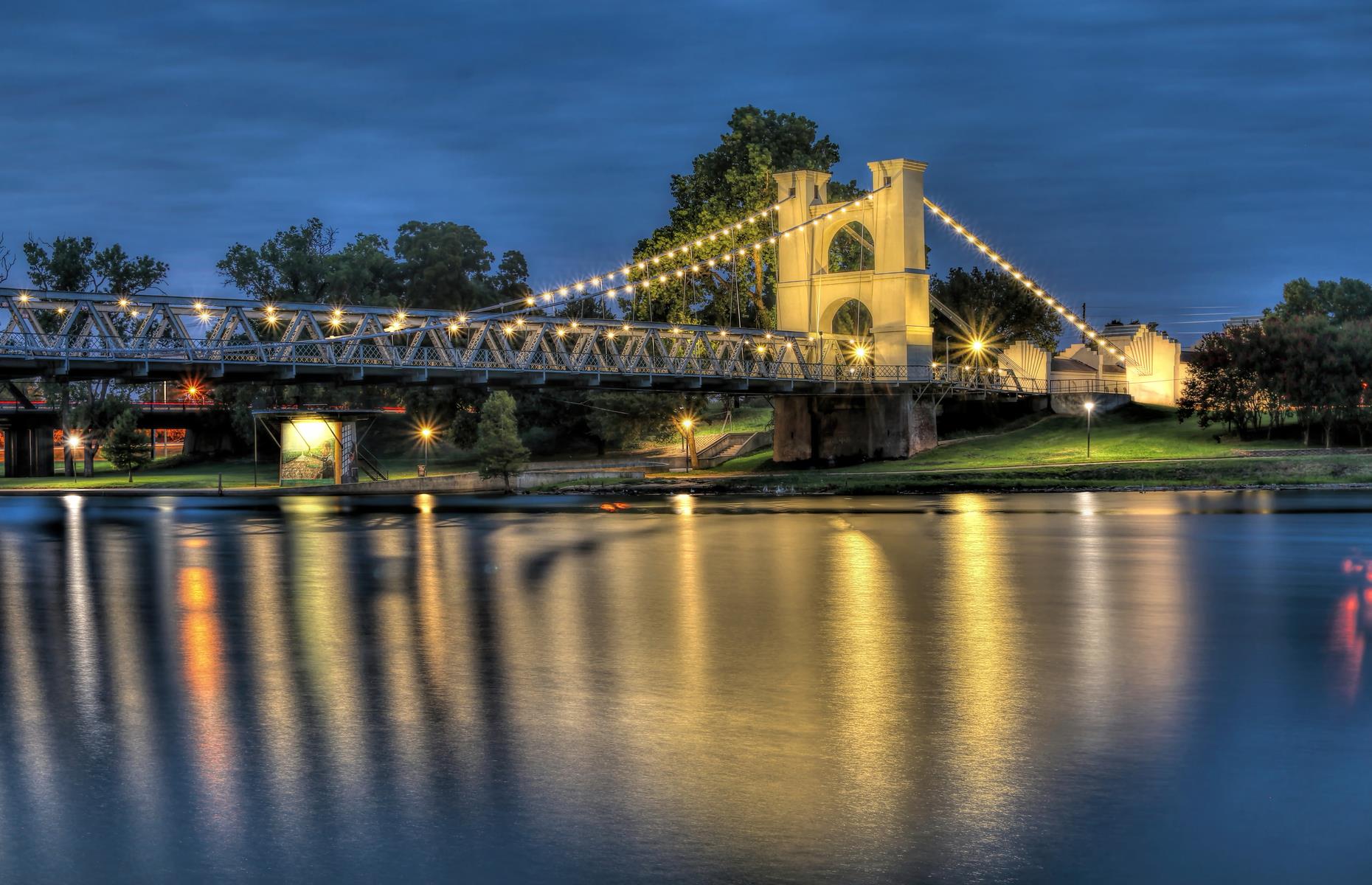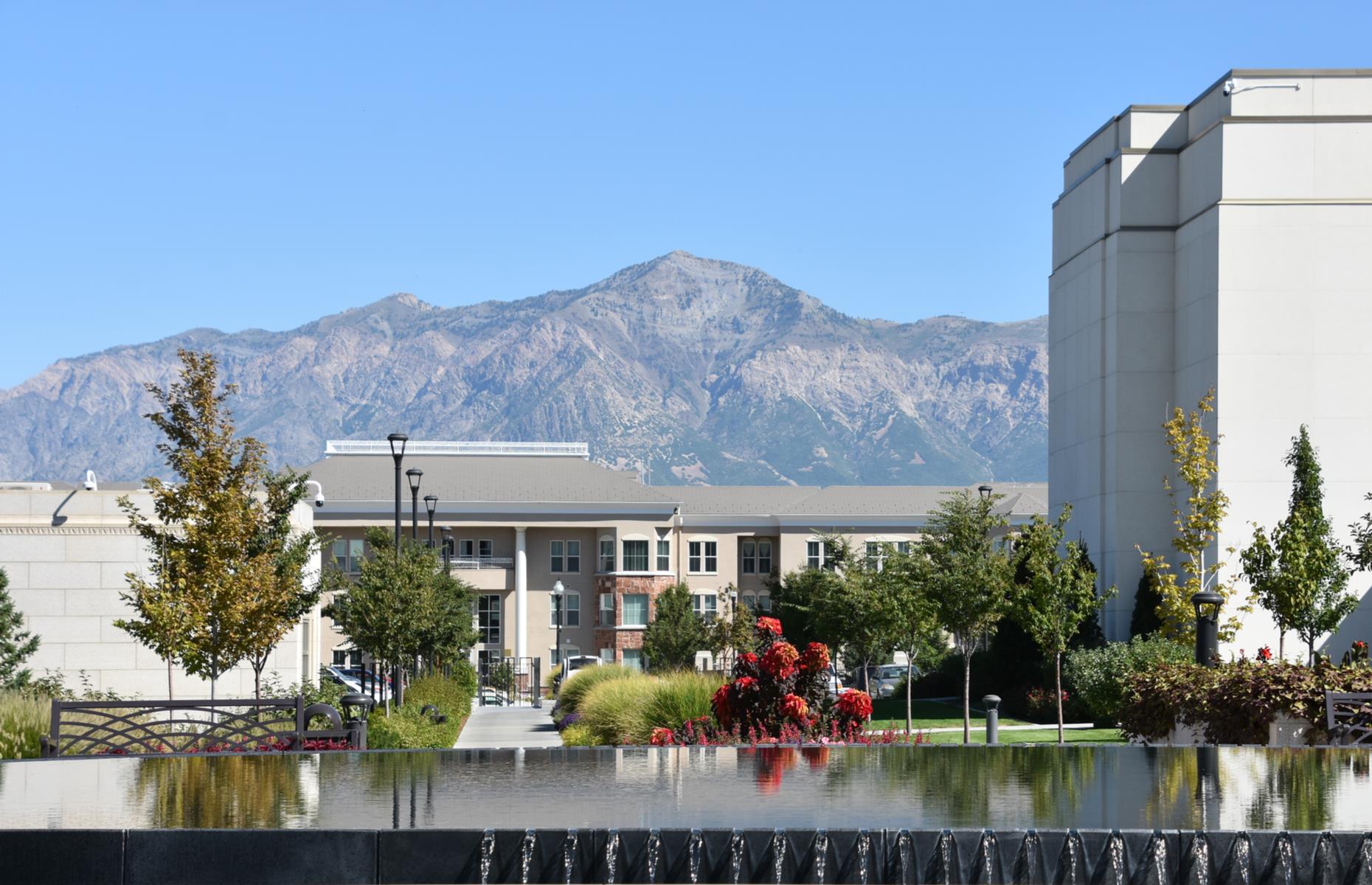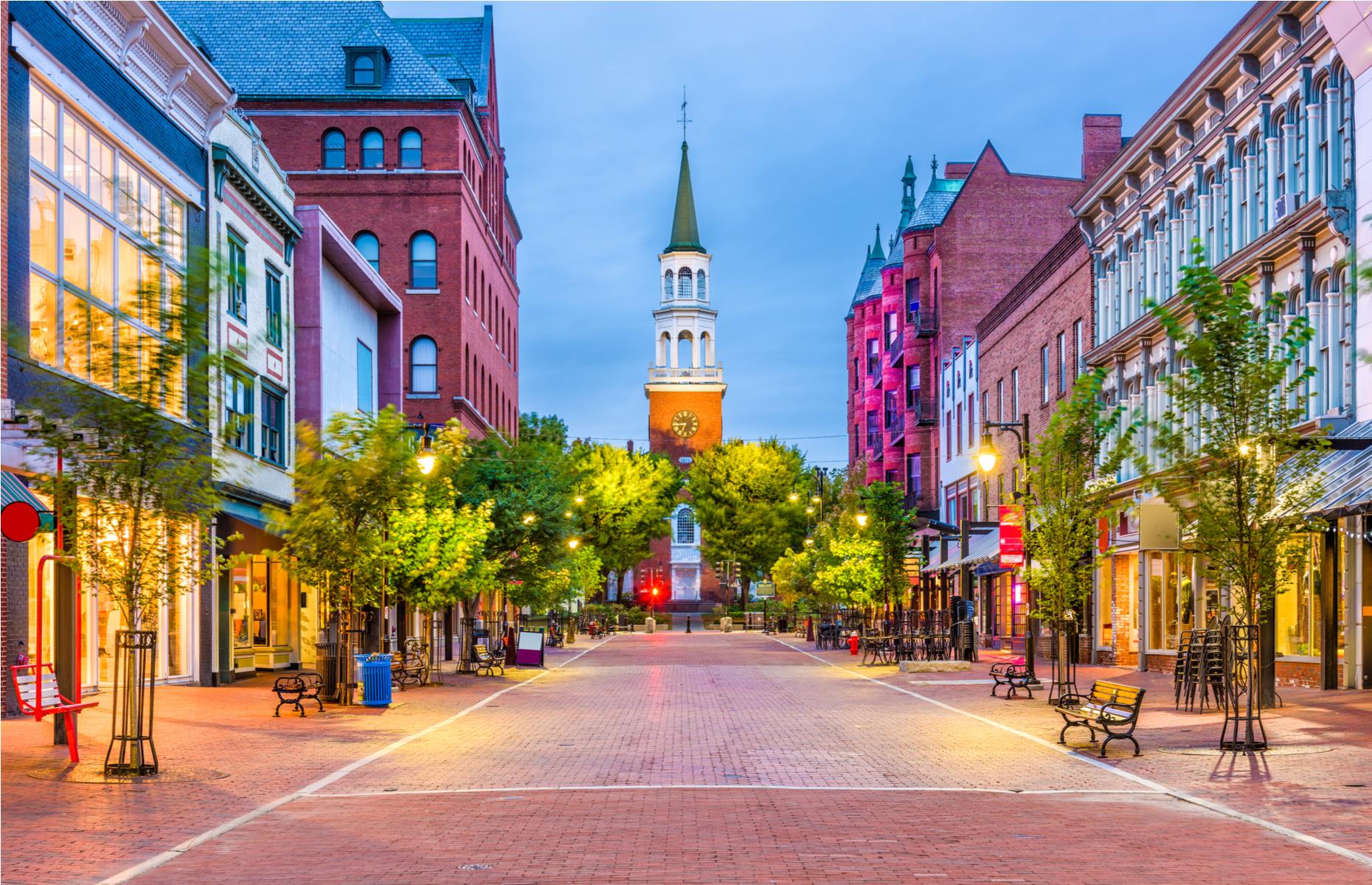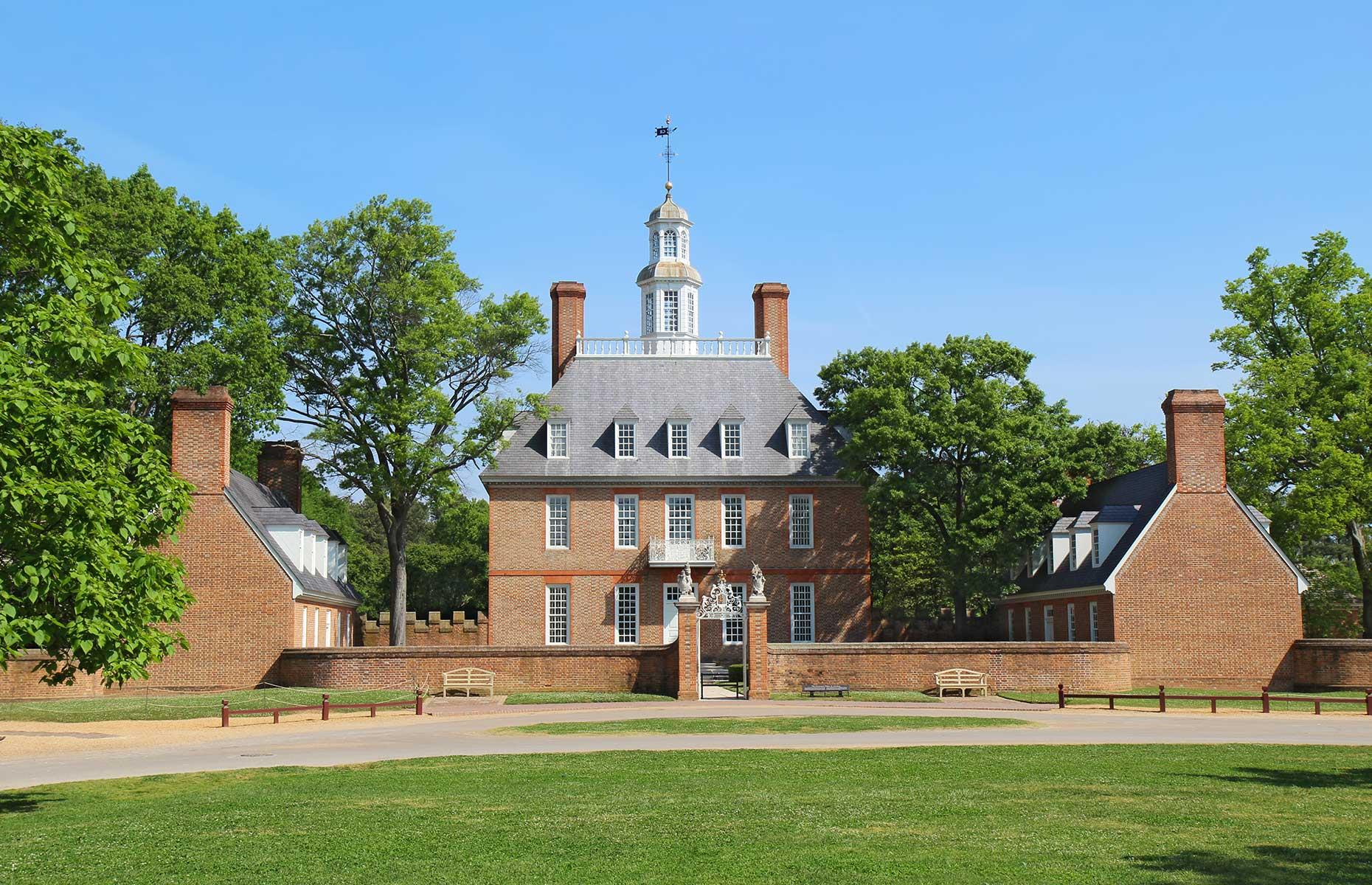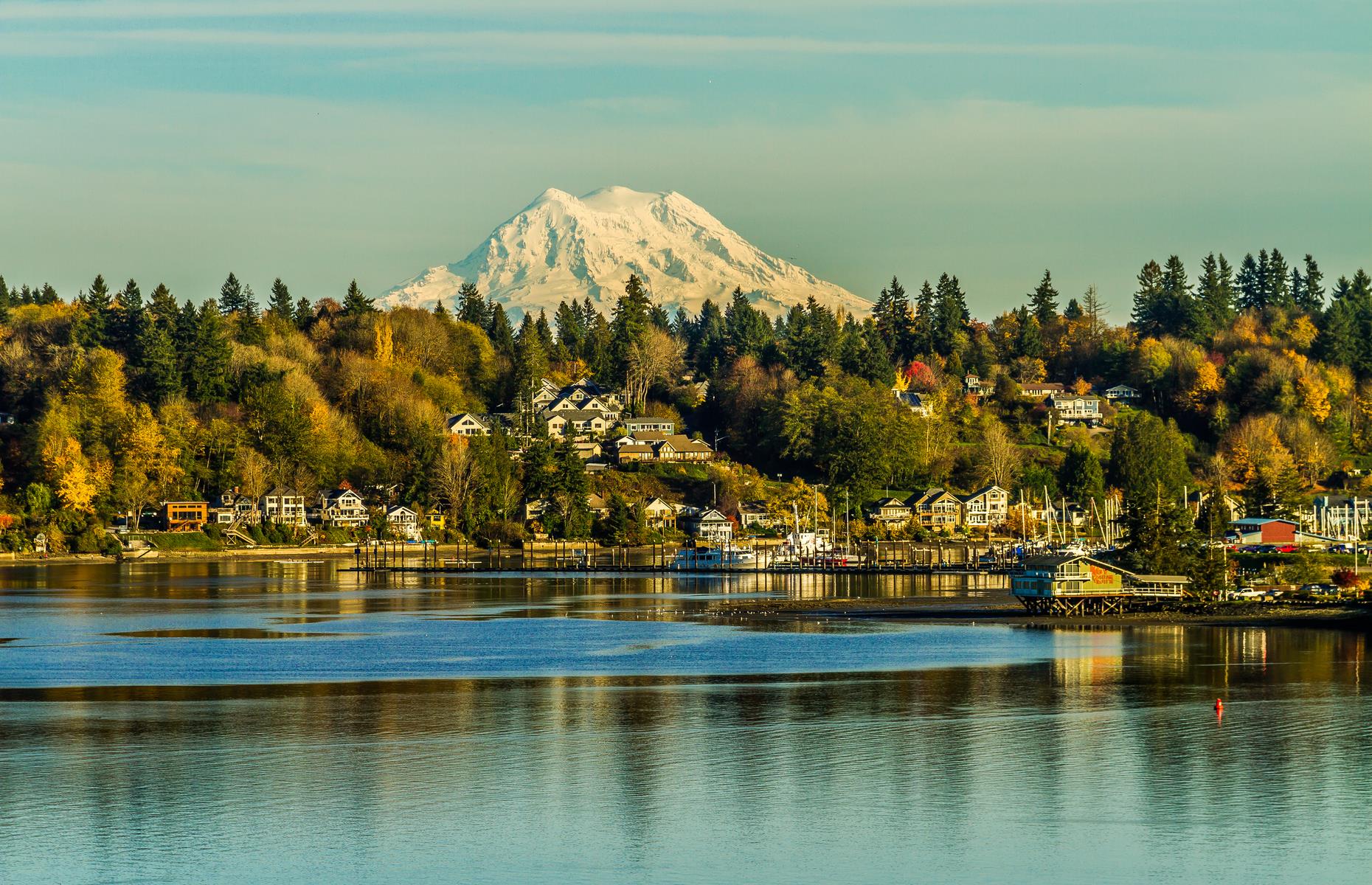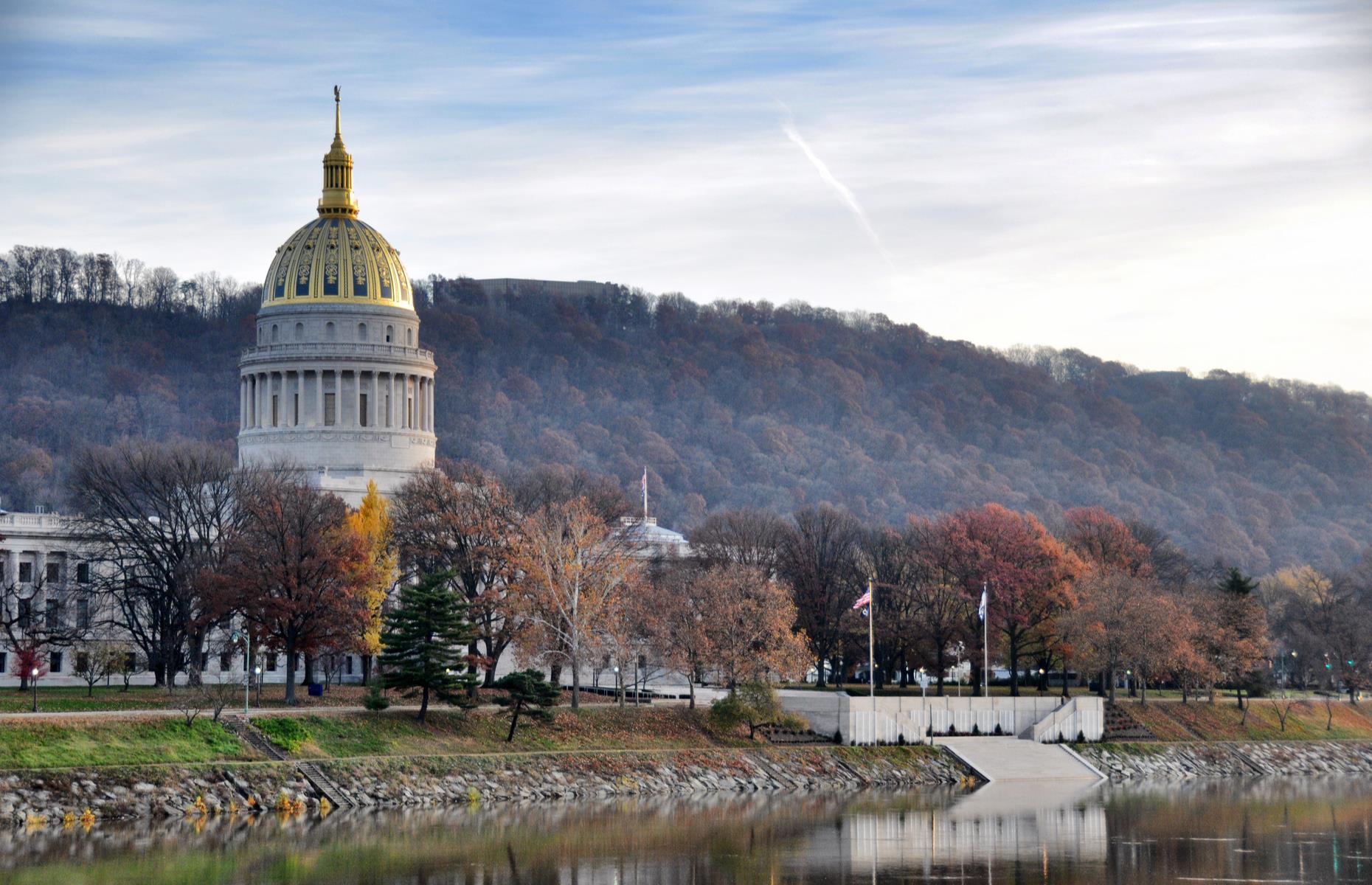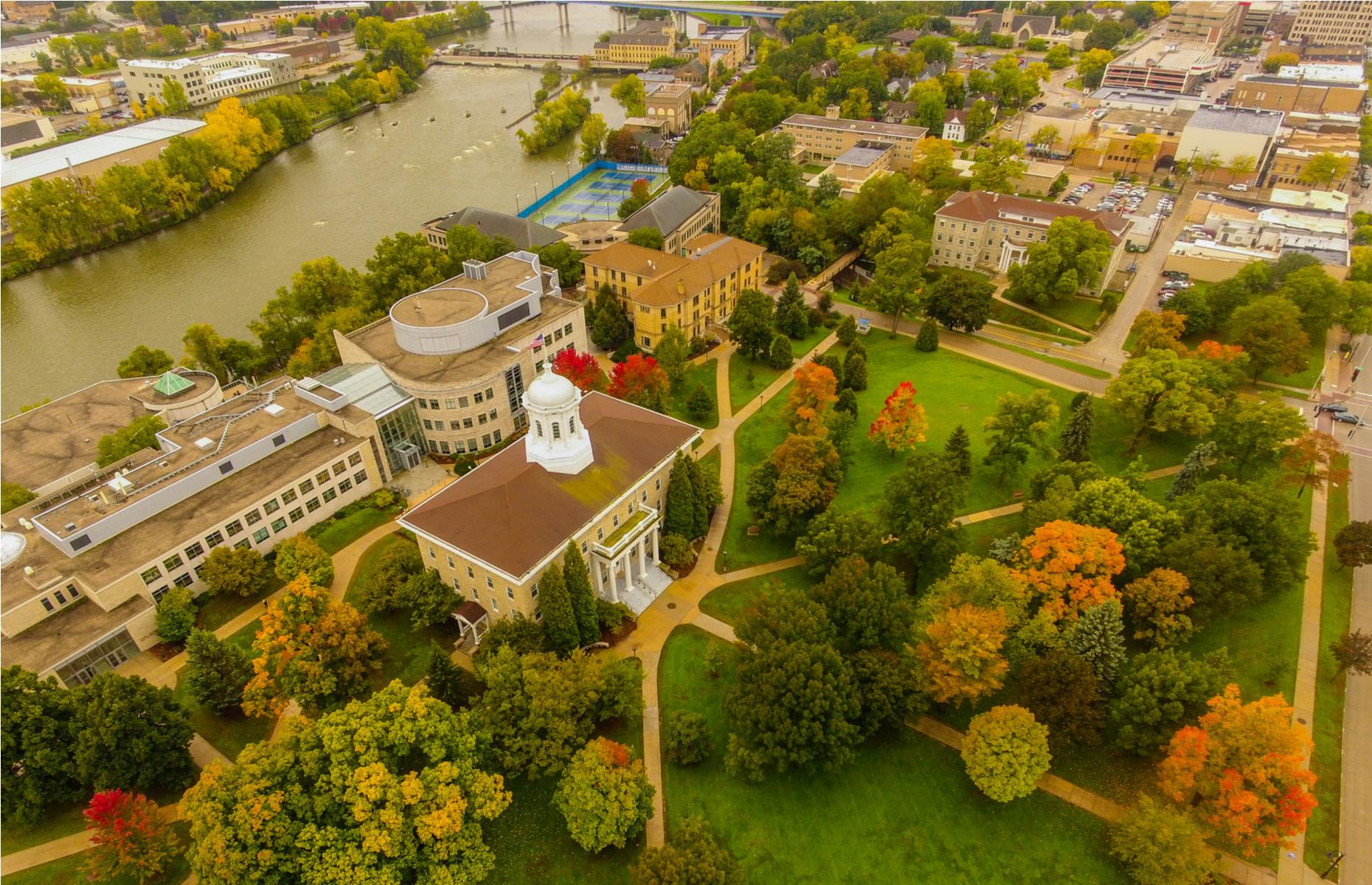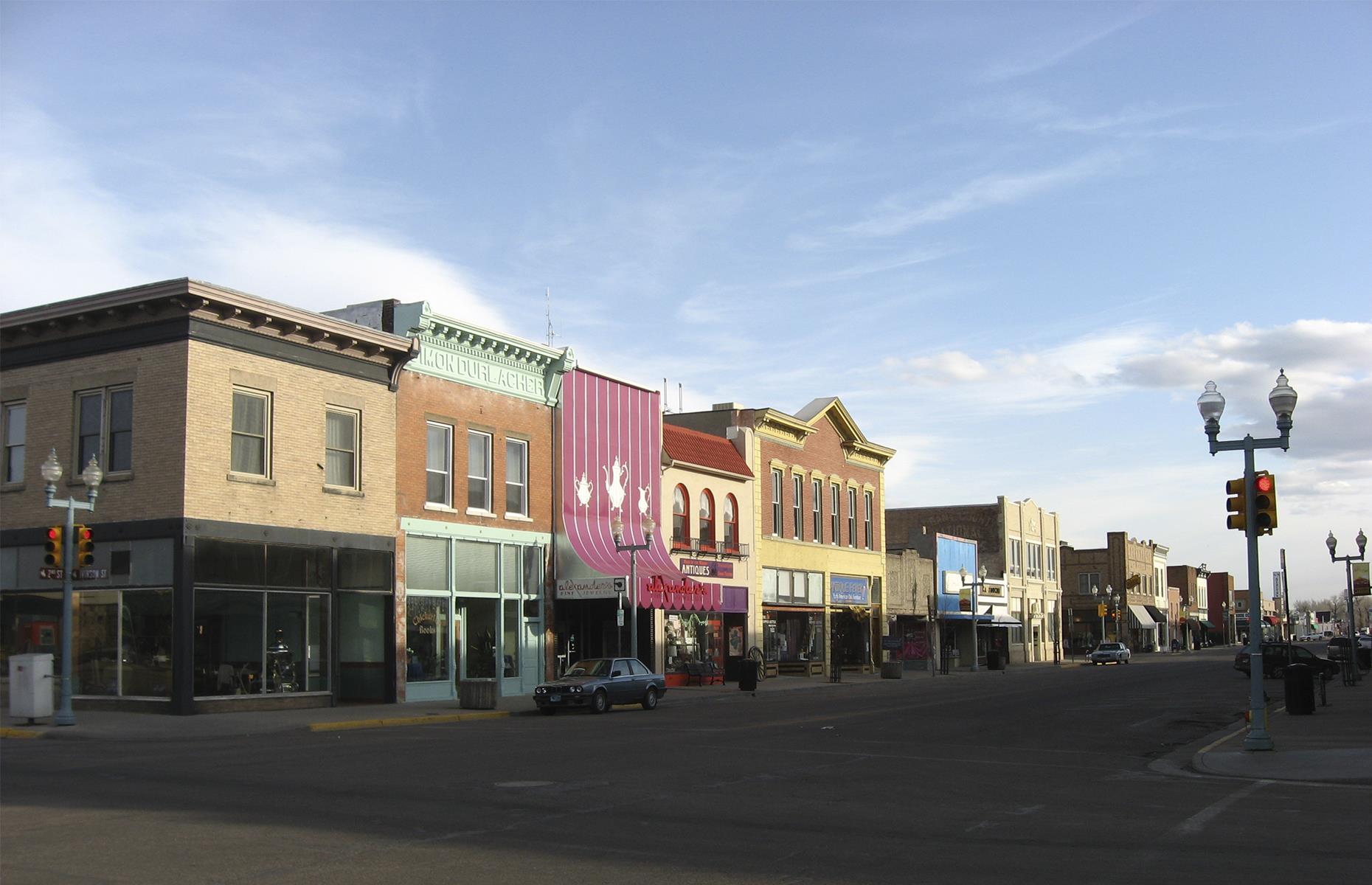 Back to school
Think of college towns and green campuses, manicured lawns, great halls and grand libraries spring to mind. However, there's more to these stunning and studious places. From tiny hamlets to mountain metropolises, these beautiful college destinations score an A+. If you're planning to visit any of these spots, be sure to check state travel advisories and individual attraction opening times or restrictions before you head out.
Alabama: Auburn, Auburn University
Picturesque Auburn in eastern Alabama is known for its leafy parks, historic architecture and, of course, Auburn University. On-campus, buildings such as the University Chapel and Samford Hall date from the 1850s, and the Auburn Tigers, the university's football team, are big news. The Tigers usually play at the huge Jordan-Hare Stadium, the nation's 10th largest on-campus stadium. Just outside of town is Chewacla State Park, complete with a lake, hiking trails and small waterfalls.
Alaska: Fairbanks, University of Alaska Fairbanks
Sitting on the banks of the Chena River, in the heart of Alaska, is Fairbanks, a year-round destination that has a small-town feel, despite being one of Alaska's largest cities. Here you'll find the University of Alaska Fairbanks, where the on-campus Alaska Range Viewpoint offers sweeping vistas of boreal forest and far-off peaks. Beyond the university, you can usually try your hand at some winter sports – think cross-country skiing and snowmobiling – and stop by the Aurora Ice Museum, with its intricate snow and ice sculptures.
Arizona: Flagstaff, Northern Arizona University
With its historic downtown and a sought-after location next to one of the world's largest pine forests (the Coconino National Forest), Flagstaff makes a beautiful setting for the Northern Arizona University. It's crammed full of historic architecture, from buildings built in the 1890s to those dating to the Roaring Twenties, and has plenty of coffee houses and craft beer pubs to boot. Winter sports lovers take note: elevated well above sea level, it gets a regular coating of thick snow too.
Arkansas: Fayetteville, University of Arkansas
Home to the University of Arkansas, Fayetteville is an outdoorsy, bike-friendly city with more than 50 parks and natural areas. Among the best of them is the Botanical Garden of the Ozarks, a 40-plus-acre site with 12 themed gardens and a native butterfly house, and Wilson Park (pictured), Fayetteville's original city park dating back to 1906. If you're craving some culture, Fayetteville has a thriving creative scene too: the Fenix gallery houses works by local artists.
California: Pasadena, California Institute of Technology
Spreading out beneath the San Gabriel Mountains, some 12 miles (19km) from Downtown Los Angeles, Pasadena is home to the California Institute of Technology. Revered for its science program, Caltech is also the college that employs Sheldon Cooper and the gang in hit TV series The Big Bang Theory. But this SoCal city has an arty side too: the Norton Simon Museum houses European and Asian art (it's temporarily closed due to COVID-19), and architecture buffs can spot plenty of Art Deco and Victorian buildings.
Colorado: Boulder, University of Colorado at Boulder
At the base of the Rocky Mountains is the university town of Boulder whose resident college, the University of Colorado Boulder, boasts numerous astronauts among its alumni. The town itself is celebrated for its sprawling open spaces – a highlight is lush Chautauqua Park, which has miles of trails, and offers a jumping-off point for the Boulder Flatirons, a series of striking rock formations. Back in town, there's Pearl Street Mall, an old-fashioned street lined with red-brick buildings that serves as the city's shopping, restaurant and art hub.
Connecticut: New Haven, Yale University
New Haven is a quintessential coastal New England town, best known as the location of storied Ivy League university Yale, which dates to 1701. Visitors usually flock to the campus to admire the Gothic Revival and Victorian architecture – the Yale Peabody Museum of Natural History (currently closed for renovations), the Yale University Art Gallery and the Yale Center for British Art are also top attractions. Wooster Square is a historic neighborhood known for its pizza and pastries.
Delaware: New Castle, Wilmington University
New Castle, set on the banks of the Delaware River and home to Wilmington University, is a great spot for history buffs with the New Castle Court House Museum and the Old Library Museum (currently closed due to COVID-19) counting among its historic attractions. Throw in cobblestoned streets, stately homes and that charming small town feel and you've got yourself an idyllic destination. The Amstel House Gardens (currently closed due to COVID-19) and the First State National Park are great bets for a sunny day too. 
District of Columbia: Georgetown, Georgetown University
Compact and trendy, this DC neighborhood is home to Georgetown University. It's known for its Federal-style architecture and its waterfront area packed full of chic restaurants, seafood spots and indie shops. To get away from it all, head for the green gardens at the Waterfront Park or the canal for running, biking, paddleboarding and kayaking.
Florida: St. Augustine, Flagler College
On the northeast coast of Florida lies St. Augustine, one of the oldest cities in the US and home of Flagler College, specializing in liberal arts. Take an afternoon to explore its Spanish colonial architecture, cobbled lanes and museums such as the Lightner Museum and the Villa Zorayda Museum, then head to the beach. Sandy St. Augustine Beach and tranquil Crescent Beach just south of the city are both dreamy spots. Discover more top things to do in Florida here.
Georgia: Athens, University of Georgia
Head to Athens in northeast Georgia and you'll find a laid-back, friendly city filled with antebellum architecture. The University of Georgia has its main campus here and some of its buildings are among the oldest in the city – the North Campus, with its Greek Revival architecture, is on the US National Register of Historic Places. Elsewhere in the city, there's a rich music scene and restaurants with plenty of Southern staples. The Blue Ridge Mountains are close by too. Read our full guide to Athens here.
Hawaii: Mānoa, University of Hawaiʻi at Mānoa
Mānoa is an idyllic Honolulu neighborhood situated in a lush valley at the base of the Ko'olau Range. Due to the tropical climate and often rainy weather, rainbows are extremely common here – the University of Hawaiʻi at Mānoa has even named their sports teams, the Rainbow Warriors, after the colorful phenomenon. A trip to Mānoa Falls, a 150-foot (46m) waterfall accessed by a moderate hike, is a great way to spend a day. Discover more of America's most beautiful waterfalls here.
Idaho: Moscow, University of Idaho
Though it brims with the University of Idaho's Gothic-style buildings, the town of Moscow, in northwestern Idaho, is great for outdoorsy types too. The area is an agricultural hub and the weekly farmers' market has been running since the 1970s, showcasing the best of the region's produce plus jewelry and gifts by local makers. The University of Idaho's Arboretum and Botanical Garden is another charming space and the Hamilton-Lowe Aquatic Center waterpark is great when it's open in the summer months.
Illinois: Champaign, University of Illinois at Urbana-Champaign
This Illinois city punches above its weight when it comes to attractions. For a start, the University of Illinois Urbana-Champaign has a beautiful and vast campus, housing the Richardsonian Romanesque Altgeld Hall and the Krannert Art Museum. The historic downtown area is ever-expanding too, with plenty of shops and restaurants, plus the eye-catching Art Deco Champaign City Building. The university also has buildings in the twinned city of Urbana, Illinois.
Indiana: Bloomington, Indiana University Bloomington
The largest university in Indiana, the Indiana University Bloomington dominates its namesake town. Bloomington is filled with beautiful Indiana limestone buildings, and just about every part of the town is within easy walking or cycling distance. There's plenty of culture here, from the Eskenazi Museum of Art to the 19th-century Wylie House Museum, former home of the university's first president (note it's temporarily closed due to COVID-19). The many quaint cafés or a bookstore provide some peace and quiet too.
Iowa: Ames, Iowa State University
Ames, in central Iowa, is a busy town that's gloriously green, with some 36 parks and miles of biking trails. For canoeing, kayaking or fishing, there's Squaw Creek Park – or for something more relaxed, Iowa State University's own Reiman Gardens has a butterfly house, a herb garden and a lake. Timed a trip for winter? Be prepared for some snow. 
Kansas: Lawrence, University of Kansas
The University of Kansas Lawrence is instantly recognizable by its striking red brick and limestone buildings, and it remains a vital part of the city, home to both the Spencer Museum of Art and the city's Natural History Museum (both are temporarily closed due to COVID-19). Beyond the campus, locally owned bars and bistros dot the town, and there's plenty for nature lovers too. To the south, Baker Wetlands has hundreds of bird species to discover and you might spot a white-tailed deer or two in western Clinton State Park.
Kentucky: Danville, Centre College
Louisiana: Natchitoches, Northwestern State University of Louisiana
Established by French colonists in 1714, Natchitoches is the oldest town in the Louisiana Purchase area, and houses the Northwestern State University of Louisiana. The town oozes Southern charm, and doles out some seriously good Southern food – specifically the famous Natchitoches meat pie with its hearty filling of pork and beef. Head to the historic district to explore the town's many beautiful sites, including French Creole townhouses, and make time for the nearby 19th-century educational and moving Oakland Plantation.
Maine: Augusta, University of Maine at Augusta
Despite being the state capital of Maine, Augusta, for the most part, moves at a wonderfully slow pace. There are no skyscrapers and traffic build-ups here, and students at the University of Maine at Augusta campus have fully embraced this lifestyle. If you're interested in history, take a stroll past some of the city's architectural sites: highlights include the domed 19th-century Maine State House, Old Fort Western (a formidable 18th-century fort) and Blaine House, the governor's state residence.
Maryland: College Park, University of Maryland
College Park is home to the University of Maryland's vast, green, flagship campus, with impressive buildings dating from the 19th century. The College Park Aviation Museum (temporarily closed due to COVID-19) is home to 10 fascinating aircraft and the College Park Airport is dubbed the oldest continually-operating airport in the world. For sports and nature-lovers, there's Lake Artemesia, a 38-acre lake with a fishing pier, aquatic gardens, and hiking and biking trails. Check out more of the world's best airports you've never heard of.
Massachusetts: Cambridge, Harvard University
Across the Charles River from Boston, Cambridge is a university town that needs no introduction. Founded in 1636, Harvard University is one of America's oldest colleges and among its most prestigious too. There are usually tours from grassy Harvard Yard (although these have been temporarily suspended due to COVID-19). The Harvard Art Museums, home to a lauded 250,000-piece collection, are typically open to the public too, but remain closed in light of the ongoing pandemic.
Michigan: Ann Arbor, University of Michigan
West of Detroit is Ann Arbor, known locally as 'tree town' after its 50,000-plus trees, and the location for the University of Michigan's campus. As well as charming historic buildings (it was founded in 1817), the university usually has plenty to offer visitors. Several of its institutions are typically open to the public, including its impressive art and history museums. However, they're currently closed or only open to staff and students, due to COVID-19; check the website for updates. For a breath of fresh air, there's Nichols Arboretum and the Matthaei Botanical Gardens on the edge of town (trails are currently open but display gardens and some facilities are closed).
Minnesota: Northfield, Carleton College
Northfield's motto is "Cows, Colleges and Contentment" in homage to the farming industry and Carleton College, one of the country's finest liberal arts colleges. As its tagline suggests, the town used to be a hub for dairy farmers, but these days you're more likely to see cornfields and hogs. Nature-lovers will appreciate the Cowling Arboretum here, which has 800 acres of forest, wetlands, oak savannahs and prairies. Now check out the most adorable small town in every state.
Mississippi: Oxford, University of Mississippi
In the North Central Hills region of Mississippi lies Oxford, known for its red clay forested hills and border of wild land. It's also home to the University of Mississippi, founded in 1848 and widely known as Ole Miss. But while the university is a central point of the town, there's plenty more around. There are many independent bookshops in town and another literary stop is Rowan Oak, the former home of Nobel Prize-winning author William Faulkner (it's temporarily closed due to COVID-19).
Missouri: St Louis, Washington University in St. Louis
Montana: Missoula, University of Montana
Deep in the Rockies is mountainous Missoula, a rural spot surrounded by forest, with America's backyard on its doorstep. The University of Montana has an undoubted influence on Missoula's arts and music scene – there's the Missoula Art Museum, with its avant-garde exhibitions, and the city's charming children's theater. Unsurprisingly, the great outdoors is a major draw here: activities available include mountain biking and cross-country skiing.
Nebraska: Omaha, University of Nebraska Omaha
Vast Omaha on the Missouri River boasts a bustling waterfront, the cobblestoned Old Market, bursting with restaurants, steakhouses, cafés and jazz clubs, and the University of Nebraska. For a dose of history, the Lewis and Clark National Historic Trail Visitor Center tells the story of the great expedition that took place from 1804 to 1806 (it's temporarily closed due to COVID-19). For a sprinkle of culture, the pink marble Joslyn Art Museum houses works by great artists including Monet, Renoir and Pollock.
Nevada: Reno, University of Nevada Reno
Reno in western Nevada is known as "the biggest little city in the world". Put aside its bright downtown with big casinos, and it's a city of parks and pretty houses with a scenic riverwalk and the Truckee Whitewater Park for adrenalin junkies. It's also a cultural hub, home to the University of Nevada and the Nevada Museum of Art.
New Hampshire: Hanover, Dartmouth College
New Jersey: Newark, Rutgers University Newark
It may be the most populous city in New Jersey but there are still pockets of tranquillity to be found in Newark, home to one of three regional campuses of Rutgers University. Branch Brook Park, a 360-acre site with lakes and trails, is gorgeous and in spring, cherry blossom trees bloom into life. There's also the huge Cathedral Basilica of the Sacred Heart, which dates back to 1898, and usually a regular farmers' market in downtown Newark (note that the market will not run in 2020).
New Mexico: Santa Fe, St John's College
Situated in the Sangre de Cristo foothills, Santa Fe is the capital of New Mexico but its winding streets and distinctive Pueblo Revival-style architecture give the town an intimate feel. Visitors and students of St John's College can enjoy the cultural institutions, such as the Georgia O'Keeffe Museum, and the seclusion of the Pecos Wilderness and the Sangre de Cristo Mountains. Discover America's most beautiful mountains to explore.
New York: Annandale-on-Hudson, Bard College
Annandale-on-Hudson in southeastern New York State is the home of Bard College, a university for the liberal arts. The university grounds have tranquil places to think and relax, with the Italianate Blithewood Garden (pictured), usually open to the public, a particularly scenic spot (note it's currently open to the college community only, due to COVID-19). Bard College also has its own cemetery which is home to the grave of the famous philosopher Hannah Arendt, among other notable alumni.
North Carolina: Chapel Hill, University of North Carolina at Chapel Hill
Chapel Hill is a small North Carolina town with the 18th-century University of North Carolina at its heart. The Ackland Art Museum houses North Carolina's most impressive collection of Asian art and the Morehead Planetarium and Science Center is one of the USA's oldest and biggest planetariums. Note that both are currently closed due to COVID-19. Come evening, buzzing Franklin Street is full of restaurants, bars and live music venues.
North Dakota: Fargo, North Dakota State University
Fargo, home to North Dakota State University, doesn't usually top must-visit lists, but give it a chance and it'll soon reveal its subtle charms. The attractive downtown area has plenty of quaint cafés and the 1920s Art Deco theater usually screens movies. Top photo opportunities include the Fargo clock at the Northern Pacific Railway Depot on Main Avenue, and the waterfall at Rendezvous Park. Read our guide for more things to do in North Dakota.
Ohio: Oxford, Miami University
This bustling Midwestern town is the location of Miami University, the "Yale of the West", which dates right back to 1809. The scenic campus is filled with charming red-brick buildings and plenty of leafy spots. Downtown, boutiques and cafés line the quaint high street which is usually taken over by an annual wine festival in late spring. Woodlands and walking trails surround the town too, so it's a nice spot for hikers and bikers.
Oklahoma: Norman, University of Oklahoma
Oregon: Portland, Lewis & Clark College
Portland has a stunning location, set as it is on the banks of the Columbia and Willamette rivers, and beneath the snow-capped Mount Hood. Naturally, the outdoors is a top draw here, with sites such as 400-acre Washington Park, known for its rose garden and arboretum, offering a sprawling retreat from the inner city. The city is, of course, well-known for its food and craft brewery scene too. Lewis & Clark College is located in the leafy Collins View neighborhood.
Pennsylvania: Lancaster, Franklin & Marshall College
Sleepy Lancaster is one of the oldest inland towns in the United States and where Franklin & Marshall College, a liberal arts college, has its pretty campus. Gallery Row is a street filled with arts spaces, while the chic Lancaster Arts Hotel is tucked away in an old tobacco warehouse. There's also Lancaster Central Market, one of the oldest farmers' market in the US. Love this? Now discover America's most charming historic downtowns.
Rhode Island: Providence, Brown University
The capital of Rhode Island, Providence, boasts the beautiful Ivy League Brown University, and so much more. There's WaterFire, an art installation that usually lights up Water Place Park and the surrounding tidal basin most nights in summer. A wander through the College Hill neighborhood, with its 18th- and 19th-century houses, is a nice way to pass an afternoon too.
South Carolina: Aiken, University of South Carolina Aiken
Aiken is an archetypal Southern city, full of charm. The University of South Carolina's base has plenty to keep you outside, from an oak-filled arboretum trail to the gorgeous urban forest, Hitchcock Woods. There are also antique stores and boutiques, and usually the historic farmers' market in the center of town.
South Dakota: Vermillion, University of South Dakota
Nestled along the banks of the Missouri River, Vermillion is cute, colorful and compact. To the north is the historic University of South Dakota, along with the Oscar Howe Gallery, which holds a collection of work by the celebrated artist, and the National Music Museum (temporarily closed for renovations). Strike out to Clay County Park for nature trails across 34 acres of wilderness.
Tennessee: Knoxville, University of Tennessee
Hugging the Tennessee river is Knoxville and the 18th-century University of Tennessee. The sports program here is the stuff of legend and, unsurprisingly, college football is a big thing. Downtown there are hip restaurants and craft-beer bars, plus pretty 19th-century buildings in the Market Square neighborhood. The town is a great base for the Great Smoky Mountains too.  
Texas: Waco, Baylor University
Baylor University, spanning 1,000 acres of Waco in central Texas, is one of the oldest universities in the region and one of the largest Baptist universities in the world. Besides the historic buildings, the town has a busy metropolitan area with great restaurants and museums (don't miss the Dr Pepper Museum, in homage to the locally invented fizzy drink). For those looking for fresh air, there's a scenic seven-mile (11km) riverwalk. Take a look at America's best long weekend escapes.
Utah: Ogden, Weber State University
East of the Great Salt Lake is scenic Ogden, known best for Weber State University, skiing and its history as the first European settlement in Utah. Head downtown to 25th Street, once packed with Prohibition-era speakeasies, and now lined with galleries, bakeries, bars, restaurants and shops. Skiers typically make the most of the town's proximity to Wasatch Mountains in Ogden Valley, with popular nearby resorts such as Snowbasin and Powder Mountain.
Vermont: Burlington, University of Vermont
The University of Vermont sprawls across little Burlington, located on the shores of Lake Champlain. But the small city has loads more to offer besides the attractive university buildings. Downtown, pedestrianized Church Street Marketplace is the spot for shops and restaurants. A five-minute walk from downtown is the beautiful lakefront, a dreamy spot for a stroll or cycle.
Virginia: Williamsburg, College of William & Mary
The historic college town of Williamsburg is stately and picturesque, best known for the Colonial Williamsburg Historic Area, a sprawling living history museum that offers a glimpse into life during the 18th century. On the city's outskirts is Busch Gardens Williamsburg with kid-friendly and more adrenalin-pumping roller coasters. The 1693-chartered College of William & Mary is a landmark in itself too: one of its first buildings was designed by famous architect Christopher Wren. 
Washington: Olympia, The Evergreen State College
Home to The Evergreen State College, which champions the liberal arts, Olympia is beautiful. There's the grand Washington State Capitol buildings and Capitol Lake, a man-made body of water hemmed with paved trails. Nature-lovers will enjoy the Billy Frank Jr. Nisqually National Wildlife Refuge, visited by around 200 species of bird. Take a look at more stunning lakes you won't believe are man-made. 
West Virginia: Charleston, University of Charleston
The capital of West Virginia is Charleston, a university town surrounded by dense forest beneath the Appalachian Mountains. Beyond its stunning natural surrounds, including the Kanawha River, there's a number of marvelous man-made sites too. The most impressive of all is the gold-domed State Capitol. Capitol Market, an indoor market in a former freight station, is delightful too.
Wisconsin: Appleton, Lawrence University
Travel north of Lake Winnebago and you'll come to Appleton, a picturesque college town in central Wisconsin. Lawrence University's 19th-century buildings lay east of lively downtown where you'll find the Trout Museum of Art and the Fox Cities Performing Arts Center (temporarily closed due to COVID-19), plus restaurants and bars. 
Wyoming: Laramie, University of Wyoming
The University of Wyoming, with its vast green campus, keeps this town young and hip. Laramie has plenty of indie shops and nice dinner spots in its pretty downtown area, but the top attraction here is the outdoors. The town acts as a jumping off point for great national parks and monuments, including Yellowstone and the awe-inspiring Devils Tower, a 867-feet (264m) high butte. Inspired? Read on as we reveal the most historic hotel in every state.
Source: Read Full Article