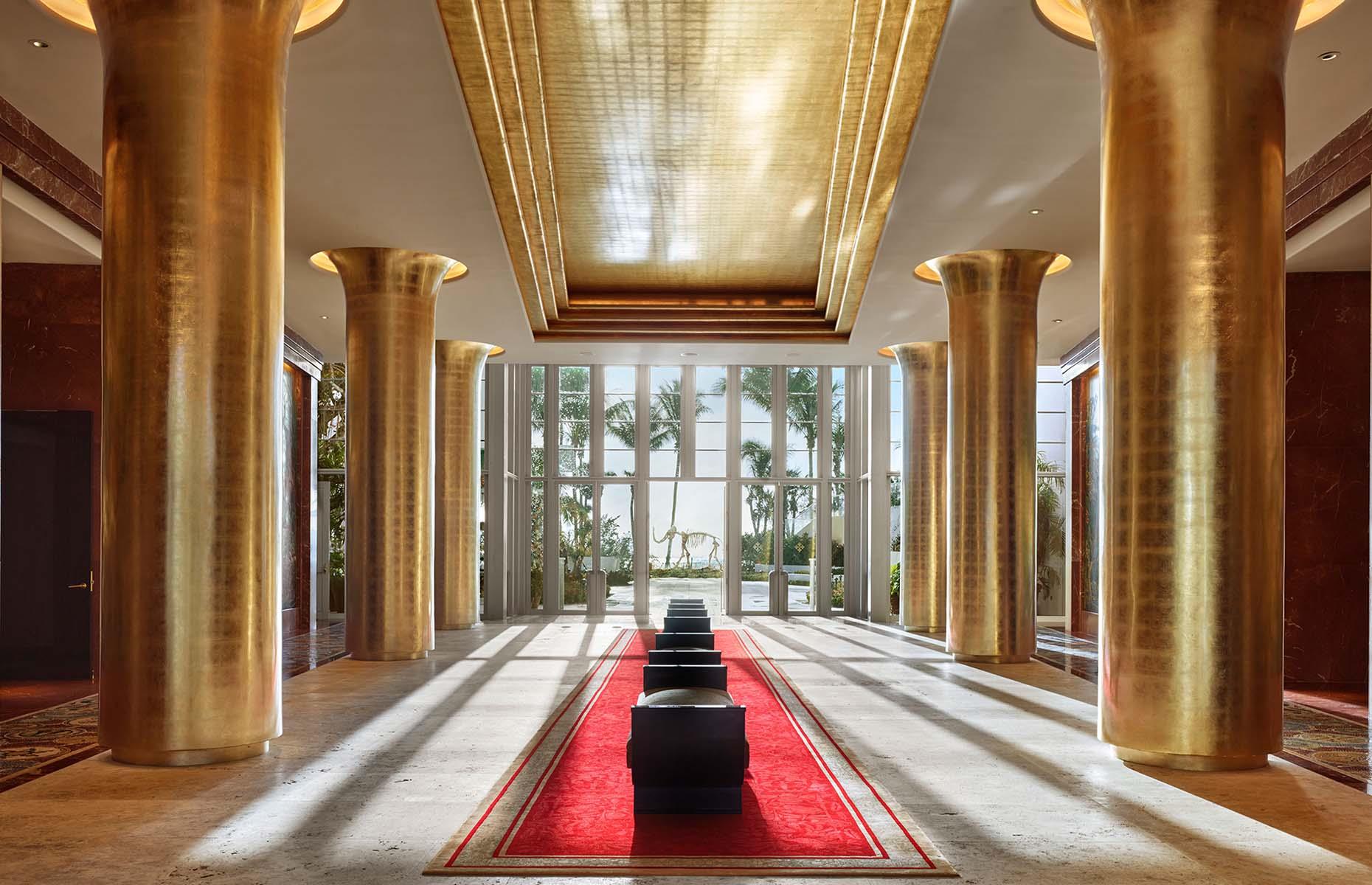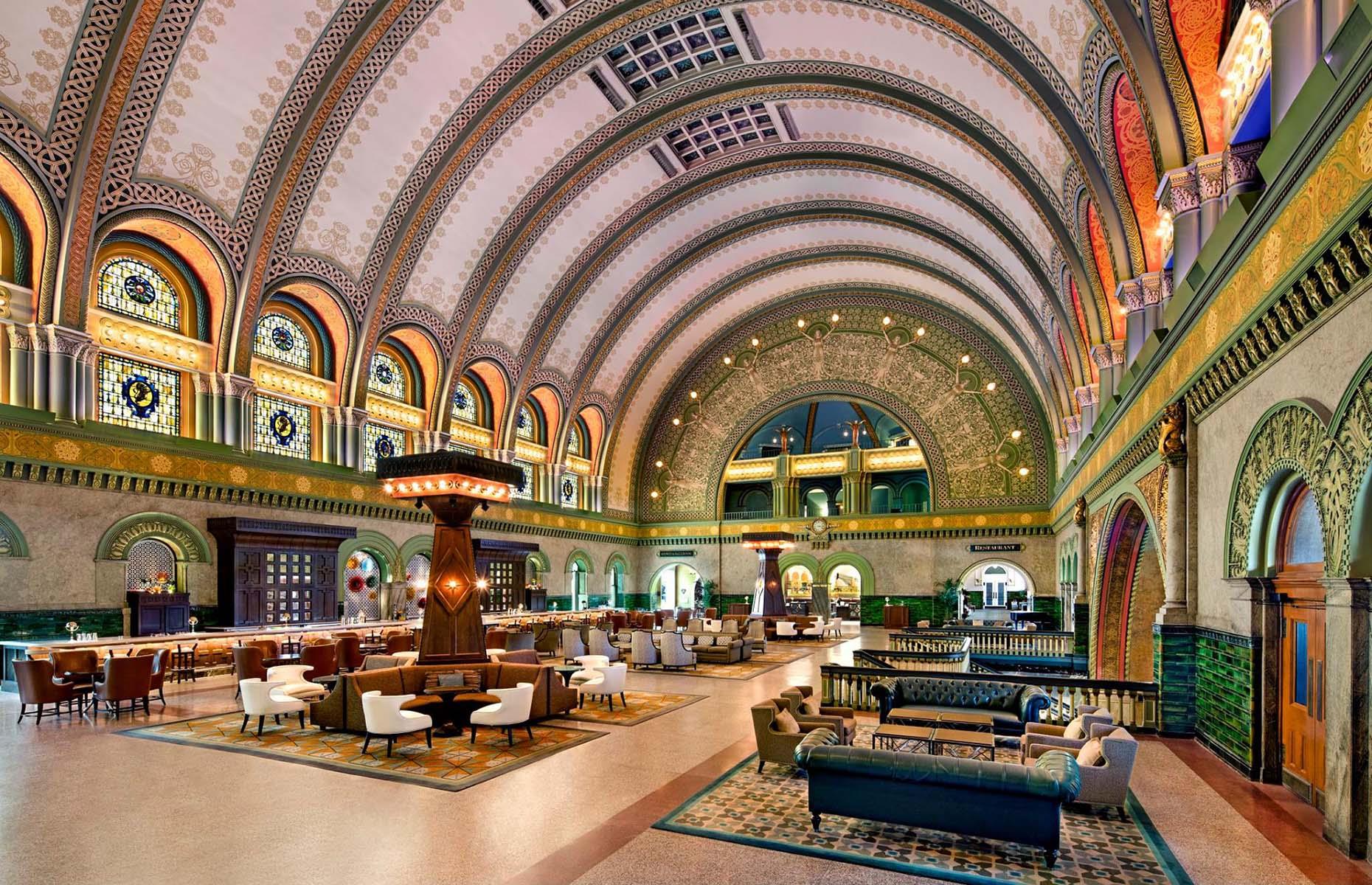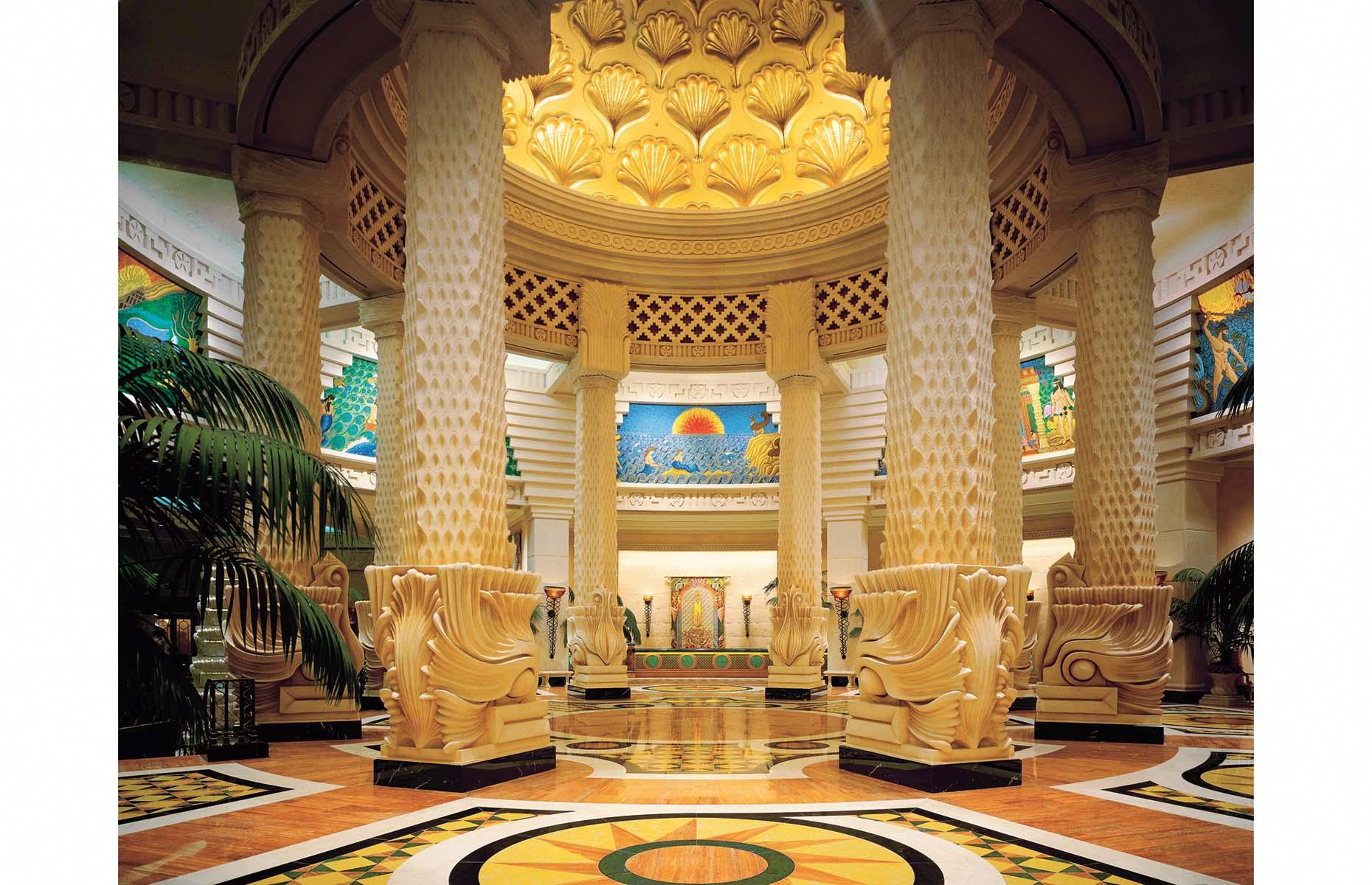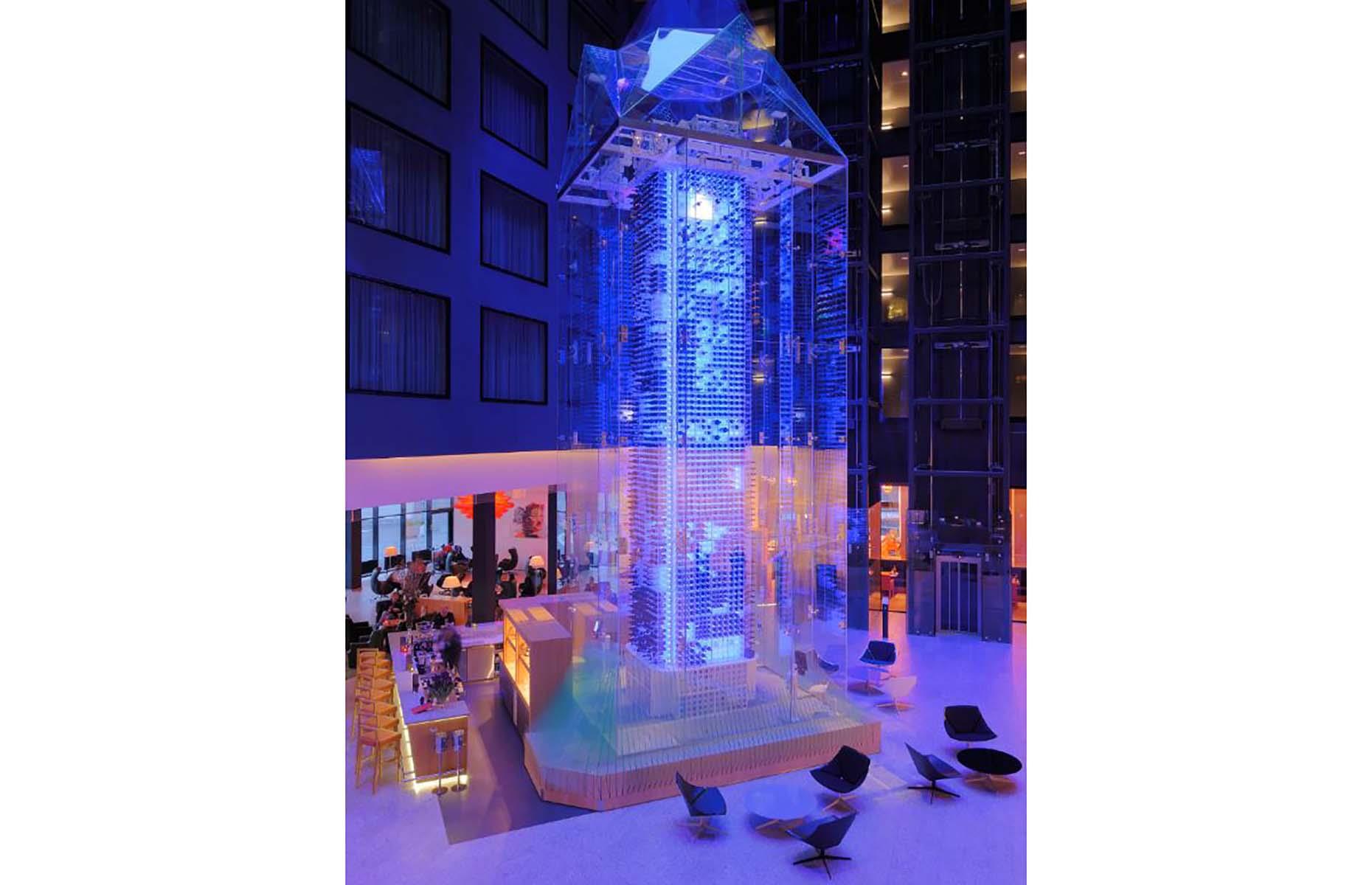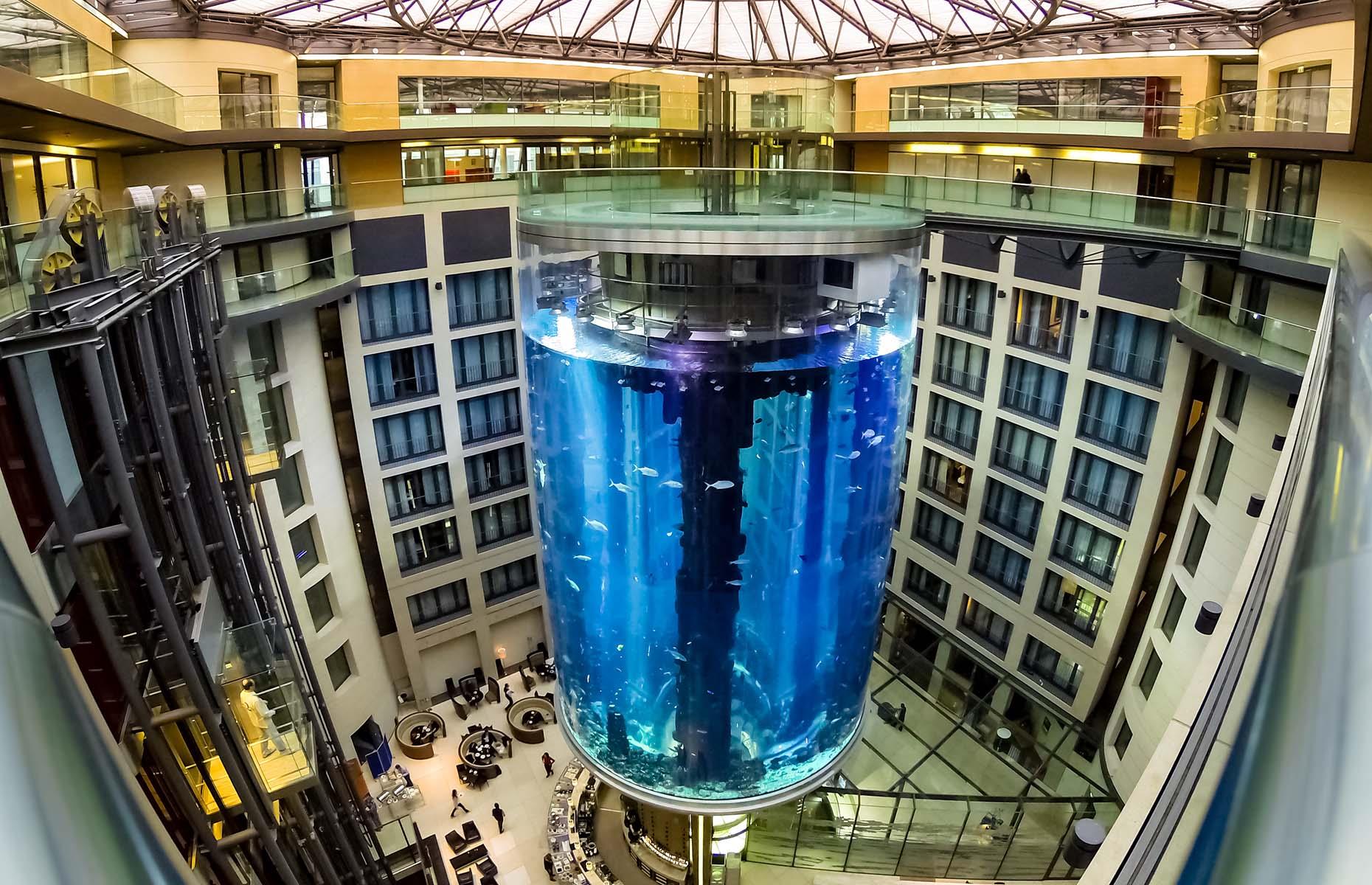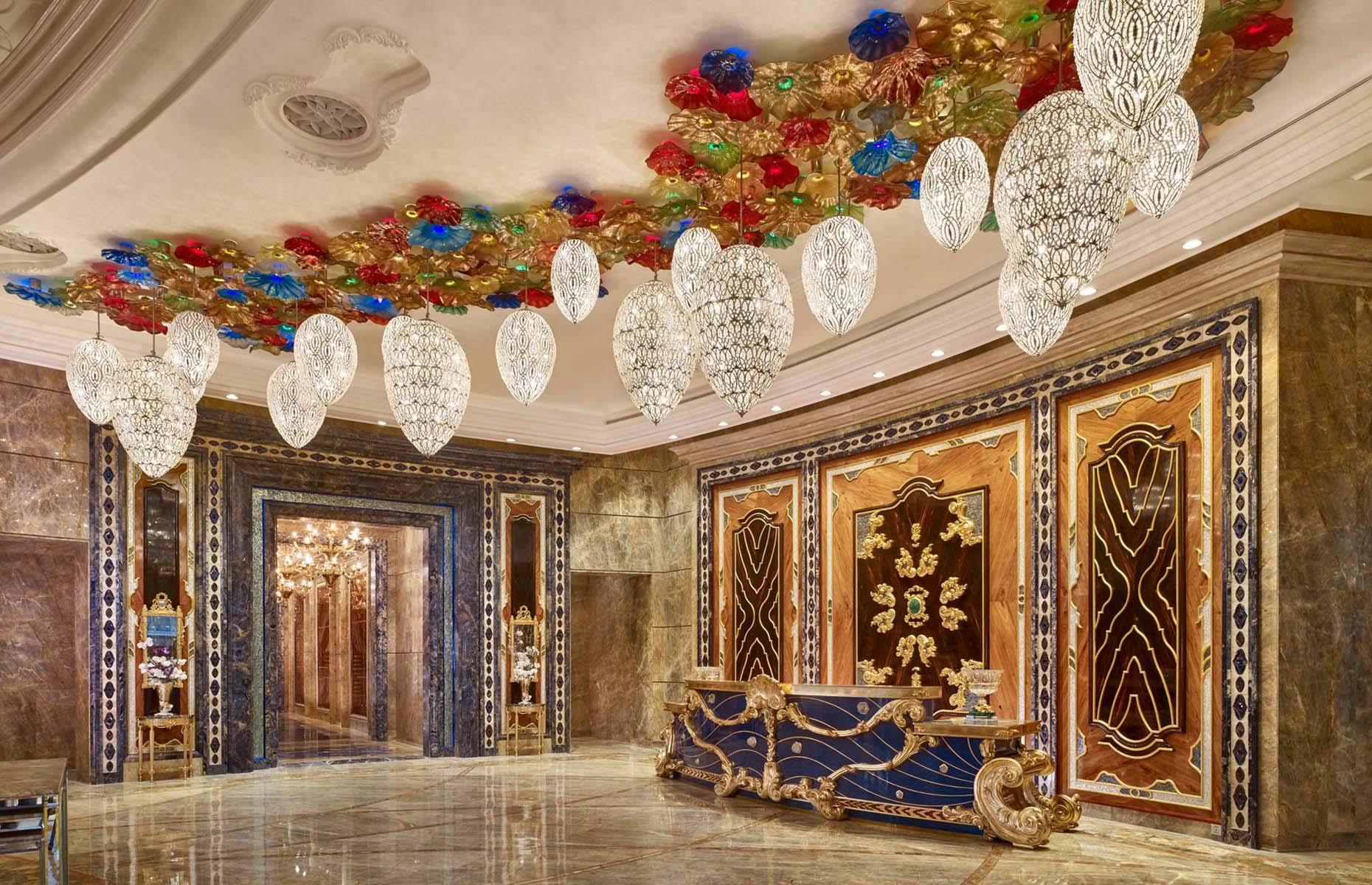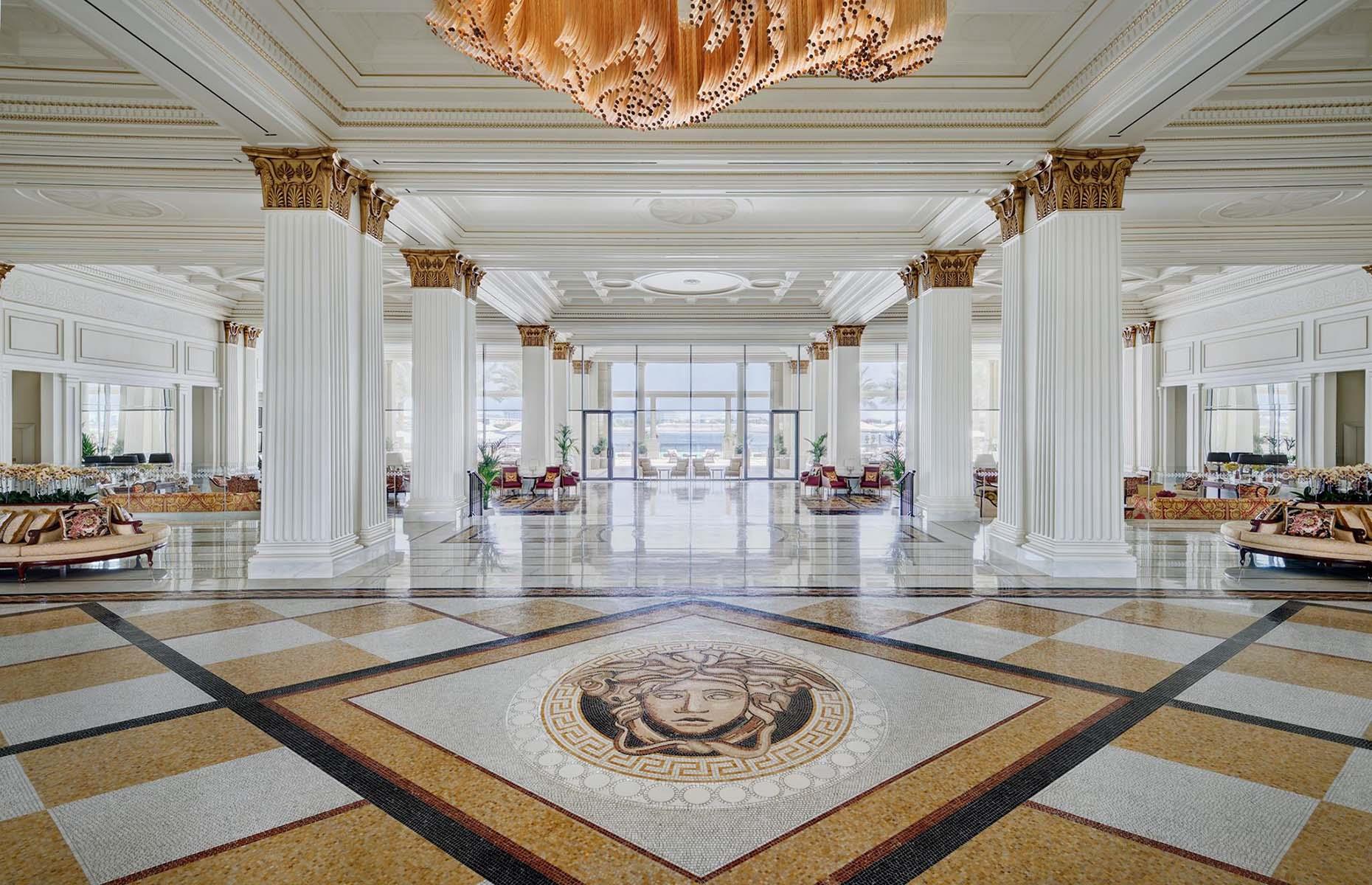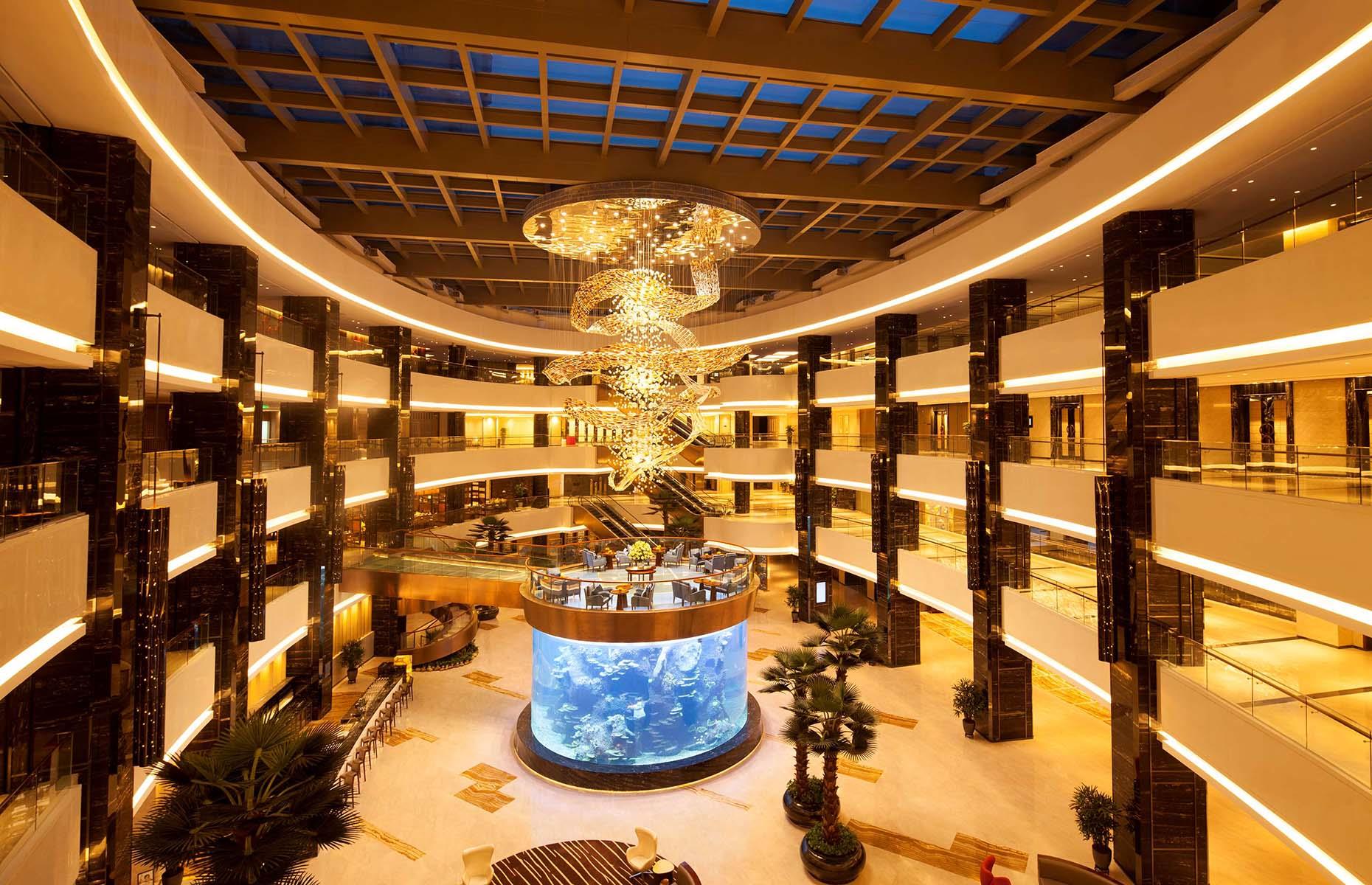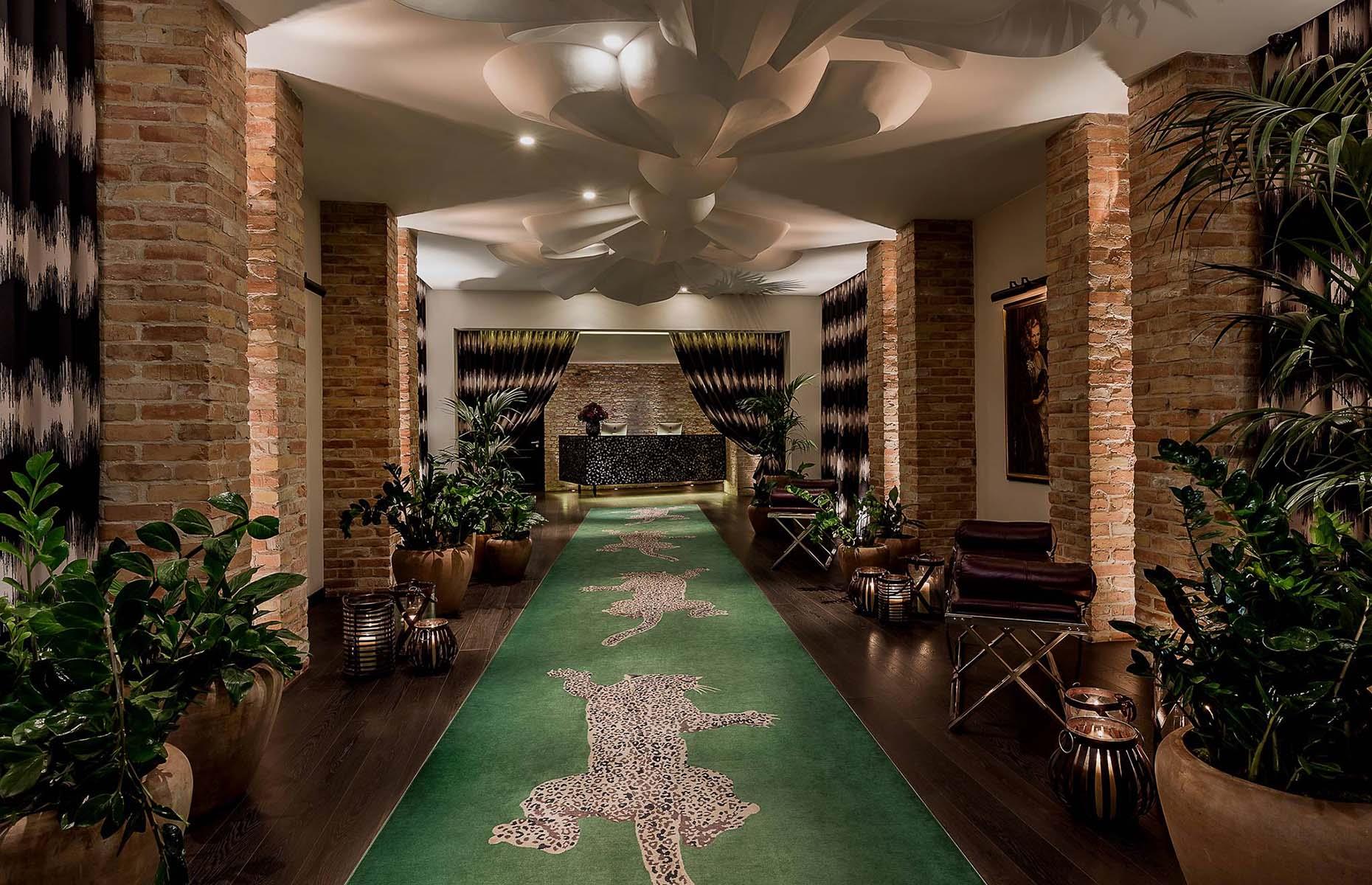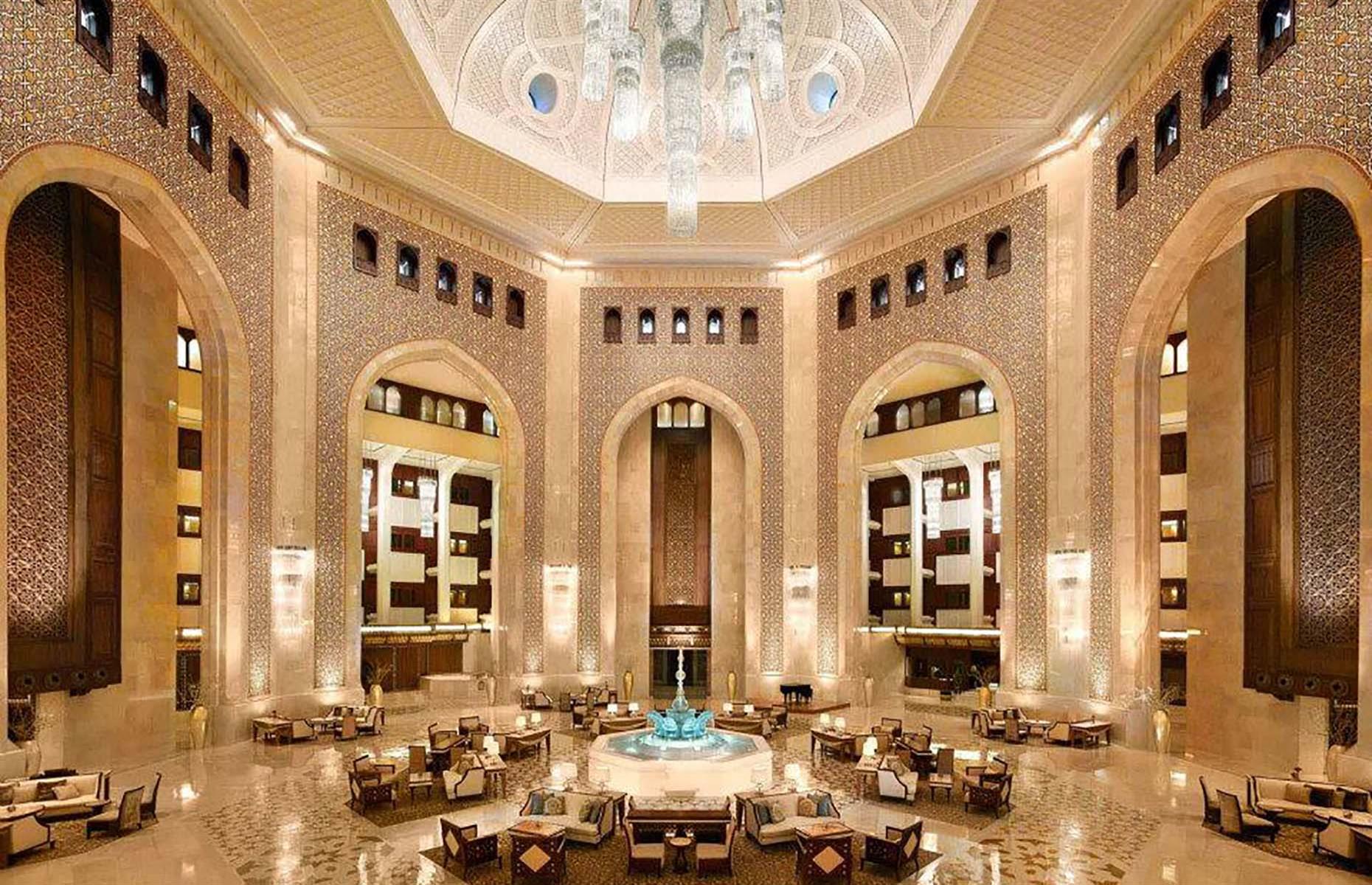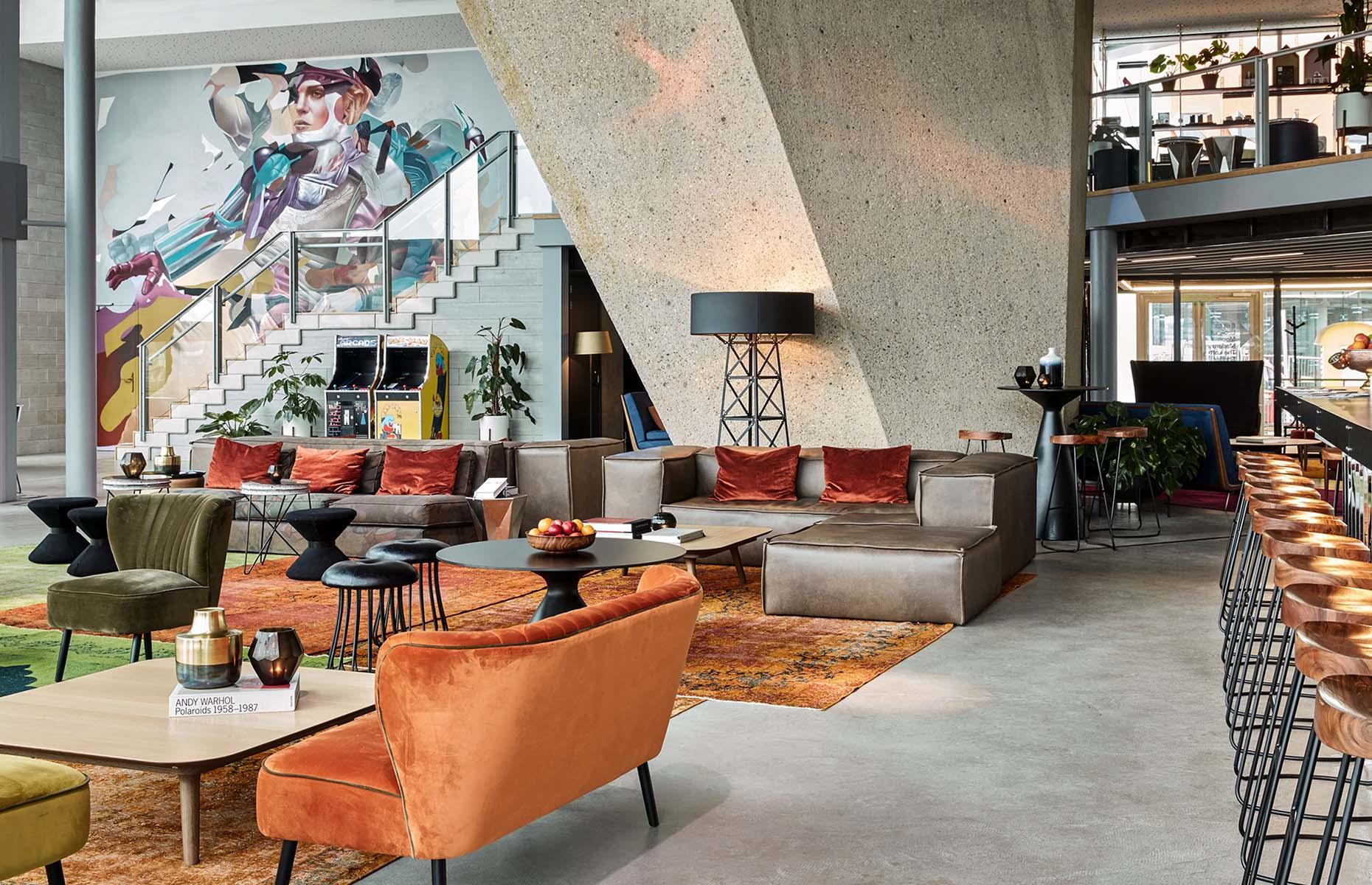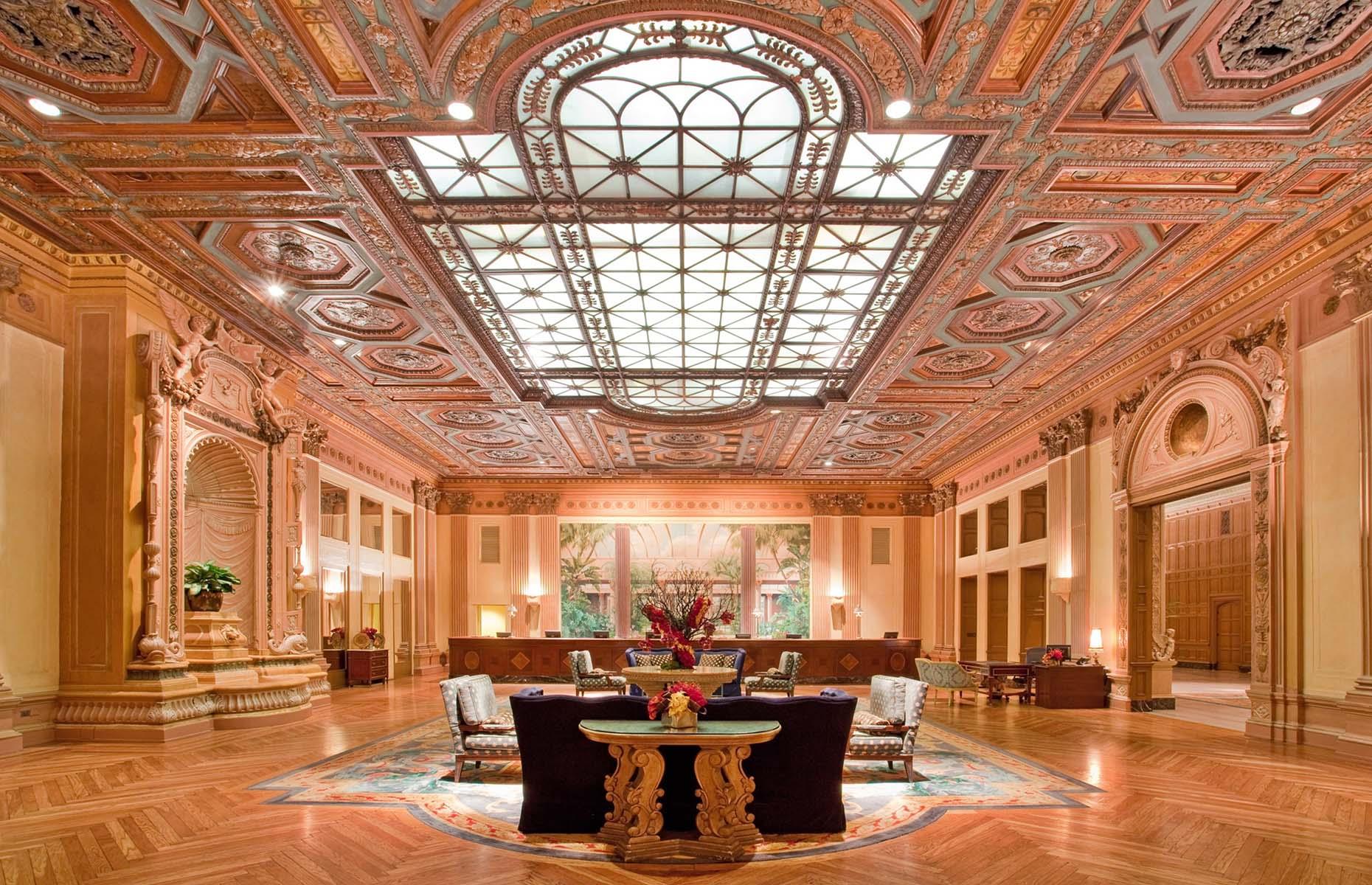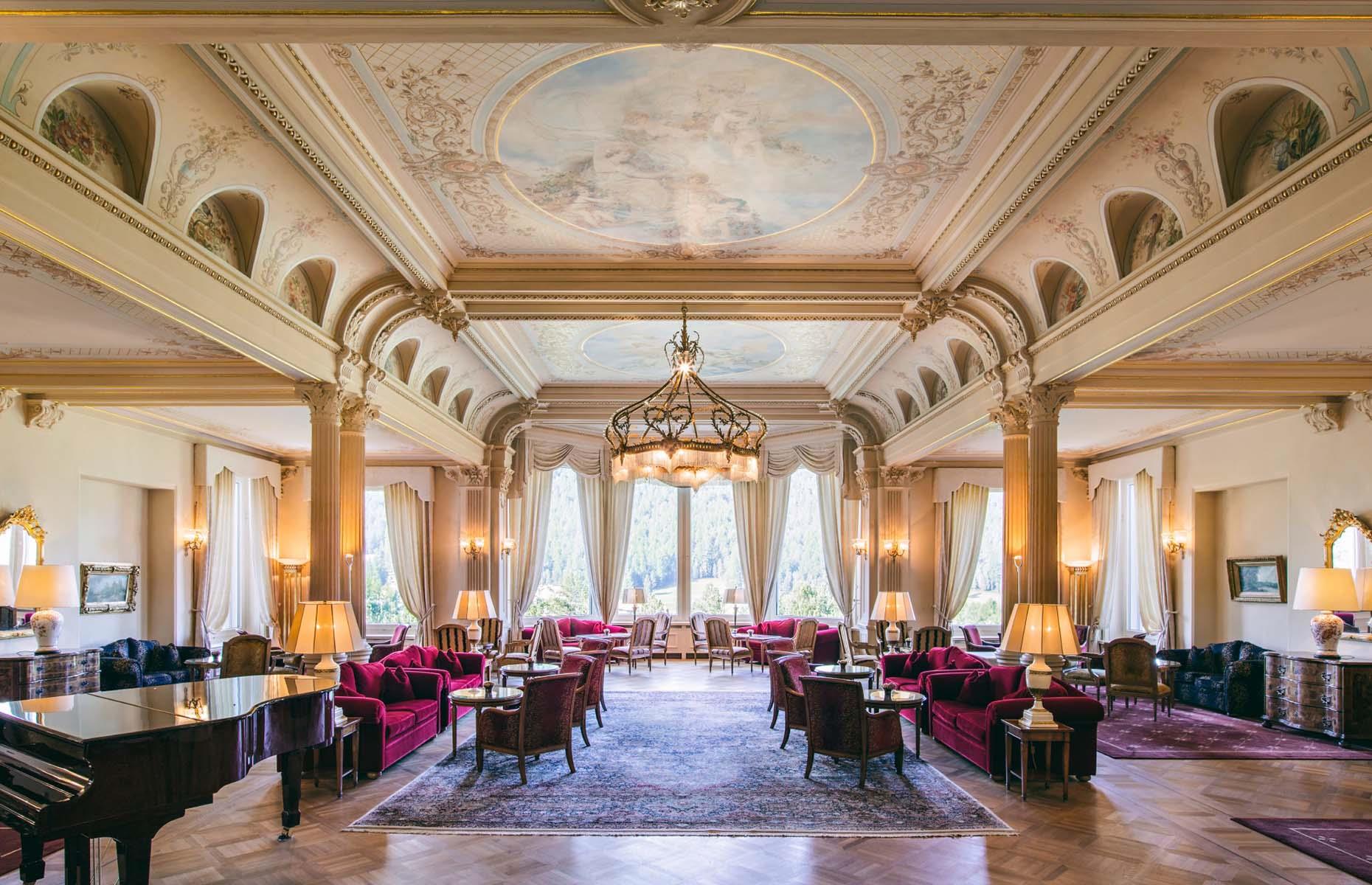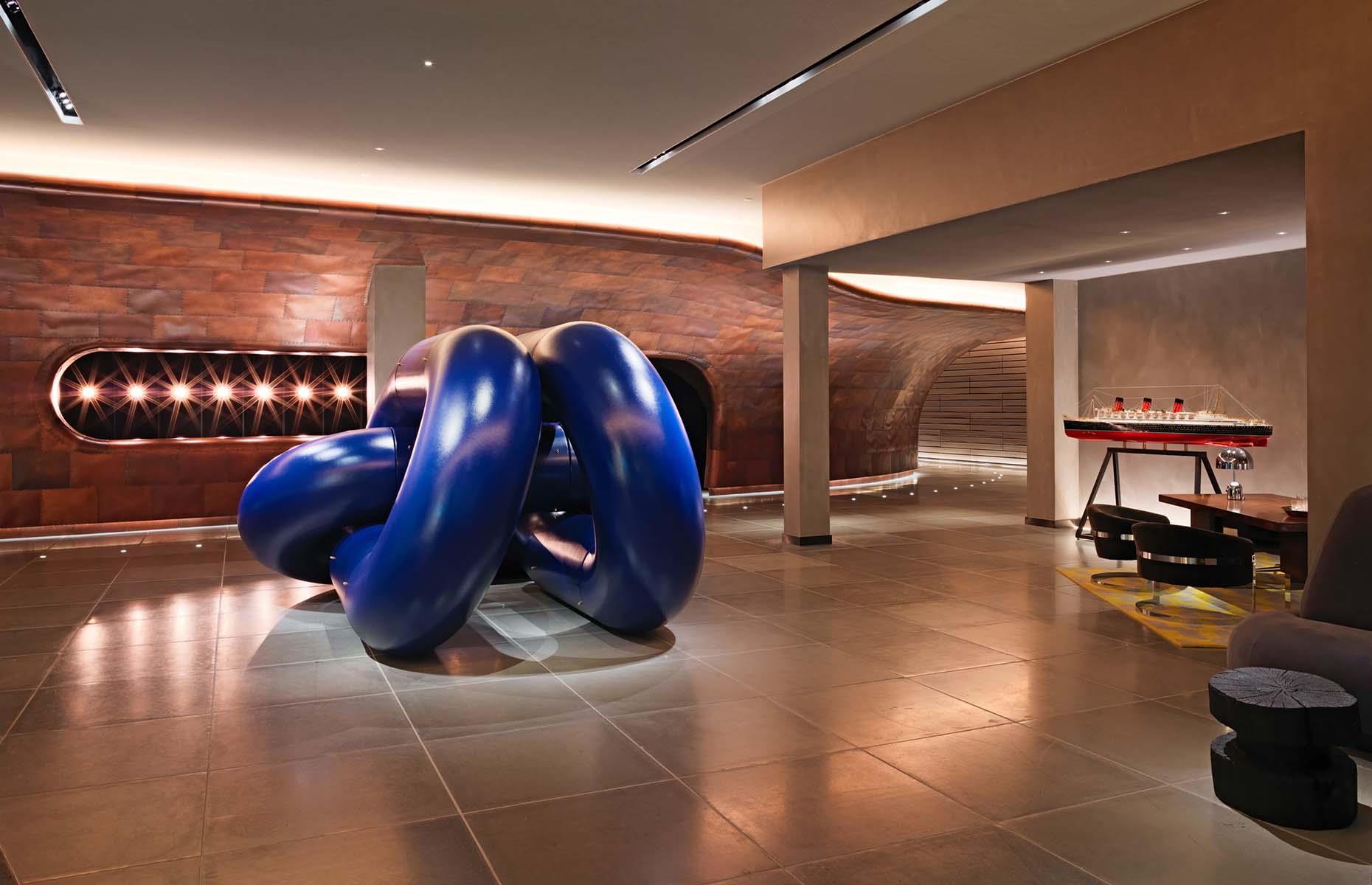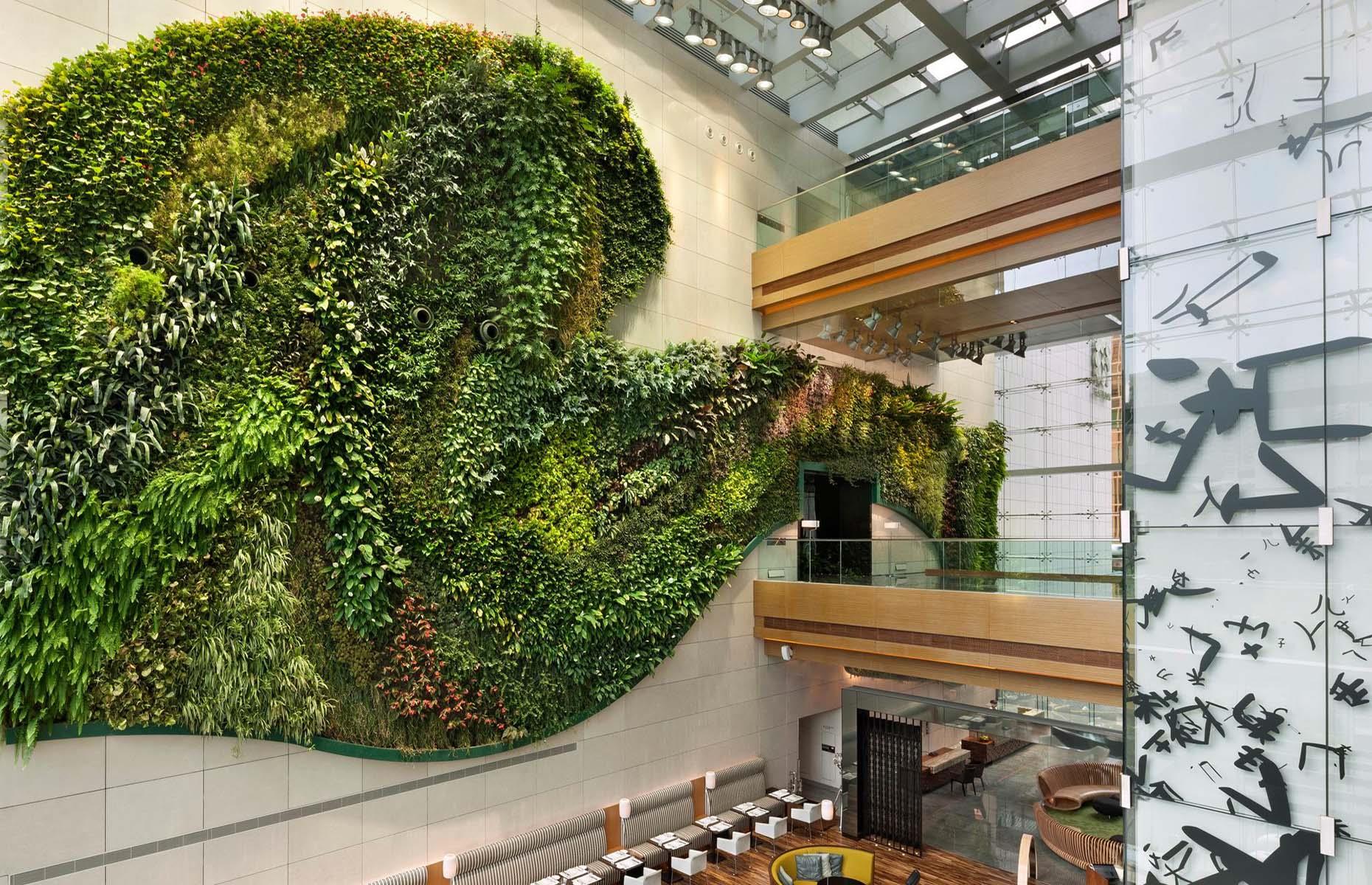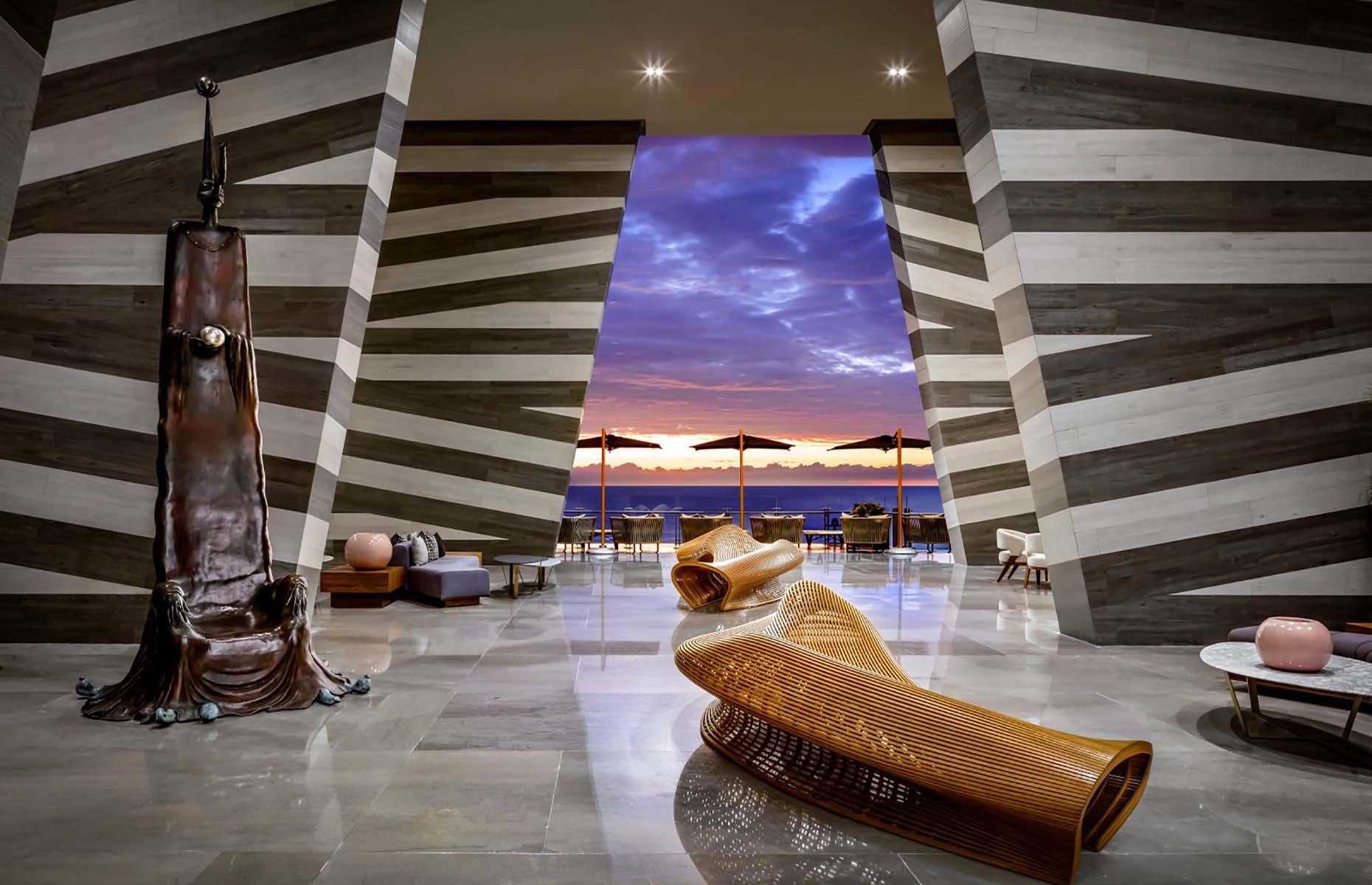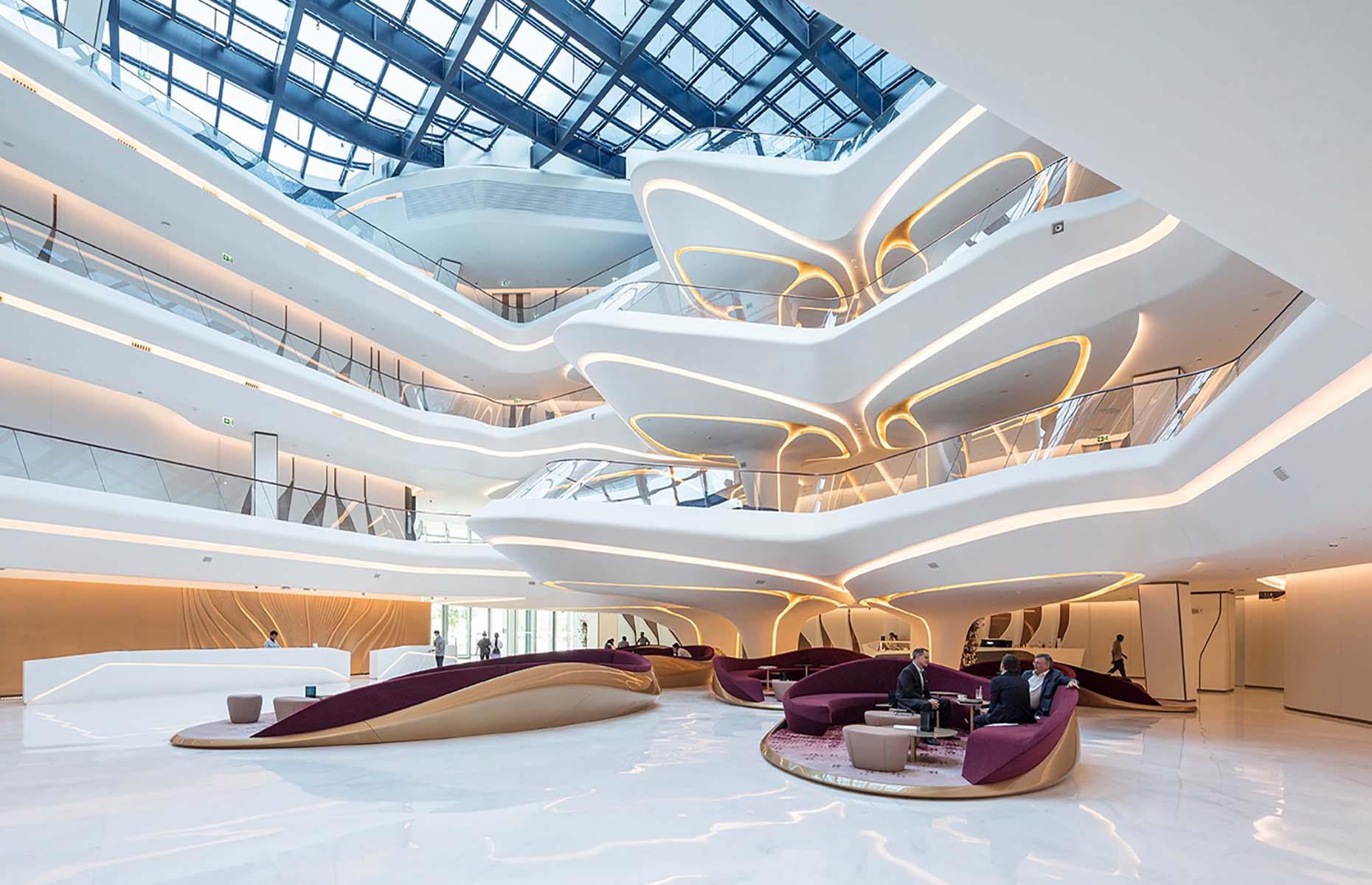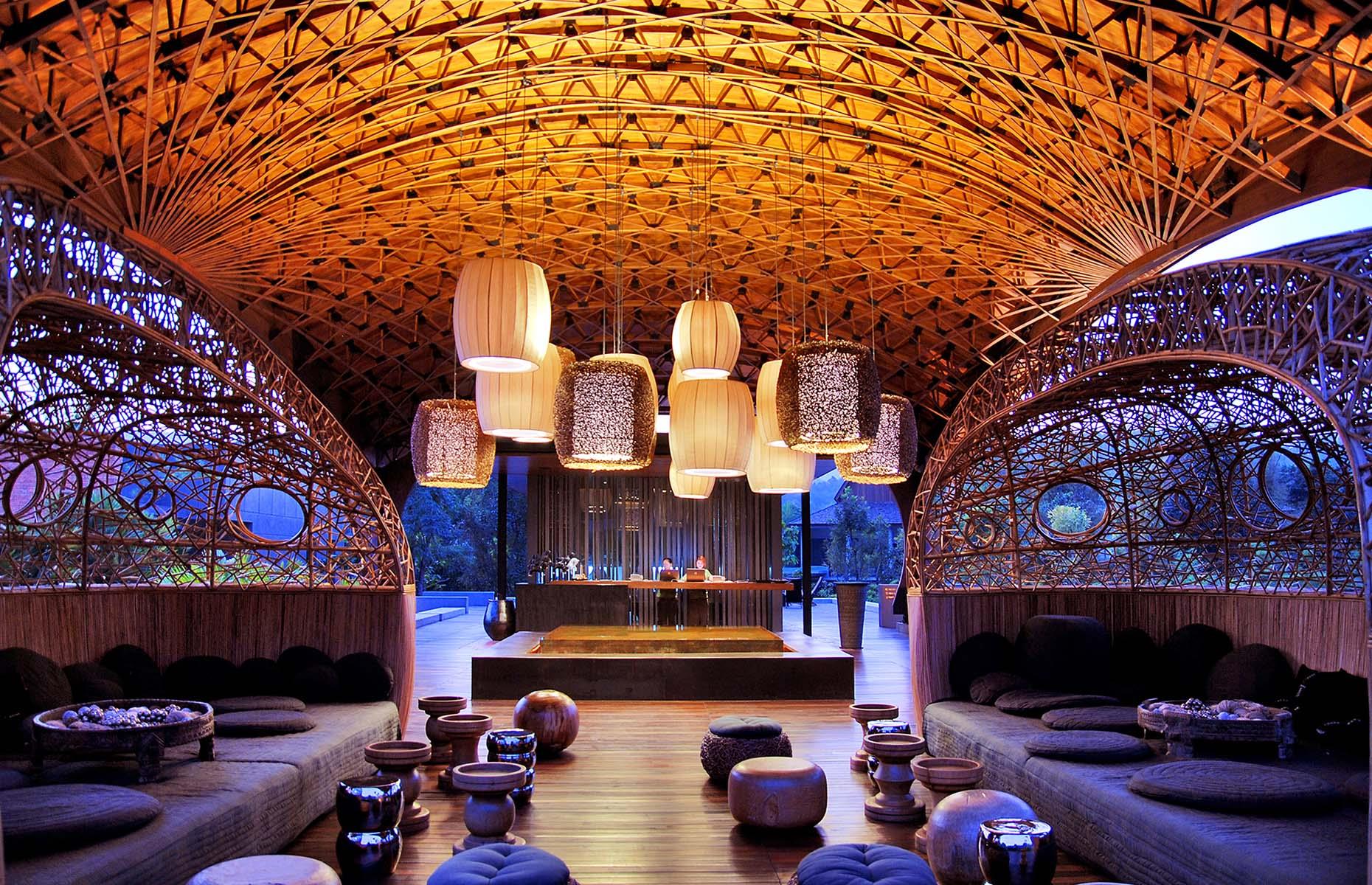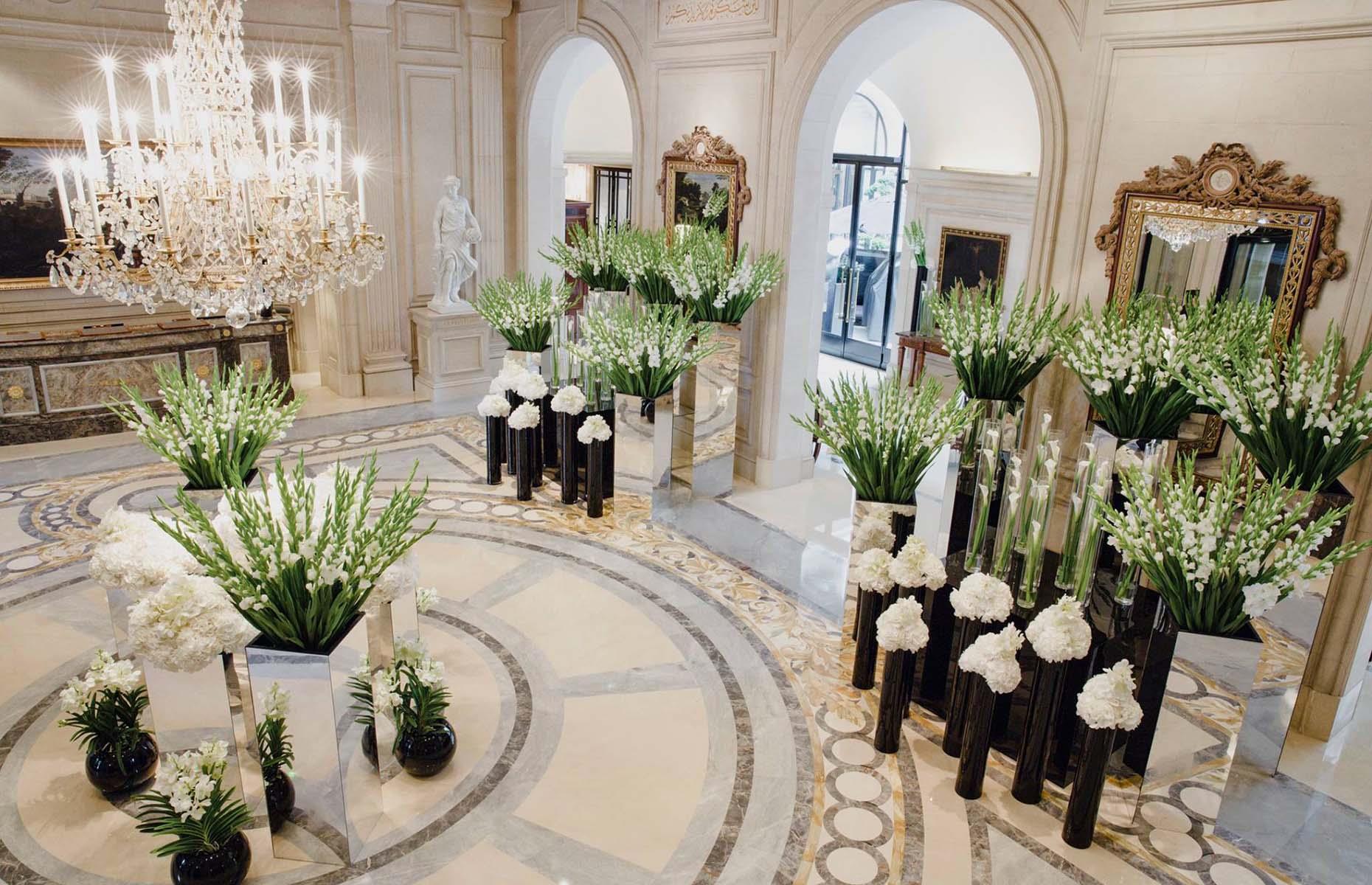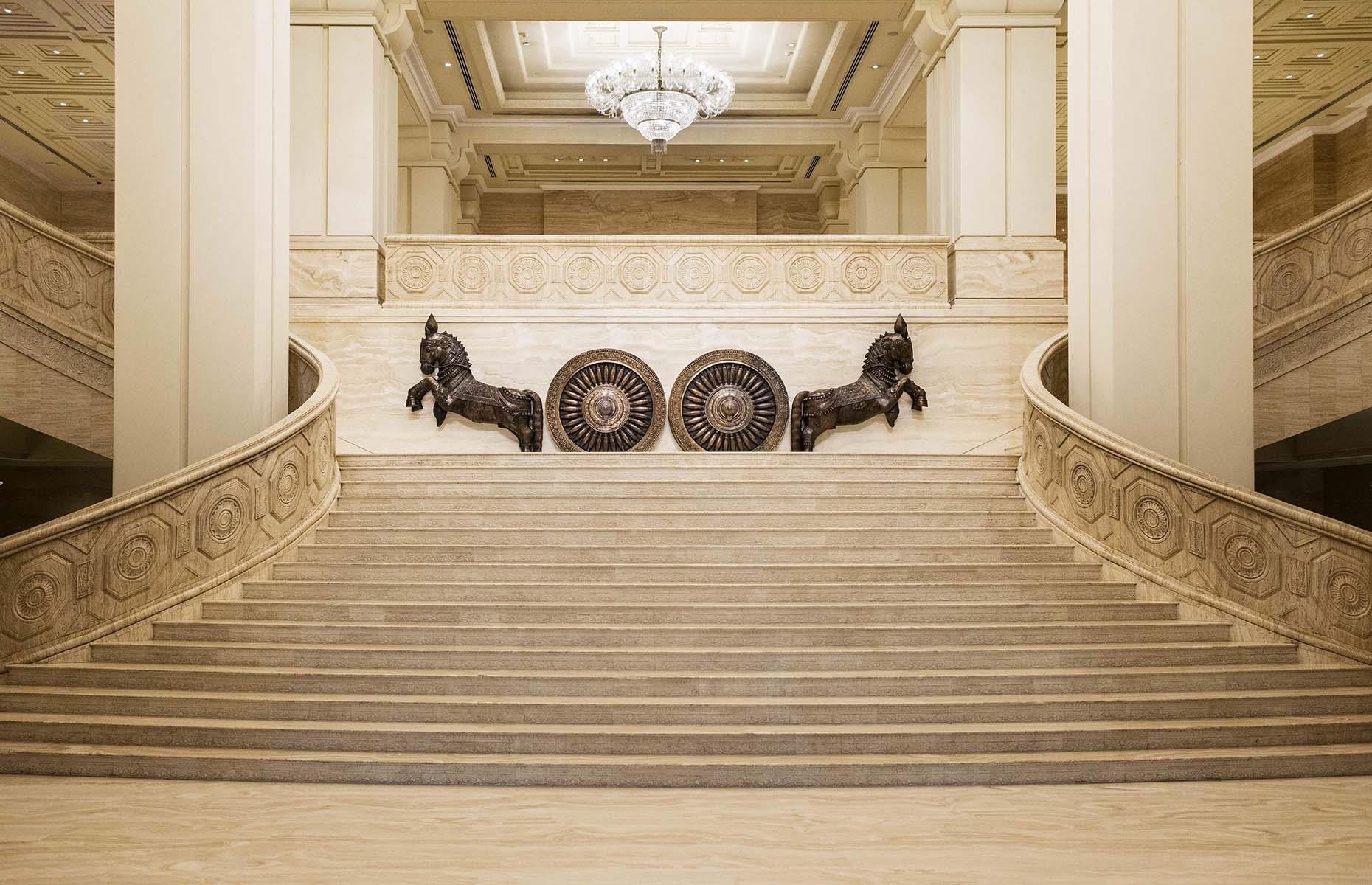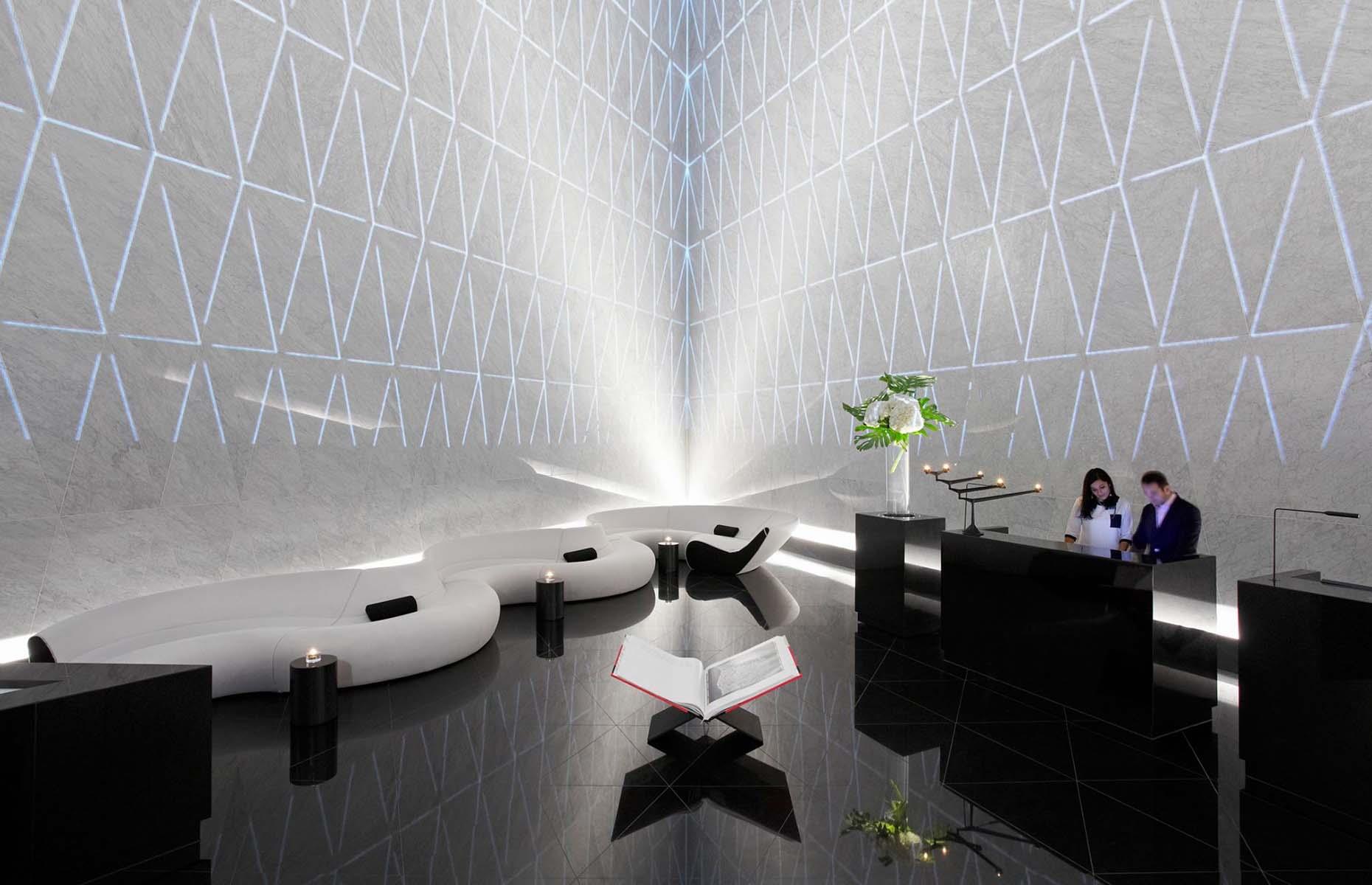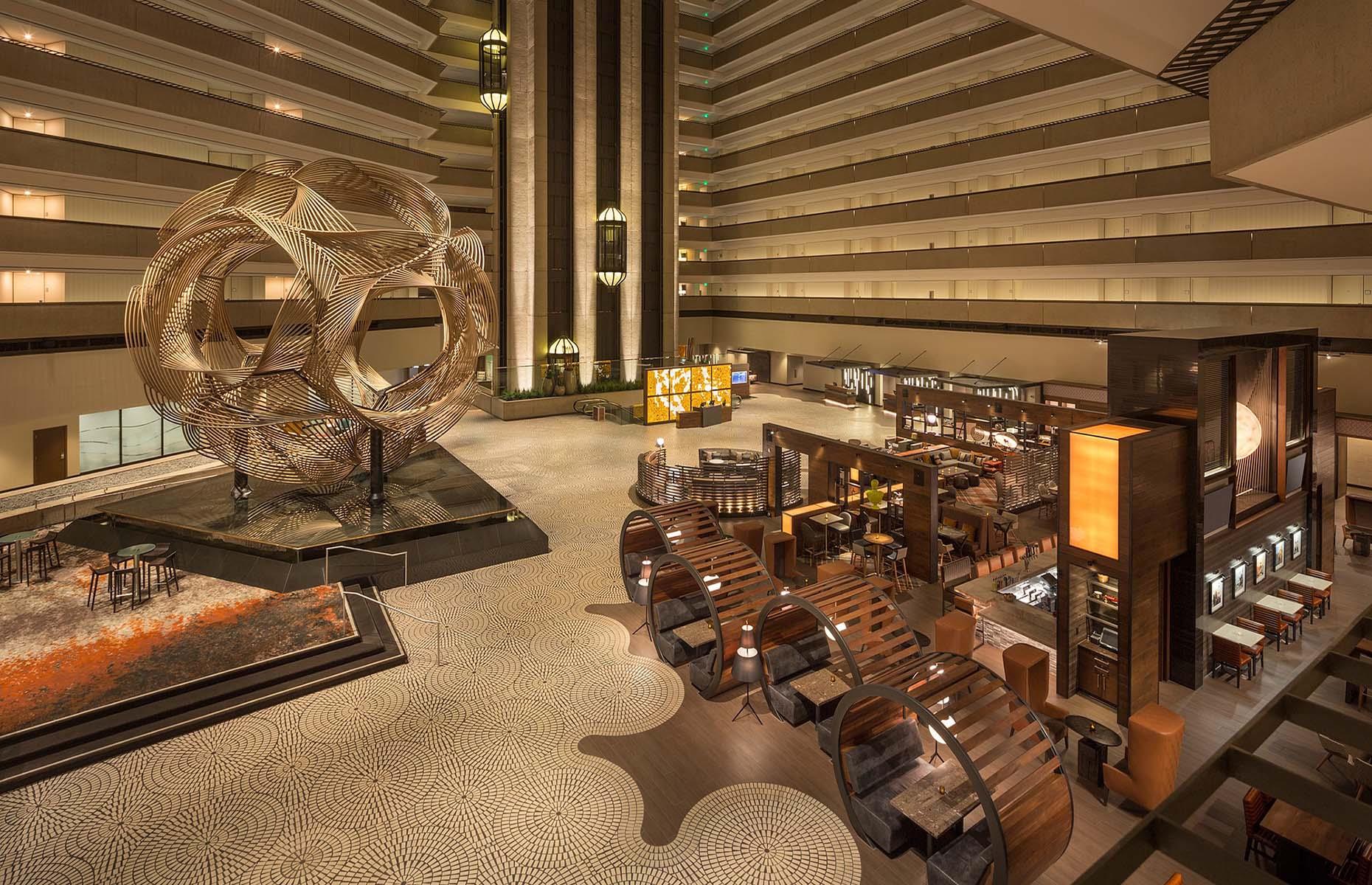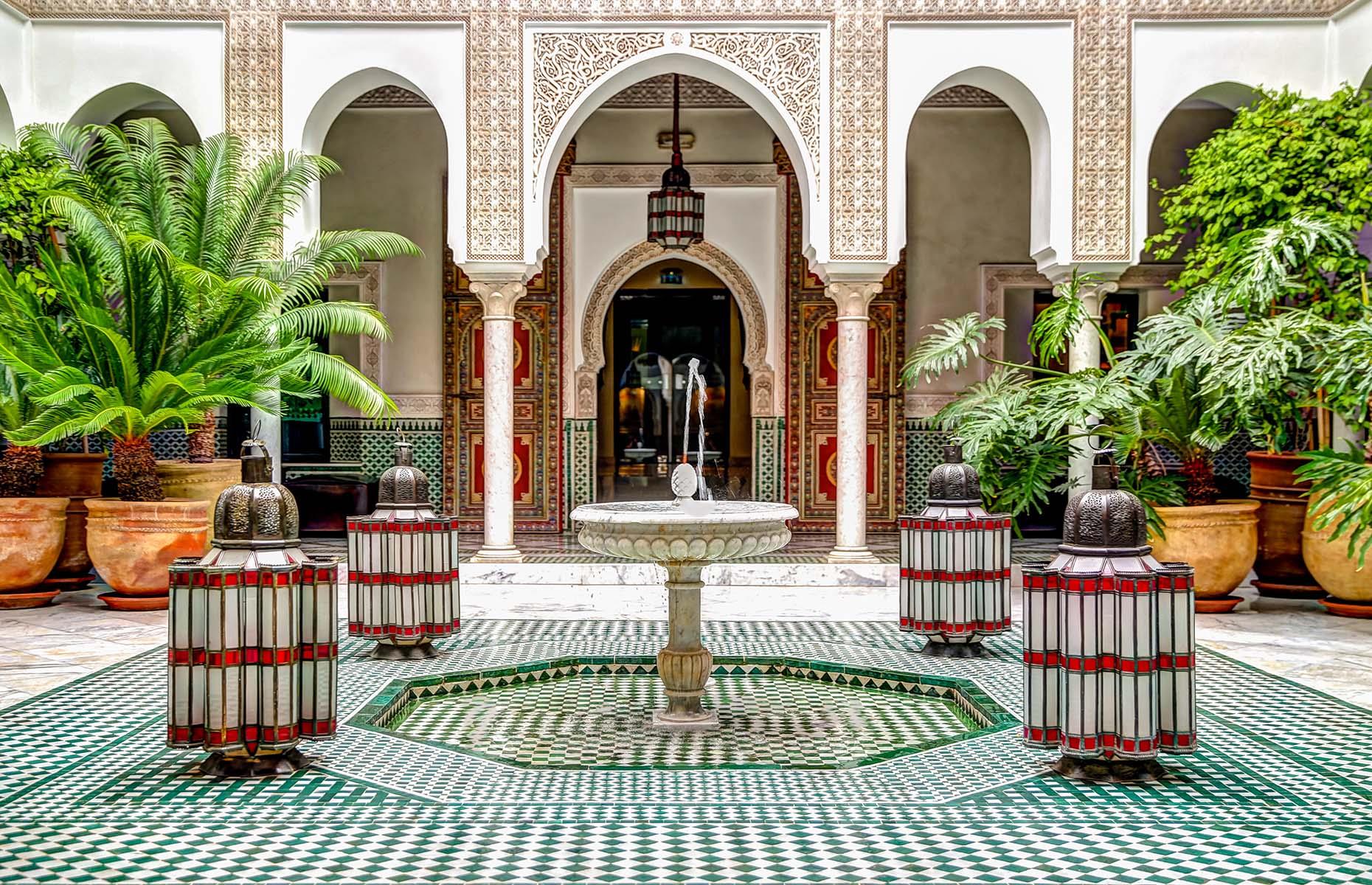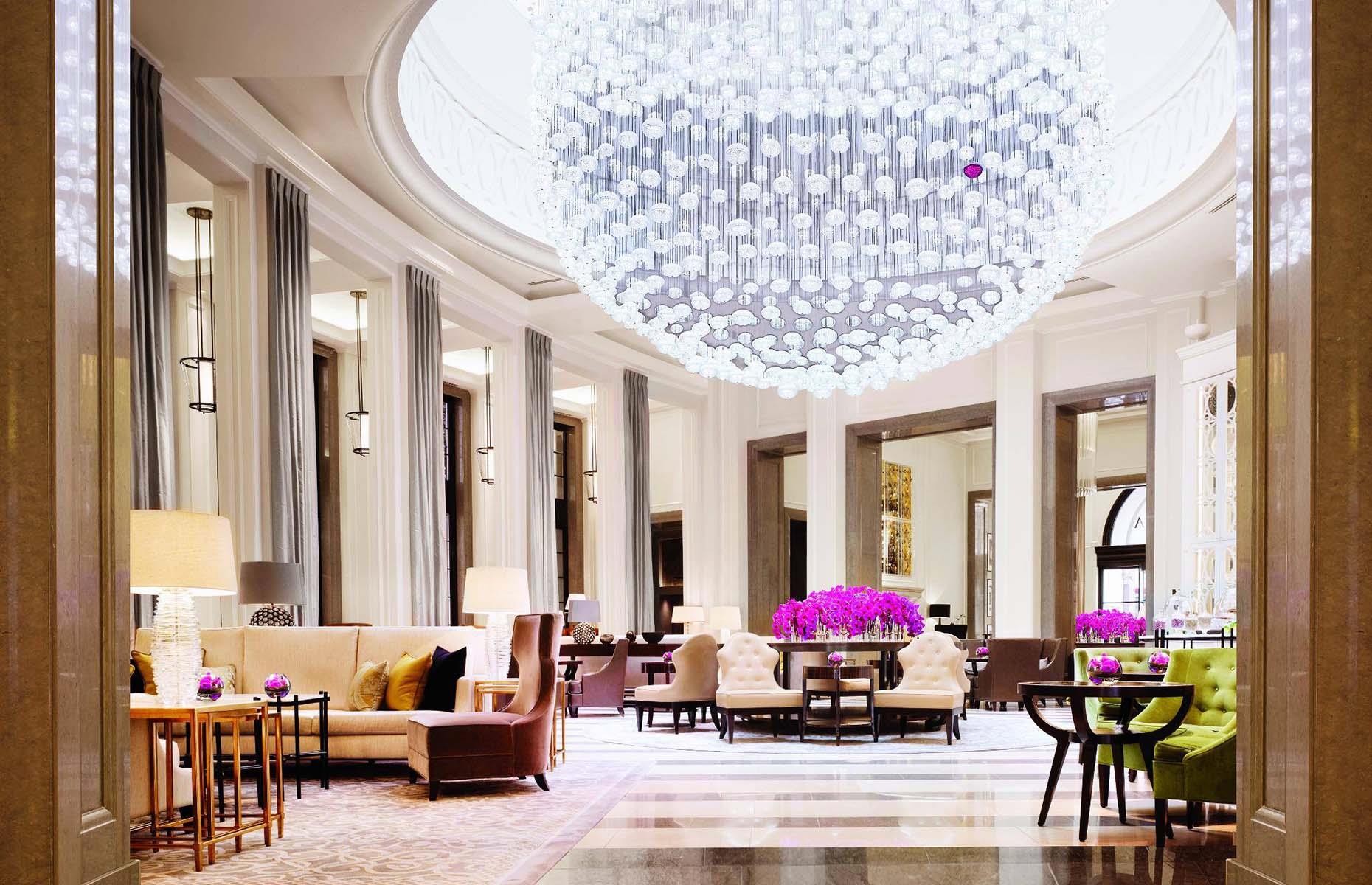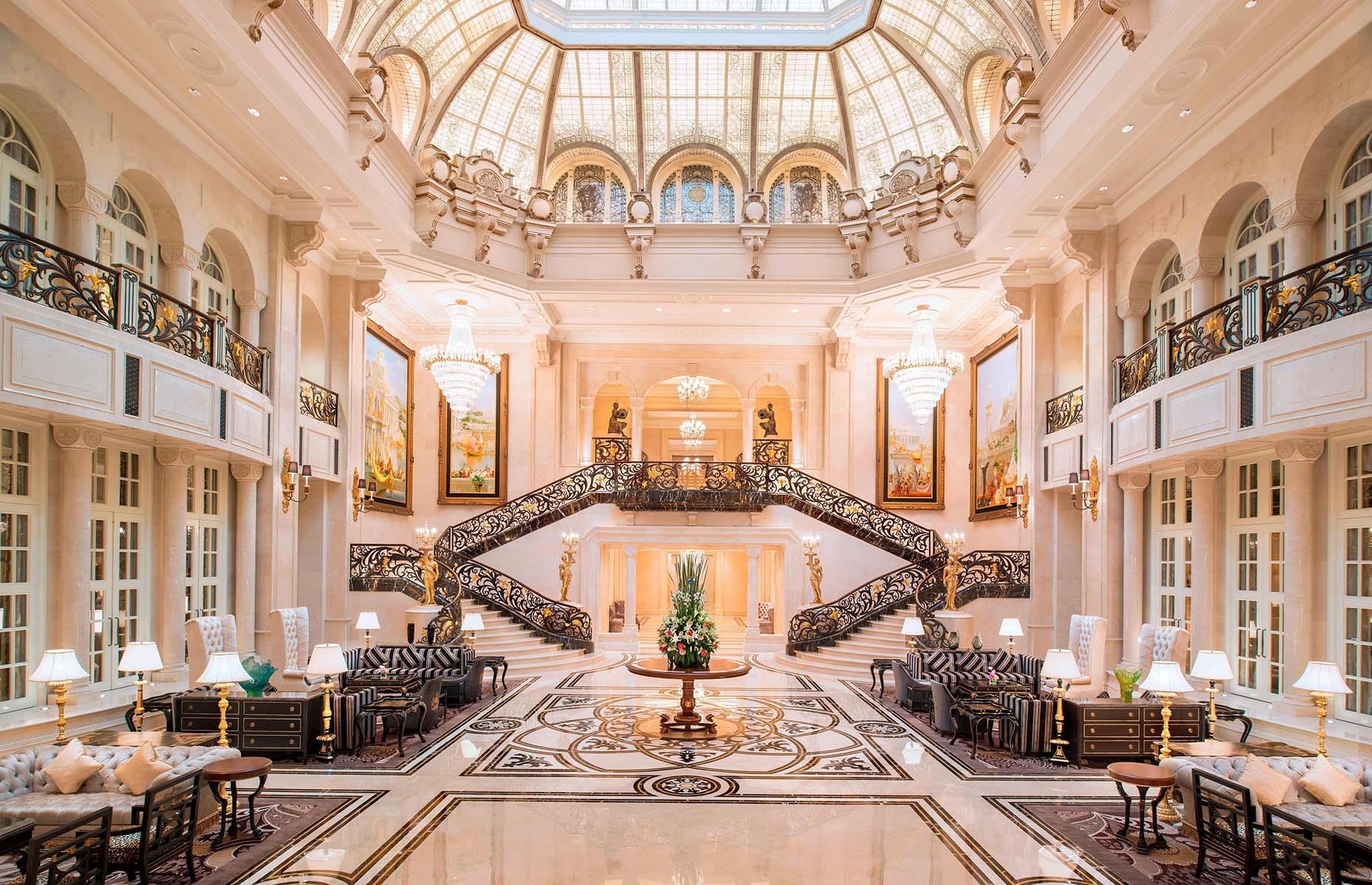 Make an entrance
Faena Hotel, Miami Beach, Florida, USA
A stroll through the opulent Faena Hotel Miami Beach is like a walk through a top art gallery. The lobby, nicknamed The Cathedral, has palatial gold and velvet furniture, impressive murals and gold-leaf-covered, tulip-topped columns. The focal point of the lobby is a series of eight murals designed by artist Juan Gatti and it also gives guests a first-hand view to Damien Hirst's striking sculpture Gone But Not Forgotten – 3,000-year-old gilded woolly mammoth skeleton.
St Louis Union Station Hotel, St Louis, Missouri, USA
The dramatic proportions of the lobby at the St Louis Union Station Hotel certainly impress instantly. Once the Grand Hall of the Union Station, the building has retained its elegant charm. With gold leaf detailing, sweeping archways and impossibly high ceilings, the lobby comes to life each night, when it hosts a nightly 3D light show. Flying birds, an aquarium scene and other animations are projected across the historic lobby, as well as photos of the former station and its passengers.
The Royal at Atlantis, Nassau, Bahamas
The ornate lobby at the Bahamas' The Royal at Atlantis is simply jaw-dropping. With intricately sculpted columns, a central dome and colorful designs on both the floors and the walls, it's a show-stopping place to check into your room. There's everything from giant seashell impressions adorning the central dome to towering palm trees and Atlantis-inspired wall murals adorning the grand space.
Radisson Blu Hotel, Zürich Airport, Switzerland
Oenophiles will feel right at home at the Radisson Blu Hotel in Zürich Airport, where the centerpiece of the lobby is an imposing wine feature. The floor-to-ceiling transparent tower is over 52 feet tall (15.8m) and houses more than 4,000 bottles of wine and Champagne. When you request a bottle of wine, you'll see your Wine Angel fly through the massive structure to retrieve your selection. It definitely beats rummaging through a dusty cellar.
Radisson Blu Hotel, Berlin, Germany
Another Radisson Blu Hotel that impresses with its lobby feature, the Berlin hotel sports the world's largest freestanding cylindrical aquarium, the AquaDom. The jaw-dropping feature contains a million liters of salt water and 1,500 tropical fish from over 110 different species. Guests can even enjoy an elevator ride through it for a different view of the underwater world.
The Reverie Saigon, Ho Chi Minh City, Vietnam
The incredibly luxurious The Reverie Saigon has not just one magnificent lobby but two. Every item has been handpicked, right down to the lightbulbs. The downstairs lobby includes custom-made mosaics, crystal and steel chandeliers and a colorful ceiling installation of hand-blown Murano glass (pictured). The upstairs lobby boasts custom-made, floor-to-double-height-ceiling mosaics and a 10-foot-high (3m) emerald green clock by Italian designer Baldi.
Palazzo Versace, Dubai, UAE
Lobbies don't get much more lavish than the palatial space at Palazzo Versace Dubai. Fusing Neo-classical Italian traditions with Arabic architectural elements, the interiors were overseen by Donatella Versace and are suitably show-stopping. The lobby's ceilings are hand-detailed in gold, there's a marble mosaic flooring set, hand-crafted with around 1.5 million pieces of mosaic and the grand foyer chandelier is fashioned out of 6,600 lbs of hand-blown Bohemian glass.
Hilton Foshan, Foshan, China
Set in the Chancheng District of Foshan, Hilton Foshan offers the largest lobby in the city. As well as an eye-catching light feature taking center stage, the lobby also features an enormous aquarium with over a thousand fish. Usually, it's possible to eat right on top of the aquarium, with a seating area above forming part of the hotel restaurant's dining area.
Makati Shangri-La, Manila, Philippines
It's hard to compete with the luxurious lobby of the Makati Shangri-La in Manila. The enormous chandelier, floral displays and views over the property's lush gardens and cascading waterfalls through the floor to ceiling windows are simply mesmerizing. What's more, guests are able enjoy a light lunch in the beautiful space while listening to the lobby's 14-piece orchestra.
Hotel Zoo, Berlin, Germany
The lobby at Hotel Zoo Berlin is a lesson in decadent glamor. Guests enter the doors on a rich jade-colored catwalk designed by Diane von Furstenberg, with crouching leopards woven into the carpet taking center stage. The entryway leads to an impressive lobby with 22-foot-high (6.7m) ceilings, industrial windows, exposed brick walls and a hanging chandelier.
Hurawalhi Island Resort, Kuredu, Maldives
There's more to luxurious lobbies than palatial columns, mosaic floors and opulent furnishings: at Hurawalhi Island Resort the lobby has an upmarket Robinson Crusoe vibe. The hotel is mostly known for having the world's largest all-glass undersea restaurant, but the lobby doesn't disappoint either. As well as sandy floors and rustic ceilings, there's a breathtaking central light feature resembling a school of fish.
Al Bustan Palace, Muscat, Oman
The welcome at the Al Bustan Palace in Muscat is quite something. The glittering space boasts a 124-foot-high (38m) dome – higher than the Taj Mahal's – and a 5.5-metric-ton crystal chandelier. The domed ceiling and inlaid walls feature intricate mosaics and there's even a resident harpist to listen to while guests take in the lobby's grandeur.
Sir Adam, Amsterdam, Netherlands
It's not always about soaring ceilings and crystal chandeliers though. Amsterdam's Sir Adam describes its lobby, The Hub, as a destination "for quality conversation, a quality beer and quality music". It comprises a gourmet burger joint, an island bar with live DJ sets and a river terrace, and is full of original artworks, game tables and swing seats. It's all about relaxing in the hip space whether you're a local or a guest.
Millennium Biltmore, Los Angeles, California, USA
First built in the 1920s with a mixture of Spanish and Beaux Arts styles, the Millennium Biltmore Los Angeles has numerous standout features, including intricately painted ceilings, marble fountains, embroidered tapestries and hand-painted murals. The hotel used to host the Oscars during the golden age of Hollywood and it's easy to see why – the setting is certainly starry enough.
Grand Hotel Kronenhof, Pontresina, Switzerland
For old-fashioned splendor, the Grand Hotel Kronenhof in Switzerland takes some beating. The majestic lobby boasts fully restored ceiling frescoes, completed in the early 1900s, and huge windows providing panoramic views of the pretty Upper Engadin valley and the Roseg Glacier. Once settled in, guests can order traditional afternoon tea or a glass of Champagne to enjoy in the lobby and be transported back in time.
Sea Containers, London, England, UK
With nautical features throughout Sea Containers London, the lobby is no different. There's a dramatic, handcrafted, 223-foot-long (68m) copper hull stretching from the entrance through the lobby, which took over a year to build. It's a nod to the ships of the old days as copper sheets were used on the hull to make them sail faster and prevent barnacles attaching themselves. Another standout feature of the lobby is the blue chain link sculpture, a piece of American pop-art reminiscent of anchor chains, which certainly packs a visual punch.
Hotel ICON, Hong Kong
Forget subtle bunches of flowers or small horticultural displays: at Hong Kong's Hotel ICON French botanist and artist Patrick Blanc was brought in to design Asia's largest indoor vertical garden, which hangs from one of the lobby's walls and covers 2,475 square feet (230sqm). The living garden encompasses almost an entire three-story wall and brings a touch of the natural world to the urban city. The hotel's green commitments don't stop there as they've replaced individual toiletry bottles with refillable dispensers and offer filtered drinking water in every room.
Gramercy Park Hotel, New York City, New York, USA
For luxurious chic that's eye-catching without being too over the top, New York's Gramercy Park Hotel hits the nail on the head. Not only does the lobby have a red carpet (emblazoned with the hotel's initials, of course), but it also boasts a cypress wood ceiling, leather furnishings and a changing selection of paintings and original works from greats including Andy Warhol and Jean-Michel Basquiat. Designed by artist Julian Schnabel, the bronze door handles, curtain rods and finials were all forged by him – his fingerprints can be seen in the concierge desk.
Grand Velas Los Cabos, Cabo San Lucas, Mexico
With a three-story-high ceiling, eye-catching art displays and a direct view onto the Sea of Cortez, Grand Velas Los Cabos' grand open air lobby certainly makes a statement. There's plenty of space on the unusual curved seating area from which to admire works of art by Mexican and international artists, from 20-foot-high (6m) bronze sculptures to Oaxacan artwork hanging on the walls.
ME Dubai, Dubai, UAE
A long-awaited hotel designed by architect Zaha Hadid, ME Dubai is one of the city's and, in fact, the country's most distinctive hotels that's already bagged awards for its impressive design. A futuristic building on the outside, on the inside the multi-level lobby features undulating balconies and rounded shapes throughout, leaving guests feeling as if they've just boarded a futuristic spaceship. 
Veranda High Resort, Chiang Mai, Thailand
Striving to offer guests the most relaxing stay possible, Veranda High Resort's lobby is a reflection of the peace and quiet guests can expect at this hotel. Hidden in the hills surrounding Chiang Mai in northern Thailand, the hotel's lobby is an open-air space that uses natural materials, like wood, cotton and leather as well as a calming water feature and cozy seating area. Guests then pass a tranquil pool to access their rooms. 
Four Seasons Hotel George V, Paris, France
Everything about the Four Seasons in Paris screams luxury, from the Florence chandelier and bronze sculptures to the original tapestries and marbled floors, but what makes this hotel and its lobby truly special are the floral displays. Designer Jeff Leatham has gained international fame thanks to his innovative and creative designs as well as the unique color and flower combinations. The displays change regularly and are always season appropriate. It's estimated the hotel spends around $1.3 million per year just on fresh flowers.
ITC Grand Chola, Chennai, India
Inspired by the architectural splendor and the rich culture of the imperial Chola dynasty, ITC Grand Chola is a tribute to the state of Tamil Nadu – one of the greatest maritime powers to have reigned in South Asia. The hotel aims to offer its guests "luxury inspired by history" and the journey starts right at the lobby. With one of the grandest hotel entrances, the guests are welcomed by hand-carved marble stairs and a sculpture called Chariot of Victory, inspired by the artworks of the Chola Empire.
ME London, London, England, UK
Another ME hotel designed by a legendary architect, this Norman Foster-creation located in the British capital is simply stunning. The lobby is hugged by towering concrete walls that makes for one of the most immersive and interesting check-in experiences. Different graphics are projected onto the walls every night, from expanding grids and geometrical patterns to floating jellyfish and starscapes.
Hyatt Regency, San Francisco, California, USA
The world's biggest hotel lobby, the scale of it is hard to grasp. With a length of 351 feet (107m), width of 160 feet (49m) and rising up 17 stories, Hyatt Regency's lobby in San Francisco occupies an astonishing 42,000 square feet (3,902sqm). The lobby also offers beautiful views over the San Francisco Bay and has a pretty eye-catching sculpture as its central feature. The 40-foot-high (12m) geodesic sphere Eclipse is made out of 1,400 pieces of curved metal tubing.
This is the best attraction in every state capital open now
Aman Tokyo, Tokyo, Japan
Modern, monochrome and serene, Aman Tokyo and its lobby combines ultra-modern and sleek features with traditional Japanese crafts, like washi paper. The hotel refers to itself as an urban sanctuary high above the hustle and bustle of the city and it's reflected in its design. Part of the ultra-luxe Aman hotels, it's located in the recently built Otemachi Tower and its lobby, looking over the city from the 33rd floor, sports a 98-foot-tall (30m) ceiling and is surrounded by water features, two meditative rock gardens and dramatic ikebana flower arrangements.
La Mamounia, Marrakech, Morocco
The vibrant Moroccan capital is packed with colorful sights and La Mamounia's lobby is among the city's most mesmerizing sites. Housed in a historic and luxurious riad, the lobby's central garden is a kaleidoscope of colors. Channeling classic Moroccan design, there's stunning tilework, ornate mosaics and gorgeous plants to marvel at. Inside, the lobby is just as lush, with red plush velvet furnishings, marble floors and large chandeliers.
Discover stunning palaces you can stay in
Mandarin Oriental, Bangkok, Thailand
Floor-to-ceiling windows looking out to the Chao Phraya River, historic details and ornate carvings all add to the unique charm of the Mandarin Oriental in Bangkok. The recently renovated lobby has maintained the historic temple bell chandeliers and guard elephants and paired them with lush greenery and modern design. At night, there's dramatic lighting illuminating the gorgeous space.
Corinthia, London, England, UK
Among London's most luxurious hotels, Corinthia showcases restrained English decadence perfectly. Its lobby is adorned by a giant Baccarat chandelier as a focal point that's complemented by understated yet luxurious furnishings, accessories and fresh flowers. There's also a grand piano, where classic tunes are often softly played, and the traditional afternoon tea, served in the lobby, comes with glasses of Champagne in Baccarat flutes.
The Castle Hotel, Dalian, China
A magnificent hilltop castle from the outside, The Castle Hotel in Dalian is just as mesmerizing on the inside. Palatial design inspired by European palaces extends from the lobby to guest rooms and other common areas, but the Grand Lobby is simply exceptional. The soaring glass ceiling lets in plenty of light that sparkles against the marble floor and illuminates the wrought-iron features. It truly looks like something out of a fairy tale.
Now see the amazing places from fairy tales and fiction that actually exist
Source: Read Full Article