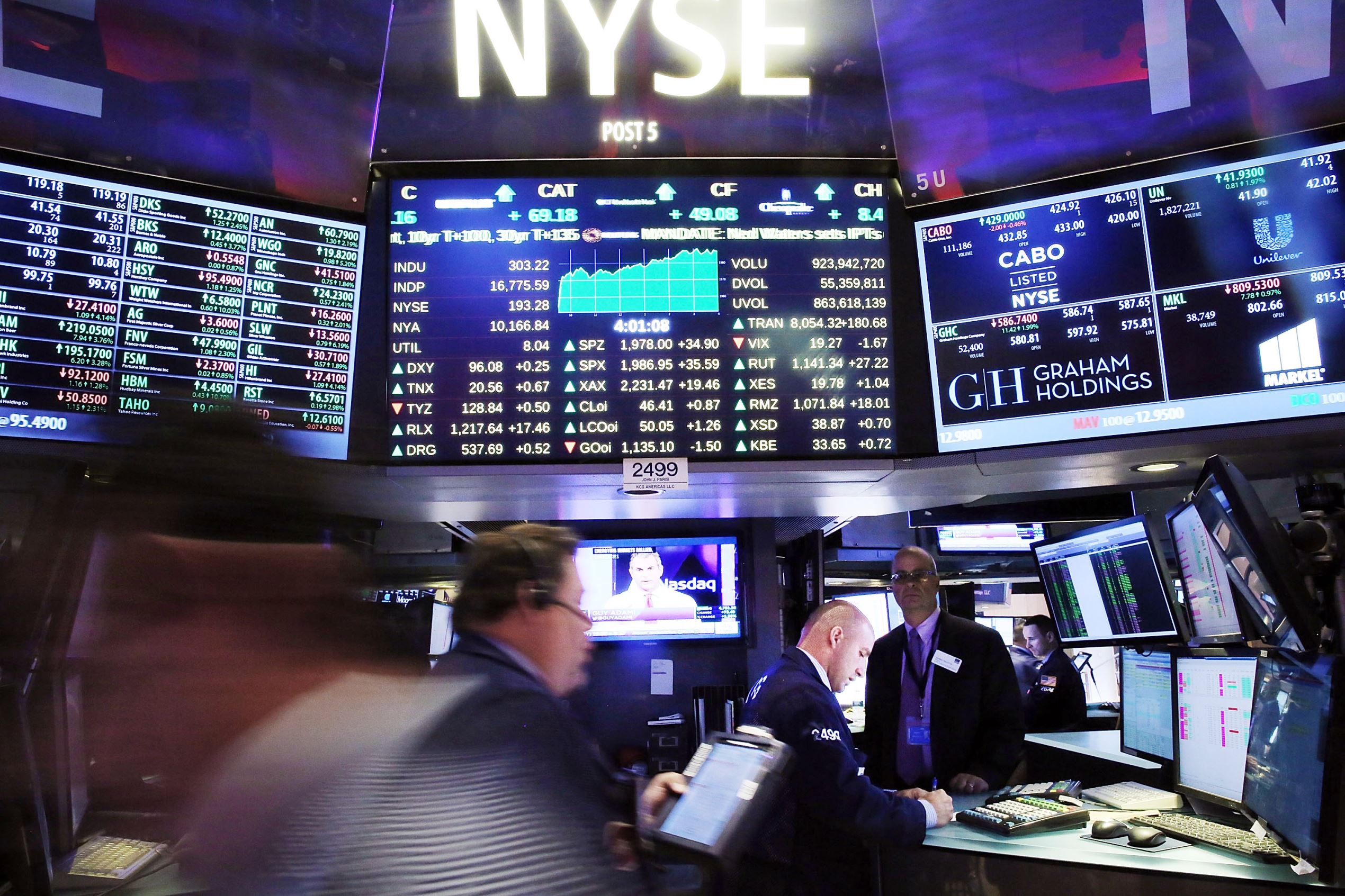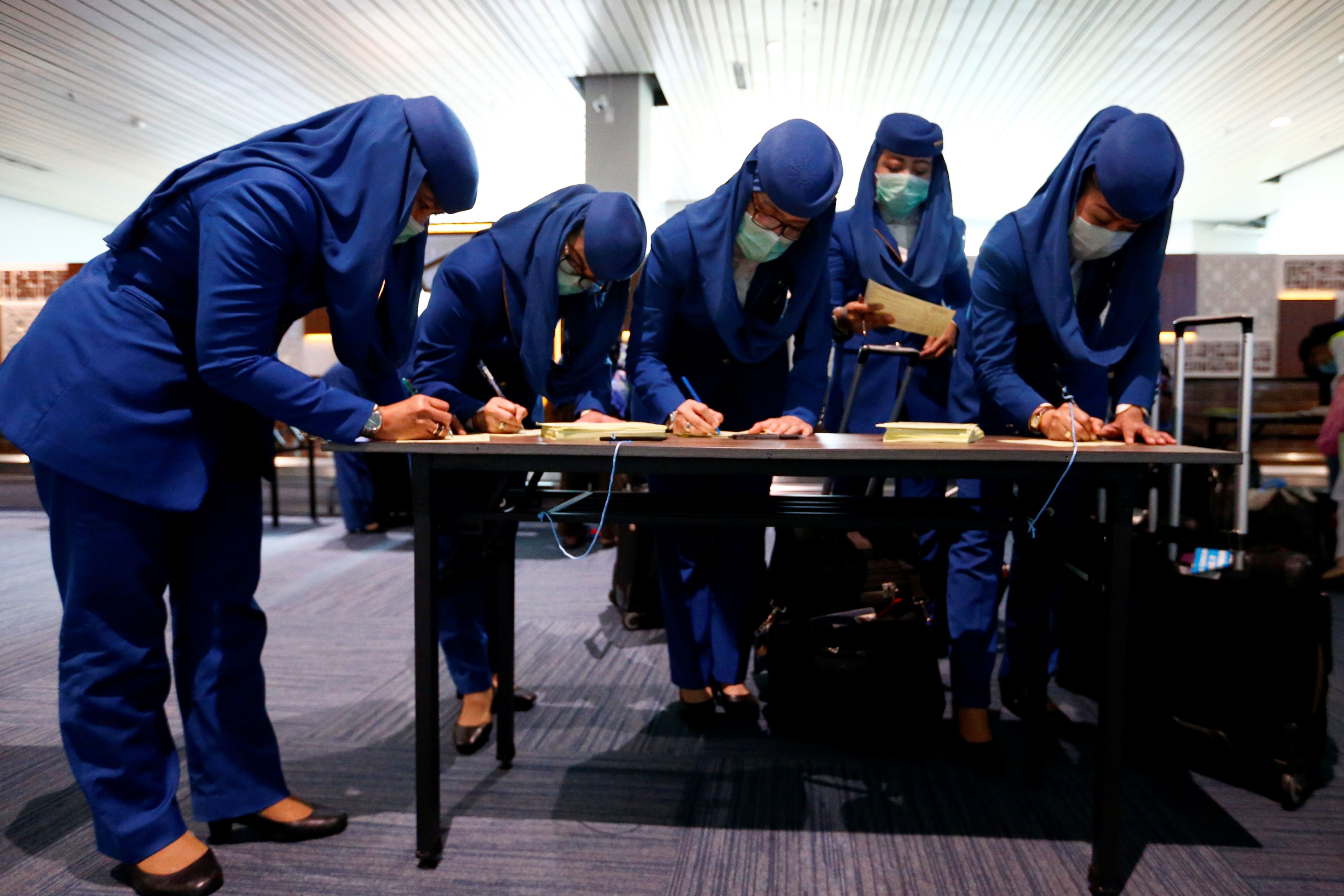 The world is battling an outbreak of a new SARS-like coronavirus called COVID-19, which started in the city of Wuhan, China, and has been spreading since. The virus has claimed over 4,000 lives and infected nearly 100,000 people around the world.
President Donald Trump participates in a meeting with CEOs of major banks to discuss the coronavirus response in the Cabinet Room at the White House, on March 11, in Washington, DC.
Judie Shape, center, who has tested positive for the coronavirus, blows a kiss to her son-in-law, Michael Spencer, left, as Shape's daughter, Lori Spencer, right, looks on as they visit on the phone and look at each other through a window at the Life Care Center, on March 11, in Kirkland, Washington, near Seattle.
The cruise ship Grand Princess docks at the Port of Oakland as authorities prepare for a passenger debarkation after 21 people on board have tested positive for the COVID-19 coronavirus on March 9 in Oakland, California.
Flight attendants wearing protective masks fill out health alert cards before thermal scanner checks, in Soekarno Hatta International Airport, in Tangerang near Jakarta.
Gallery by photo services
WASHINGTON, March 11 (Reuters) – The U.S. Federal Aviation Administration said Wednesday it will temporarily waive minimum flight requirements at U.S. airports through May 31 to help airlines facing a steep decline in travel demand due to the coronavirus.
Airlines can lose their slots at congested airports if they do not use them at least 80 percent of the time. The FAA said it will waive the requirements for U.S. and foreign airlines and expects that U.S. carriers will be accommodated with reciprocal relief by foreign authorities at airports in their countries. The waiver applies to New York's JFK and LaGuardia airports and Ronald Reagan Washington National Airport. 
At four other U.S. airports where the FAA has a formal schedule-review process – Chicago O'Hare, Newark Liberty, Los Angeles and San Francisco – the agency will give credit to airlines for flights that were canceled due to the coronavirus through May 31, as though those flights had been operated.
American Airlines, which said Tuesday it would cut U.S. flights by 7.5% in April, said it had requested temporary relief from the FAA for the slot requirement "to better align capacity with demand without the risk of losing valuable takeoff and landing slots for the future." The airline said it would "make adjustments as needed if waivers are granted." 
United Airlines noted at a conference Tuesday that in Europe some airlines were flying empty planes just to hold onto slot rights.
5 of the most beautiful places to travel to in spring
If you're up for a new adventure, check out five of the most beautiful places to travel to in spring.

Buzz60

Coronavirus outbreak causing travel industry to pivot, airlines cut back on flights
As the coronavirus outbreak spreads, travelers are becoming fearful of flying leading major airlines to cut their flights and change their policies.

USA TODAY

What are ghost flights
Commercial planes are taking trips in the UK even if no one is on board, according to a new report.

Veuer


Source: Read Full Article